Column #367 One year ago, this July, in darts…
Monday, July 6, 2009
Column 367
One year ago, this July, in darts…
Despite winning the Las Vegas Desert Classic, Bobby Bourn Memorial Trophy and World Matchplay, thirteen-time world champion, Phil Taylor, is upstaged multiple times this month.
Stealing the limelight first, at the annual International Federation of Competitive Eating (IFCOE) Nathan's July Fourth Hot Dog Eating Contest, is none other than San Jose's Joey Chestnut. In front of a crowd of 25,000 and an ESPN television audience of nearly two million the hotdog-eating phenomenon woofs fifty-nine franks to repeat as world champion in what is considered an upset over six-time champion, Takera "Tsunami" Kobayshi. Sensing opportunity, the Professional Darts Corporation's (PDC) Tommy Cox begins negotiations with the IFCOE to have the competition moved to the Mandalay Bay in 2009 to be held in conjunction with the Desert Classic final. Stan James Sportsbook reacts to the news by making Peter Manley the prohibitive favorite.
Next, in Milwaukee, 56-year-old Keith Walendowski is charged with murdering his lawnmower. Unable to get his Lawn Boy to start he blasts it with a sawed-off shotgun – and suddenly achieves international headlines. "I can do that. It's my lawn mower and my yard, so I can shoot it if I want," Walendowski is quoted. Taking note, Tommy Cox begins negotiations with Lawn Boy and Chris Mason for an exhibition to be held in conjunction the 2009 Desert Classic final.
Barack Obama and John McCain continue to headline the news. First, it is reported by Dave Barry that "Obama flies to Germany without using an airplane and gives a major speech – speaking English and German simultaneously – to 200,000 mesmerized Germans, who immediately elect him chancellor." Then, Barry breaks the story that "John McCain, at a strategy session at a golf resort, tells his top aides to prepare a list of potential running mates, stressing that he wants somebody 'who is completely, brutally honest.' Unfortunately, because of noise from a lawnmower, the aides think McCain said he wants somebody 'who has competed in a beauty contest.'" Again anticipating opportunity, Tommy Cox jets to Alaska and books Sarah Palin to be a walk-on girl at the 2009 Desert Classic final.
The League of Legends continues lacklusterly at the Frontier Club in Batley, near Leeds. Peter Evison, Cliff Lazarenko, and Keith Deller handle John Lowe, Bobby George, and Eric Bristow respectively while Bob Anderson and Dave Whitcombe battle to a tie. Afterwards it is all Lazarenko however, as he finds his youth and easily downs fifteen pints to outlast the other Legends in a Geritol-chugging contest.
In California at the Colusa Casino Open, Frank Hernandez and Maggie Martell are victorious. At Austin's Freedom Tourney, Dieter Schutsch (just back from cheering for Obama in Berlin), Leonard Gates, Christina Medina and Andrea Taylor score wins. At the always popular Macamoodus shoot – which continues strong despite the untimely death of the one and only Bucky Bakalac, who for years was the tournament's top promoter – it is Jim Widmayer, Bob Baechler and Marilyn Popp (twice) who come out on top. In Tucson at the Old Pueblo Classic, Stacy Bromberg scores a double while Marvin Wentz and Jeff Hubbard take the honors for the men. Brian Blake maintains his hot streak with two victories at the Queen City Summer Shootout in Pineville, North Carolina – while Sandy Hudson outlasts Angel Gaffney twice. Brian Blake and Sandy Hudson win again at the South Carolina Upstate Dart League Shootout in Greenville, as do Ryan Burnette and Amy Tucker. Finally, at the Tacoma Open, it is Tyler Hayne and Carole Herriott who take home the first place money.
Unfortunately, few people take notice of any of this…
…because topping the headlines literally all month is the extraordinary news, again uncovered by Dave Barry, that Fannie Mae and Freddie Mac "sent $87 billion to a Nigerian businessman with a compelling e-mail story."
On July 31, a smiling Tommy Cox boards a homebound flight from Abuja.
From the Field,
Dartoid
The following two tabs change content below.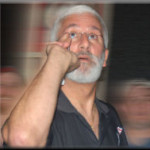 Author of the column that since 1995 has been featured by Bull's Eye News, the American Darts Organization's (ADO) Double Eagle and numerous other darts publications and websites around the globe.