Column #4 Seoul, Korea
October, 1995
Column 4
Seoul, Korea
Have you ever tried to explain the rules of 301 or cricket to someone who doesn't speak a word of english? I've just attempted this in a bar called "O'Kim's" at the Westin Chosun Hotel (87 Sokong-dong, Chung-ku) in Seoul, Korea. I was not successful!
O'Kim's is an Irish Korean sports bar and restaurant located in the heart of Seoul. In business now for four years, it's touted as the bar of choice in the city. I agree. Good food. Live music. Young crowd.
Best of all it has an excellent set up for throwing darts. There are two top-of-the-line boards, both well lit. There's more than ample room for throwing, drinking and spectating. This place is obviously organized for league play. It's set up better than the place my team throws out of back home.
Of course, I discovered this O'Kim's on purpose. In fact, I moved from the Hilton Hotel to the Westin Chosun solely because O'Kim's is in the lobby. Last night I stopped in to practice for a couple of hours — it was then that I met a guy named Lee Min Kyu who was shooting 8-ball on the other side of the bar. He wanted to throw which worried me a little because he was obviously a regular in the place. He seemed to be pocketing more than his fair share of winnings at the pool table.
Well, I shouldn't have been concerned. Not only had he never picked up a dart before — thanks to the language barrier we were never able to actually get a game underway. First, I tried to explain '01. Thirty minutes and a few beers later I gave up on this. Then I took a shot at explaining the rules of cricket. After another 30 minutes and a few more beers we both just called it quits.
The bad news is that it was at about this point I was foolish enough to agree to Lee Min Kyu's suggestion that we shoot a little pool. I am now back in my room trying to figure out just how much I lost!
So, if you're ever in Seoul check out O'Kim's.
But if you're approached by a little guy named Lee Min Kyu — get out of the place as fast as you can!
From the Field,
Dartoid
The following two tabs change content below.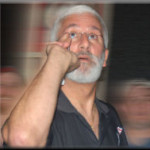 Author of the column that since 1995 has been featured by Bull's Eye News, the American Darts Organization's (ADO) Double Eagle and numerous other darts publications and websites around the globe.