Column #8 New York City, New York
April 1, 1996
Column 8
New York City, New York
Facing a few days of business in Manhattan it seemed there were only two logical ways to proceed. I tried both.
I checked the CYBERDARTS listing of steel tip pubs in New York. And I posted a message to the "alt.sport.darts" newsgroup asking where the best place to play was in New York City.
The good news is that they both pointed me in the same direction — Muffin's Pub, 669 Second Avenue. The even better news is that this place is sensational. I've been in two nights running and am about to head back for a third.
I'm looking for some guy named Jon…
Muffin's Pub has been in business for sixteen years. It's been fielding some of the best dart teams in the area for just as long and they have the awards to prove it. The walls are literally plastered with plaques dating back fifteen years. There must be 400 of them — testimony to each of the many Muffins' teams that have won Greater Metropolitan honors over the years. It's more than a bit daunting.
This place is a dart bar. Period. They don't screw around with anything else. Certainly they don't screw around at the oche…
Muffins is dominated by a twenty yard rail bar on the left just as you enter. But the action is in the back. Way in the back. There's just five boards. They were full when I arrived at noon. They were full when I called it quits at about 10:00 PM. The set up is perfect.
I picked up some Cricket early with a liability lawyer named Evan. He'd stopped in with his girlfriend and their pet parakeet. After all — this is New York City. My best guess is that Evan won't be back in to throw with me — at least not in front of his girlfriend. I may call him though if I get beaten up in a bar. He gave me his business card.
It went on from here for hours. Four "just out of college" students in town to see the NCAA basketball finals. Some guy from Connecticut. Another tough shooter from North Carolina named Rollie. And then a few of the regulars.
It was going pretty good. I was hitting. I kept winning…
It was about 9:00 PM that I met Jon — from the neighborhood. I'd been watching him most of the day. A 8T0 here and there. Tore the cork right off the board.
I had to play this guy…
To make a sad story short, let's just say that when I left, I retrieved Evan's card from my pocket!
If there's a better place than Muffins in New York City to throw darts I'd like to know about it. I'm betting there isn't.
From the Field,
Dartoid
The following two tabs change content below.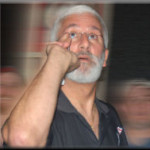 Author of the column that since 1995 has been featured by Bull's Eye News, the American Darts Organization's (ADO) Double Eagle and numerous other darts publications and websites around the globe.