Column #2 England
July 1995
Column 2
England
Just got back from throwing darts here in the UK. The place doesn't have a street address, which is common, but it's great. So here's something for your listing …
It's called The Foresters Arms. It's located in a small village (of about 200 people) called Fairwarp, near Uckfield. Which is about four miles from the town of Crowborough in East Sussex! It's actually quite easy to find — if someone who knows where the hell they're going takes you directly to it! Anyway, they have one regulation board. Good lighting — good enough for two 8T0's tonight anyway! But the board is positioned a little close to a pool table. Occasionally you have to wait for someone to finish a pool shot before you can throw. The place serves a good dinner, has some slot machines and dominoes seems to be the main focus of the regulars. A friendly little pub worth visiting if anyone is in the area.
I finish business on Monday and head up to Dublin on Tuesday and begin the bike ride Wednesday morning. Will keep an eye out for places to throw along the way and will e-mail them to you along with a few stories once there is something to say.
One thing is for certain though — darts and biking don't mix to well. I'm already ready to be done with this ride and get back to league in the fall. A few beers and some darts beat the hell out of 100 miles a day on a bike in the heat! I've got to get back to basics.
All for now.
From the Field,
Dartoid
The following two tabs change content below.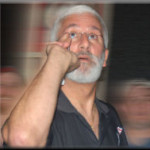 Author of the column that since 1995 has been featured by Bull's Eye News, the American Darts Organization's (ADO) Double Eagle and numerous other darts publications and websites around the globe.