Column #6 Prince Edward Island, Canada
January 3, 1996
Column 6
Prince Edward Island, Canada
For the past week I've been hunkered down in Charlottetown, Prince Edward Island, Canada. This is snowmobiling country, hockey country, sealing country — blizzard country! Tonight the snow was coming down in flakes so fat that you could actually feel them when they hit your jacket. Wind chill was negative forty.
But this didn't stop me from trudging out to check out the local darts scene. I ended up at a place just a couple blocks off the main downtown strip called the Sports Page Lounge (236 Kent Street). It's worth a look if you're in the area.
The place was quiet when I arrived. It's set up very well for serious play — and apparently it's jammed with leagues on Wednesdays. There are eleven boards positioned along a long wall in the back of the bar. There's a long, long (and well stocked — try the "Blue") bar along the right side of the place and a half dozen pool tables in the center. A large screen television off to the left.
But there's nothing to eat — not that I came here to eat. But there's nothing! At least there wasn't tonight. Not even stale popcorn. Damn.
So after a couple of quick '01's with a few ladies from the UK (Marilyn, Sally and Jane — in case any of you ever stumble across this page in cyberspace) I headed off to find some dinner. Just a couple blocks away is an excellent Lebanese restaurant called Cedars. If there had been a board in here I'd have stayed forever.
There are a few other places to throw in Charlottetown — the Fireman's Club (also on Kent — above the Fire Department), the Sportsman's Club (at 75 University Avenue) and Union Hall. Each of these is pretty seedy though compared to the Sports Page Lounge. Set up fine for darts. But probably even better for fights.
So try the Sports Page lounge if you're ever in this neck of the world. But eat first!
From the Field,
Dartoid
The following two tabs change content below.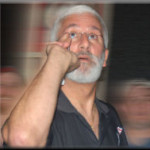 Author of the column that since 1995 has been featured by Bull's Eye News, the American Darts Organization's (ADO) Double Eagle and numerous other darts publications and websites around the globe.