Column #487 Fantasy Darts. It's free. Easy to enter. Top prize is $500.
Friday, May 1, 2015
Column 487
Fantasy Darts.  It's free.  Easy to enter.  Top prize is $500.
There are dart players, people who think they are dart players, and people – whatever their niche – who in their unique and powerful way have brought the sport to the masses.
Promoters.
When one contemplates the most influential promoters in the history of our sport, many names come to mind.  Of course, all follow the PDC's Barry Hearn.
At the top of the list (alphabetically) must be Dick Allix, Eric Bristow, Dr. Patrick Chaplin, Ian and Carol Collette, Tommy Cox, Olly Croft, Keith Deller, Tom and Della Fleetwood, Bobby George, David Holmes, Paul Hong, Gary Jones, Rob Heckman, John Lowe, Edward and Richard Lowey, Bob McCloud, Eddie and Peter Norman, Ed Oliver, Lee Peppard, Howie Reed, Glenn Remick, Jay Tomlinson, Barry Twomlow, Tony Wood, and Sam Zammuto.
Many would submit that the following should be included on any serious listing: Don and Mark Amirault, Bucky Bakalec, Raymond van Barneveld, Buddy Bartoletta, John and Kelli Baxter, Chris and Linda Bender, Kevin Berlyn, Roger Bick, Stacy Bromberg, Steve Brown (UK), Sharon Butler, Sandi Cain, Chris Carey, Nick Chantiles, Don Crookshanks, Jason Demers, Mary Dezan, Gordon Dixon, Steve Dorotheo, Joe Edwards, Clive Eynon, Ken Finch, Jerry Feather, Phil Fried, Amin Abdul Ghani, Chuck Gideon, Vichai Govindani, John Gwynne, Bill Hatter, Catherine Haycock, Justin Irwin, J.J. Jarden, Anne Kramer, John Kuczynski (and Colleen Fornear), Joseph Kwong, Dave Lanning, Maggie LeBlanc, Paul Lim, Henry Magee, Joe Zhou Mei, Terri Maness, Laurett Meddis, Eric McVey, Dennis Minga, Werner von Moltke, Kip Morrish, Charis Mutschler, Bill Nicoll Sr., Steve Ngu, Khayankhyarvaa Odbileg, Rick Osgood, Manny Pacquiao, Steve Panuncialman, John Part, Frank Pratt, Charles Peterson, Jim Poliquin, Gloria and Karl Remick, Caterina and Sarantos Retsinas, Johnny Ross, Mon Sabalboro, Prasanta Saha, D.J. Sayre, Jim Seals, George Silberzahn, Jerry Smith, Rick Smith, Phil Taylor, Jim Turntine, Sid Waddell, Ron Wilcox, Johnny Witkowski, and Masoud Zohouri.
People may disagree with some of the names listed, and their placement.  Surely there are several I have forgotten.  No slight is intended.
What cannot be argued is that three names are missing from the lists above.  Indeed, were this column not basically about them I would have included them.  Each of them belong and one of them – probably all of them but certainly the first name listed below, deserve a spot in the top tier.
David Irete
Peter Citera
Anthony Eugenia
With something like 90 years of combined experience as players, organizers, and promoters, these guys are fundamentally changing the landscape of our sport in North America.  Their darts resumes go on and on and on.
Irete has been filming and advocating for the sport of darts for almost four decades.  He founded Dart Players Los Angeles.  He's president of the Southern Californian Dart Players Association.  He's executive director of the North American Professional Dart Players Alliance and was executive and broadcast producer of the New World Dart Series.  Says Irete, "My involvement in the partnership of the Championship Darts Corporation is the result of 37 years of trial and error.  The combination of the energies created when Anthony, Peter and I work together is the one factor that is different than anything so far in my days of promoting darts.  Same goals, same visions and we came together at the right time."
Eugenia founded Dart Players New York.  He founded the Queensborough Darts Association.  He's executive director of the North American Professional Darts Alliance.  He was executive and co-tournament director of the New World Dart Series.
Citera is the founder of Dart Players Chicago. He founded the North American Players' Dart Organization.  He's former president of Windy City Darters.  He's executive director of the North American Profession Darts Alliance.  And he was executive and co-director of the New World Dart Series.
And I haven't mentioned the half of it.
The only one of these guys I have spent time with is Irete – just once, in 2012 in Sacramento when DARSTLIVE was first being introduced to America.  In 2006, Eugenia and I met briefly at the World Series of Darts at the Mohegan Sun Resort in Uncasville, Connecticut.  Citera and I will meet for the first time in Grand Rapids at the Shoot the Rapids tournament on May 15-17, but we have been in e-mail contact for a long time, and loosely worked together to (try to) advance a much needed National Darts Regulation Authority.
But I have followed this trio for years and have been so impressed that several times in this space I have advanced the idea that only they could bring the American Darts Organization back to health.
When I learned they had teamed up to create the Championship Darts Corporation, which is now promoting the Championship Darts Circuit, I had no doubt big things were on the horizon.  Darts in North America needs what these guys are doing.  I wanted to know more.
I fired off a message.  "Great idea.  How'd you guys come up with it?"
"All three of us have been around the top level of the game for a long time as organizers, tournament directors, promoters, etc.   It's no secret that trying to start a real professional tour for steel-tip darts in North America has been an exercise in futility for a number of years.  There have been a lot of fits and starts, but the hurdles always proved to be too significant.  When we were all in the same room together at the North American Dart Championship in Michigan last year, we got to talking about what the challenges were and how they might be approached from a different angle – to reexamine the ingredients – and develop a program that really would achieve buy-in from top players and inspire them to invest in themselves, work hard and achieve greatness."
"So what's the ultimate goal?"
"We want to develop a sustainable top-level darts tournament circuit that attracts the top players from across the continent, will allow them to compete against each other at the highest level and earn incomes commensurate with being a professional.  Through the qualifier system, we also hope to find the next generation of top talent to challenge the established players, with the true ultimate goal of crowning a North American player as a Darts World Champion sometime by 2024."
I asked for information about the tournament circuit – event dates and locations, format, prize fund – and they sent me this chart.  It's all there.

Well, it's not exactly all there.  There are 48 tour card holders (all top players) who each paid $200 to participate.  Events will be held the Saturday and Sunday afternoon at each location.  Each morning a qualifier (501, best of 7 legs) will be held – open to anybody for a $50 pre-registration fee ($75 post-registration deadline or at the door).  The top 8 in each qualifier will advance to join the tour card holders in the main event (501, best of 9 and 11 legs).  If there are more than 65 entrants in the first day's qualifier, the top 16 will advance to the main event and a second qualifier will not be held.  Every single player in the main events will take home money, a minimum of $50.
Then it gets serious.  After the first four events, the top 32 point earners will be invited to a match play event in Nashville in conjunction with the always popular Music City Open.  After all eight events, the top 16 point earners will be invited to compete in the tour finals (in September at a location to be announced soon) with a top prize of $10,000.
Of course, you are probably already aware of most of this.  After all, these guys are super promoters.  They have been building interest for months.  They have attracted most of the top players in North America, including three-time world champion John Part.  The buzz is unmistakable.
They have been pounding the social networks with video updates, the list of players who have received tour cards, a daily unfolding of bios of the combatants.
They have appeared on the major North American podcasts, like Mugs Away, Action Dads, and Dart Talk.
They are working with local leagues in areas where there will be tour stops to possibly run Friday night blind draws and even Saturday evening events – to entice local top shots who may not ordinarily travel to test themselves in the qualifiers.
Press releases are in the mix.
And more.
Then – there's the Fantasy League.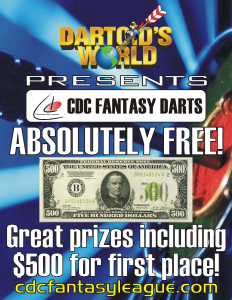 Irete, Eugenia, and Citera have "dared to go where no man has gone before" – they have entered into a partnership with Dartoid's World to give avid North American fans a chance to put together "teams" of Championship Darts Circuit players and compete for prizes based on the performance of those "teams" in tournament  events.  Fans will be able to track the progress of their players/teams and cheer on their favorites throughout the 2015 season.  Since Irete, Eugenia, and Citera "don't think it's proper to actually run a Fantasy League that is based on its own players" yours truly will host and administer the League.  And since I don't know shit about doing so, stats guru Adam Hartz will handle all the tough statistical stuff.
To enter is easy and it's absolutely free – just click on the graphic (or go to www.cdcfantasyleague.com and select your team.  The top prize is $500.  As of this writing, other prizes include signature darts from Larry Butler, Gordon Dixon, Chuck Pankow, Cali West, and Chris White.  Additional prizes are being added daily.  Updates will appear in this space.
For years, darts enthusiasts have contemplated the question," Why are the best in the world from England (and I suppose, occasionally, from Holland) and what do North American players need to do to be successful on the world stage?"  The answer – the formula – well, the Championship Darts Corporation guys have it.
In Eugenia's words: "Repetitive competition among top-level players increases the standard of play, making the matches better.  The better the matches are, the better product there is to broadcast and promote.  The better the product is to promote, the more attractive it is to sponsors and advertisers.  The more sponsors and advertisers there are, the more money the players will be competing for in the future."
And there you have it.  The British play the best week after week.  The standard of play is out of sight.  Consistent triple digit averages.  Perfect games.  The product is sexy – Barry Hearn has something to sell, and the sponsors eat it up.  This leads to bigger and bigger prize funds.  This attracts more players.  The cycle goes on.
Want to be the best?
Then Citera is speaking to you when he comments, "We feel that what we're building has the potential to be the biggest thing to happen to the steel-tip game in North America since the 1980s.  If you're a player and you believe in yourself and your talent, if you want to take your game to the next level and grow with a team that's committed to your growth – a team that will be there to showcase your successes and support your efforts – you need to play the Championship Darts Circuit."
The time for excuses has passed.
The future of North American darts is here.
Support the Championship Darts Corporation.  Play the Championship Darts Circuit.  Enter the Fantasy League.
Become a part of seeing a North American become the top darts player in the world.
NOTE: Updates can be found at www.champdarts.com or on Facebook at Championship Darts Circuit.
From the Field,
Dartoid
The following two tabs change content below.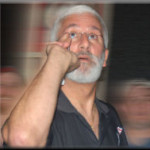 Author of the column that since 1995 has been featured by Bull's Eye News, the American Darts Organization's (ADO) Double Eagle and numerous other darts publications and websites around the globe.