Column #3 Moscow, Russia
September 1995
Column 3
Moscow, Russia
The past thirty-two days have been a pain in the butt. Literally. What was originally to be a week-long Guinness tasting holiday in Dublin with three buddies somehow turned into a month-long, 2,000 mile, bike ride from Dublin to Moscow. Don't ask me how this happened. I no longer remember myself.
What I do remember is that I was assured it would be "a kick-ass month to remember" and that I would have more than ample opportunity to check out the pubs and the local brews — and throw some darts along the route — from Dublin, through England, Holland, Germany, the former East Germany, Poland, Belarus, and across Russia on into Moscow.
Well, MY FRIENDS ARE MORONS! The truth is that I never had enough energy to do much more than shove carbohydrates into my face and crash on the floor at the end of each day's ride. I can barely lift my throwing arm, let alone sit on a barstool. My hair looks like, well — like hair looks when it's been stuffed into a plastic helmet for thirty-two days. AND — worst of all (this is REALLY BAD) — I possess absolute proof that sitting on a bike for ten hours a day will turn that most vital of male organs into a soft-tip dart.
Now that the hell-ride is over, I have managed to locate a darts bar in Moscow, and it's worth a visit. It's called the Armadillo and it's located adjacent to Red Square at Khrustal'nyi per., 1, Building 86. The outside of the joint is a mess due to construction but the inside ain't half bad.
While the Armadillo's owners are striving to create a casual American ambiance they have a ways to go. The place is safe though (they have their own security) and the service is easily a notch or two above similar establishments where Russia' s new capitalists are still unaware of the correlation between a the tightness of a waitresses sweater, her smile and the size of a tip. The prices are modest. A beer will run you about $5, which, for Moscow, is quite good — but the locals drink nothing but vodka. The fare in this American-like pub is, of course, Mexican — but it still beats the hell out of Russian staples such as Borscht, bread, cabbage and potatoes.
The Armadillo is far from the nicest pub in Moscow (check out the bar at the Metropole Hotel if you want to see an amazing place — the working-girls here are like right out of Playboy), but it's got atmosphere, live music on the weekends (Country Juan and the Comrades, I think) and a relatively young, up market crowd. And, as noted earlier, the place is safe — which is actually quite remarkable in today's Russia, where the local Mafia is very prevalent in establishments of this type.
Most amazing of all, and most important of all, is that the place has FOUR dart boards. They are surrounded by pools tables (which I suppose, however misdirected, is the one American bar decorating touch that the Russians have fully emulated).
So, I ordered a bottle of peppered vodka and threw a bit of practice. Poured some more vodka and shot some pool with my biking buddies while Country Juan and the Comrades did their thing in the background. I munched a couple of Russian/Mexican/American burritos and washed them down with still more vodka.
I then headed into Red Square with my friends where we wisely traded all but our underwear to some guy with no teeth for Hard Rock Cafe tee shirts, even though there is no Hard Rock Cafe in Moscow.
I'm now exactly four hours into the flight home and have ALREADY intersected my original point of departure — Dublin — from more than a month's worth of hell ago. I'm hung over. I can't feel my ass. My appendage no longer functions. And my favorite clothes are tooting around Moscow on some homeless guy's back.
Yep, there's a moral here somewhere.
And that, I'm afraid, is that among morons, I'm the MAN.
From the Field,
Dartoid
The following two tabs change content below.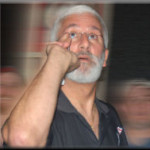 Author of the column that since 1995 has been featured by Bull's Eye News, the American Darts Organization's (ADO) Double Eagle and numerous other darts publications and websites around the globe.