Column #7 Cape Cod, Massachusetts
March 1, 1996
Column 7
Cape Cod, Massachusetts
If the truth be known, I can't remember how I got myself into writing these little reports. I recall some months ago contacting Rick Osgood to see if he knew of a place to throw darts in Beijing. His hesitant response was something like: "Well… no, but if you find a board let me know and I'll add it to the CYBERDARTS listing." He must have thought I was nuts.
But I did find a place in China and now anybody who wants to hop on a plane and fly 10,000 miles and 13 time zones to find a game is in luck. The problem is if that same person wants to drive a quick 60 minutes from Boston to my hometown on Cape Cod. There ain't nothing in the listing!
Time to cure that.
Sailing. Fishing. Golf. Hyannisport. The Kennedy's. World famous summer resort. Tanya Harding once stalked Nancy Kerrigan at an ice rink out this way. The Cape Cod everyone knows …
Yet tucked away, just like almost anywhere else in the world, is a thriving darts culture. Mollys in Hyannis. Captain Parkers in Yarmouth. Jimmy D's in Wellfleet. There are literally dozens of establishments across the Cape well known for the caliber of darts played. Stop in at any of the three just mentioned and you are certain to find some top notch competition.
Or, if you want a little less than top notch competition (and some of the best pizza in the Northeast), drop by Village Pizza Restaurant at 715 Main Street in Yarmouthport. This is the home of The Village Pizza Village Idiots. My team.
Here you might meet Billy Woods (an "AA" player who throws harder — and straighter — than most major league pitchers). Or Chris James (also an "AA" darter — a hell of a player who can whip anybody when his mind's actually on darts, rather than nailing some poor deer with a bow and arrow). And there's Dave "Budda" Fasnacht (from Houston, who has thrown against and beaten the best — who was once nationally ranked). And there's me — who can beat any of these guys as long as it doesn't matter. Like on league night. Like any time money's on the line. Like never!
And then there's the regulars. Frank, our resident English teacher, who can tell you 101 ways to catch a lobster and then boil it 'till it screams. Pete, our bartender, who throws a mean dart himself and who can tell you precisely how to lose all your money betting on the horses. Peter, who owns the place. And Ritchie, who owns one of the barstools — or at least it seems he does!
Village Pizza's a family kind of joint. Great food. Great prices. A little bar off one side. Just one board on the wall –but it's the busiest spot in the place.
So check us out.
You're certain to get a good game. And guaranteed to get a great pizza!
From the Field,
Dartoid
The following two tabs change content below.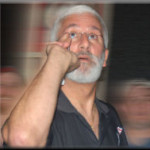 Author of the column that since 1995 has been featured by Bull's Eye News, the American Darts Organization's (ADO) Double Eagle and numerous other darts publications and websites around the globe.