Column #339 Sky Sports darts walk-on girl – Nicola Elisa Moriarty
Monday, December 15, 2008
Column 339
Sky Sports darts walk-on girl – Nicola Elisa Moriarty
The Professional Darts Corporation (PDC) World Championship begins this weekend at Alexandra Palace so it's time to get to know the players or, in the case of Dartoid's World, to get to know the one person the players would most like to play with. Of course, that individual is Sky Sports walk-on girl extraordinaire, Nicola Moriarty.
For several nights running Moriarty and I (who lie) have dined over wine in a quaint little restaurant in fashionable Soho. So I have the poop. Here's a snapshot:
Nickname: Princess (compliments of my five-year-old son, Samuelle)
Birthdate: February 7, 1981
Hometown: Chester, Cheshire
Occupation: Model and mother extraordinaire
Family: Four sisters, one son and two goldfish – Ben10 and Spiderman (also compliments of my son!)
Hobbies: Spending time with my family and friends
Television show: Friends
Last book read: My Autobiography by Katie Price (I prefer factual reading to fictional.)
Proudest accomplishment: Raising my son
Favorite night on the town: A nice meal with my girlfriends, followed by a few drinks, then hitting the town and dancing the night away… and grabbing a cheeky kebab on the way home!
Worst habit: Thinking I have no bad habits!
I'm shit scared of: Wasps and spiders!
Meal: Crispy Duck Pancakes
Beverage: Southern Comfort Lime and Lemonade (Magners) and also Magners Irish Cider
Music: Prince
Pet peeve: Bad manners
Quote: "What goes around comes around" has significance as I believe in Karma.
What most people don't know about me: My highest checkout is 120. This was in my teen years as a member of my local darts team.
Okay, here's a better snapshot: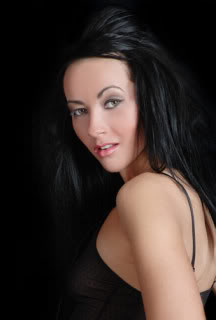 I suppose it's fitting that Moriarty is from Chester. But what's truly bizarre that when you anagram her name (and subtract and add a few letters) it spells "Dartoid is HUNG." Go figure.
It should come as no surprise that after graduating from St. Chad's High School in Runcorn, a short career in sales and an even shorter stint (two hours) standing in front of a conveyor belt and picking out rogue peanuts, the 34-25-36 hazel-eyed knockout shifted her focus (and the gaze of the lads) to beauty pageants and modeling.
On the pageant circuit and against some serious babes Moriarty's reeled off a string of wins damn near as long and impressive as Phil Taylor's resume. Among her long list of titles: Miss British Isles, Miss Berdbury Hall, Miss Hawaiian Tropic International, Miss Intercontinental Wales, Miss Halton Vale and Miss Chester – and she was a finalist in Miss Hawaiian Tropic Great Britain and Miss Great Britain competitions. She's also come out tops (note the darts pun) as Merryside Model of the Year, Northwest Model of the Year and was selected Top Model of the World Delegate for Great Britain.
It was through her agency, Angels Elite (www.angelselite.co.uk), run by Sue Knight and Karen Jean Cookson (the two original darts walk-on girls – who worked the first-ever walk-on when Larry Butler shocked Dennis Priestley at the 1994 PCD World Matchplay) that Moriarty landed key modelling contracts with Honda Hydrex (as the BSB Super Girl), TJ Hughes Commercial, and her current claim to fame: her role as a walk-on girl for Sky Sports. She also models for Bentley, which is some sort of car as well as my dog's name (and I guess also the name of one of her goldfish), and just a month ago was chosen as the Real Bond Girl to launch the new Daniel Craig waxwork at Tussaud's in Blackpool.
She's even done a bit of acting including a must-see promotional clip reenacting Meg Ryan's role in the Katz's Delicatessen scene from Harry met Sally.
So Moriarty is making her mark and is understandably quite pleased, especially with her Sky Sports contract. "Naturally I was over the moon because, as most people close to me will tell you, I am a big darts fan!"
She's been a league player since her teenage years and is a frequent (and popular) participant at the world's premier Internet darts forum, Superstars of Darts, giving as well as she gets amidst the sometimes rough and tumble camaraderie. She's received invitations for get-away weekends to Las Vegas. She's received marriage proposals. She's turned them all down, so far – but lads keep trying their best.
I tried to pry information out of her but didn't get far, at least with the direct approach. For example, I asked her to name the one player in all of darts that she just longed to walk on with. Although I have a sneaking suspicion she has a soft spot for Wayne Mardle, all she would offer was that she thinks "all of the guys are great so I couldn't possibly choose one."
So Moriarty's a diplomat.
I opted then for a crafty approach, figuring that the lad as well as the owner of the pigtails he dips into the inkwell usually have a secret connection. I asked if she has ever been embarrassed by one of the professionals.
"Well," she replied, "Once Peter Manley stood on the back of my shoe whilst walking onto the stage at the MEN (Manchester Evening News) arena, in full view of the fans. I spent the whole time on stage mortified at the thought of it being live on Sky Sports however, with the camera work being so sharp, they managed to keep it out of shot. Phew!"
So the truth slipped out. And I was wrong. Drop dead gorgeous Nicola Moriarty has a thing for One Dart, not Hawaii 501.
While darts may be one of Moriarty's great loves modelling is her vocation and it's her father who she credits with her success. "He has always supported and encouraged me and that has meant so much." But Moriarty's "hero" is her grandmother. "She successfully raised thirteen children and lived a sane life until the grand age of eighty-nine!"
As her career progresses her greatest hope is to someday measure up to her grandmother, to be "remembered as a good person who made a difference."
I asked her what she would do if her career really, really took off and she struck it rich. "If I made a millions dollars I'd invest it wisely and turn it into ten million," she said, "and then I'd enjoy it!"
Of course I asked her how she'd enjoy it. For example, I posed: If you had the bucks and could escape forever to some South Sea island who would you take along?
Sadly, for Peter Manley and Wayne Mardle – and scores of other hot-blooded hopefuls – Moriarty's reply was as immediate as it was emphatic: "My boyfriend!"
Wanker.
From the field,
Dartoid
The following two tabs change content below.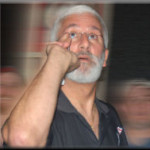 Author of the column that since 1995 has been featured by Bull's Eye News, the American Darts Organization's (ADO) Double Eagle and numerous other darts publications and websites around the globe.