Column #366 Dessert Classic VIII – Round One, Day One
Wednesday, July 1, 2009
Column 366
Dessert Classic VIII – Round One, Day One
At the end of the first half of the first round of stage play here at the Desert Classic came the match the North Americans were waiting for and in the end there wasn't much to see.
Although Canadian John Part handled Sacramento's nervous Scotty Burnett 6-2 the three-times world champion was far from impressive. Without a doubt this evening he'll be back at the practice board in John Denich's and Gary Mawson's room.
He'll need to be if he hopes to continue his run.
In the first match of the day, following a circuitous route to the stage during which both players sort of lost their way, Dennis Priestley stormed past Colin Monk 6-1, thanks in large part to Monk's screwing the pooch twice on tops which would have seen him even after six legs with the two-times world champion and living legend.
Wes Newton continued his love affair with the Desert Classic with a victory over Alan Tabern. Tabern had his chances though, missing double eleven to finish 142 in the seventh leg and then failing to close 100 in the next – which would have seen the match even at four. At 5-3 however, Newton held his throw in the ninth leg and ended Tabern's hopes.
Colin "Jaws" Lloyd had the antidote for Peter "Snakebite" Wright and ended his tournament 6-3. Wright stood up well however, to the former world number one and certainly made an impression on many, particularly that huge segment of society who color their hair pink and yellow.
Ronnie Baxter and Jelle Klassen launched darts faster the Speedy Gonzales. The match was over in record time and, unlike at yesterday's Players Championship when The Rocket stood victorious over Phil Taylor, today it was the young Dutchman who pumped his fist and advanced 6-2.
The second half saw Terry "The Bull" Jenkins bully his way past Simon Whitlock 6-1. To Whitlock's credit however, at least in my book, he stymied spotter five-times world champion, Eric Bristow, back in the Sky TV van. Numerous times Bristow seemed uncertain where the Australian intended to place his darts. The unfortunate thing, for Whitlock, was that even when Bristow did figure out where to tell the cameras to focus Whitlock just couldn't seem to find the mark.
Despite a strong effort by Jamie "Jabba" Caven (who averaged 101 to his opponent's 98) fourteen-times world champion, Phil Taylor, went to school, as usual, and sent Caven home. The Power is the man to beat. Period. Full stop.
Crowd favorite Wayne "Hawaii 501" Mardle just didn't have enough to stop Scotland's Gary Anderson. Anderson put on a veritable doubles clinic, hitting 86%. Mardle jumped ahead straight away with a 115 finish but The Flying Scotsman was then unstoppable, at least until the break, where he led 4-1. Anderson returned favoring his elbow and Mardle took advantage, grabbed the sixth leg with tops. But whatever was bothering Anderson wasn't enough to stop him from taking the next leg with a 130 bullseye finish, then the next and the match.
Today's matches set up several superb second round clashes on Friday. Priestly and Taylor will toe-up. Jenkins will see Lloyd. And John Part will be matched against the lightning fast Klassen.
The final eight first round pairings, beginning at 11:00 a.m. tomorrow, will feature Chris White vs. Andy Hamilton, Bill Davis vs. Raymond van Barneveld, Darin Young vs. Kevin Painter, Mervyn King vs. Louis Blundell, Mark Walsh vs. Peter Manley, Colin Osborne vs. Co Stompe, James Wade vs. Phillip Hazell, and Adrian Lewis vs. Vincent van der Voort.
Stay tuned. It's getting serious!
From the Field,
Dartoid
The following two tabs change content below.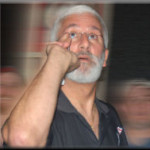 Author of the column that since 1995 has been featured by Bull's Eye News, the American Darts Organization's (ADO) Double Eagle and numerous other darts publications and websites around the globe.