Column #519 Darts in Bali
Monday, August 1, 2016
Column 519
Darts in Bali
I'm not sure what people expect to find when heading to the Indonesian island of Bali. All I was looking for was the darts…
I connected through Bangkok. In one of the airport bars, I met a pretty, 20-something girl from Portland, Oregon, who'd found a cheap but circuitous connection through somewhere in Scandinavia. I asked her about her plans. She said she was going to a yoga retreat – that she was a day late and a little stressed, so she'd probably have to "do a few extra ohms" when she arrived. Cute.
She asked about my plans. I said I was looking for the darts. She squinted and mumbled, Um… um… Yep, she did.
Briefly taken aback and apparently under the impression that traveling to Bali for darts was screwier than I viewed twisting oneself into a pretzel to chant, she started doing exactly that, or so it seemed. But I'm not judging – 40 years ago I'd have blown off the darts in a moment and, like a puppy, followed to the ends of the earth any whacked out, nubile girl, particularly if her name was Melania.
People do go to Bali for yoga, and I'm not talking about the bear or baseball player. The island is some sort of Mecca for the yoga-inclined. Ubud in the central foothills is the center of the Yoga Universe. It's also the location of the famous Sacred Monkey Forest, where monkeys are known to relieve tourists of their sunglasses and hats. Not long ago, a visitor witnessed one "…grab an iPad and walk away with it under his arm, like a boss." Eat, Pray, Love was set here at Padang-Padang Beach, not that I can fathom why anyone would care.
Of course, people come to this jewel of the 17,000 island Indonesian archipelago for more than yoga and darts. They come to take in Bali's tropical landscape and exotic multi-colored flowers, green rice terraces, rocky volcanic mountains, thousands of temples, white and black sand beaches, world-class surfing, and more. It's marketed as an idyllic picture-postcard Paradise Island, where one's every fantasy can come true. One might expect to be greeted by Hervé Villechaize.
Bali is much larger than I imagined – it's not a small paradise. The island encompasses 2,200 square miles, making it about four times the size of New York City. It's half the size of the Big Island of Hawaii. It takes three hours to drive between the island's two most distant points. And it's hot (and humid), situated as it is just eight degrees south of the equator, two miles east of Java and a two-hour flight from Singapore or Jakarta.
From Jakarta one can take a day trip to the recovering Krakatoa Island – something I wish I'd had time to do. The Krakatoa volcano, one of the most powerful ever, erupted in 1883, obliterating the island, setting in motion a 140 foot-high tsunami and jettisoning so much ash that sunlight 11,000 miles distant in Nicaragua turned blue. Somewhat recently, in 2003, researchers reported in Sky and Telescope magazine that they'd determined not just the actual Oslo, Norway, site of Edvard Munch's famous The Scream painting (actually a series) but also that the vibrant blood-red sky in the painting is as the Oslo sky appeared, affected by ash particles from Krakatoa, the day Munch drew inspiration for his masterpiece.
But darts was my mission. So I flagged a bemo (taxi) and headed into traffic…
…and accomplished my mission at the distinctly local James Cook Sports Bar (Jl. Raya Semer, No. 100, Kerobokan) in the commercial center of Denpasar, Bali's capital city.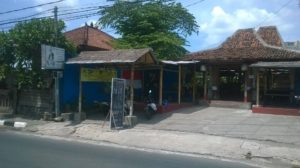 Formerly the Flying Cook but now under new ownership, The James Cook is an Australian joint with a Balinese flair – inside and out. It's more or less an open-air establishment with a shake shingle-like roof, appointed inside with polished local woods and bamboo. The environment is family-friendly and even includes a play room for kids. The menu is extensive, offering everything from hamburgers to local fare like mie goreng – a tasty sort of chicken-vegetable-egg concoction. Bintang is the beer of choice and will set you back 27,000 rupiah which is either about $2 or $20 a bottle. Hopefully, it's the former since I had a half-dozen.
There's just one dartboard, in a wooden case, well lit and well used. It fits in nicely against a bamboo wall. There's a long-standing, in-house tournament that anyone can enter starting every Tuesday at 7:30 p.m.
Soaked from the humidity (there was no air conditioning in the bemo), I showed up midday on a Monday. So I washed down an order of mie goreng and threw alone for an hour or so, just long enough to hit a couple dozen maximums and throw three perfect games.
Okay. Okay. It's possible that the eight words at the end of the preceding paragraph are exaggerated. But everything else I have related about Bali is true, almost…
It has to be noted that while much about Bali truly is magical and while in 2010 Travel and Leisure magazine gave Bali its Best Island award, all is not quite as commercially portrayed.
There is another side to paradise…
There's widespread prostitution, notably the Kuta Cowboys, local gigolos who target female tourists, particularly in the Kuta tourist district. Kuta is also where al-Qaeda masterminded the 2002 car bomb attack outside the Sari nightclub, killing 202 and wounding more than 100. Bali is a province with its own government authorities and governor. The governor has issued kill-on-sight orders to rid the island of upwards of 150,000 homeless dogs.
The ever-increasing influx of tourists, now more than two million a year, is having a profound impact on the island. Pristine habitat is being lost to hotels, luxury housing, and new road construction. Only half of all waste is recycled. It is estimated that 15% more cars are added to the roads each year, contributing to the already heavy congestion and traffic jams.
A literal culture of corruption said by many to have been set in motion by Indonesian President Suharto, who held office from the late 1960s to the late 1990s (and is accused of bilking the country of $35 billion) continues to prevail. Travelers are warned by those in the know to be extremely careful and expressly law-abiding and not expect, in even the more minor of predicaments, fair treatment from the police.
But there's darts. And where there's darts all is good.
Well, sometimes there's a bit of stress. Perhaps, those 180s and perfect games I "exaggerated" about were actually 26s and 30-dart games…
Ohm… ohm… ohm. OHM!
From the Field,
Dartoid
The following two tabs change content below.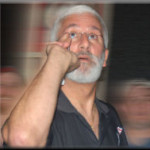 Author of the column that since 1995 has been featured by Bull's Eye News, the American Darts Organization's (ADO) Double Eagle and numerous other darts publications and websites around the globe.