Column #363 Desert Classic VIII – Qualifier One
Monday, June 29, 2009
Column 363
Desert Classic VIII – Qualifier One
I must begin this series by setting to rest the rumor that for months has rumbled about the darts community – that the Professional Darts Corporation (PDC) is turning its back on the United States and this year's Desert Classic will be the last.
The rumor, Dartoid's World readers – all six of you – is unequivocally and resoundingly FALSE! This is so despite the shameful fact that for the eighth year running foreign entries outnumber local entries by a ratio of nearly eight to one.
Many Americans are blaming the economy for their lack of attendance while in the face of the same financial downturn more than 150 players from England and Holland and as far away as Australia, New Zealand, and Japan have managed to find their way – many with friends and family – to the heat and glitter of Las Vegas. Yes, it's a shame, and credit must continue extend to the PDC for sticking with the event and darts in America even though their efforts have not been reciprocated.
One of those who made the trip is Tony Eccles – and his family. Eccles is testament to a darts culture that is, I suppose, simply different than it is stateside. I spoke with The Viper briefly this morning while making my way through the sea of Mandalay Bay slot machines en route to the tournament hall. Eccles pointed to his Superstars of Darts patch and acknowledged how proud he was to be wearing it.
The membership of the world's premier darts forum should also be proud for stepping up with almost $6,000 worth of their hard-earned money to sponsor Eccles, one of the future stars of our sport. It's as mysterious as it is disappointing that America's top darts forum showed no comparable interest in helping one their own.
As usual, it's 100-plus degrees HOT in Sin City but for the next few days Americans Scotty Burnett, Darin Young, Chris White, and Bill Davis can stay cool as they have pre-qualified. This is Young's sixth consecutive Desert Classic. For close friends, Burnett, and four-time U.S. national champion, White, it will be their Desert Classic stage debut – but it is Burnett who has been on fire recently: he defeated Young last month in the final of the North American Darts Championship and reached the final in three of the six events at Manny Pacquiao's "Pacmania" event just last weekend. Davis, of course, is always a threat – just ask three-times world champions John Part, who the Philadelphian sent packing in straight sets at last year's world championship.
Today's and tomorrow's best-of-nine-leg qualifiers will determine the twelve players to be drawn against the American pre-qualifiers and the top sixteen players from the PDC's Order of Merit. The top eight ranked players – Phil Taylor, James Wade, Raymond van Barneveld, John Part, Terry Jenkins, Mervyn King, Adrian Lewis, and Alan Tabern – will be seeded. Rounding out the top sixteen are Dennis Priestley, Ronnie Baxter, Colin Lloyd, Wayne Mardle, Colin Osborne, Kevin Painter, Andy Hamilton and Mark Walsh.
Battling it out today for the first six of the twelve remaining positions is a stellar contingent, headed by Peter Manley – the 2003 Desert Classic champion (who Mark Walsh just knocked out of the top sixteen to earn his stage position). Simon Whitlock is here. Gary Anderson, Mark Webster, and Andy Fordham will also be competing from the floor. From Holland there is Jelle Klaasen, Michael van Gerwen, Vincent van der Voort, Roland Scholten, Co Stompe, and Jan van der Rassel.
And then there are the North Americans who weren't looking for excuses not to attend: Dan Lauby, Dan Zimmerman, Chuck Pankow, John Denich, David Fatum, Davis Snider, Dieter Schutsch, Gary Mawson, Gerry Convery, Johnny Kuczynski, Larry Butler, Ron Peppers, Paul Lim, Ray Carver, Mark Nielson, Mark Venable, Timmy Nicoll, Robert Race, Steve Panuncialman, and Robert Heckman, among others.
Today's qualifier kicked off at noon. At about the same time I bumped into Australia's Kevin Berlyn. Berlyn and I have been e-mail friends and co-troublemakers for years and have long boasted that we could whoop each other. But until today we had not actually me in person. It was a delightful encounter, but brief. Berlyn asked me if I had my darts. I told him I did. Then he disappeared. Probably he caught a flight home…
I also had a chance to have a long discussion with the one and only Howie Reed and spend time – hardly enough – with snappily-dressed Russ Bray and Phil Jones, the later who now calls Las Vegas home.
In early matches Paul Lim found the double first to nip Dan Lauby 5-4. Ray Carver fell to Tony Eccles, John Jenkinson topped Chris White, Steve Hine knocked out Dieter Schutsch, Mick McGowan defeated David Fatum, Gary Barnett stopped John Denich, and John Quantock ended Robert Race's bid.
Meanwhile, along with Lim – Johnny Kuczynski, Mark Venable (setting up a match with Peter Manley), Larry Butler, Chuck Pankow, Steve Panuncialman, Robert Heckman, Gerry Convery, Timmy Nicoll, Gary Mawson, Davis Snider (setting up a confrontation with Robert Thornton), Mark Nielson, and Ron Peppers moved past their first opponents.
But by 3:00 p.m. the North American contingent was whittled to Mark Nielson, Larry Butler, Timmy Nicoll, Gary Mawson, Paul Lim, Davis Snider, and Robert Heckman. And then they began to fall…
John Quantock took out Nielsen 5-2. Mark Dudbridge ended Nicoll's run by the same score line. Simon Whitlock and Kevin McDine whitewashed Mawson and Lim. And Andy Jenkins ended Heckman's hopes 5-1.
Only Butler and Snider advanced to the fourth round, setting up matches against Andy Smith and pony-tailed Dennis "Smiffy" Smith respectively. Butler went down by a whisker leaving only the excruciatingly slow-shooting Snider still standing for the Americans. The thing is: the unorthodox Smith is far from a fast shooter himself!
Ninety minutes later (five of the six qualifiers – Jamie Caven, Peter Wright, Simon Whitlock, Vincent van der Voort, and Co Stompe – were already determined) Snider and Smith were still at it. In the wings, trying to stay awake, waiting to play the victor of the Molasses Match and determine the sixth player to qualify was Jelle Klaasen…
In the end, it was Smiffy by a score of 5-2 who ended the last of the Americans' hopes on the day – but it was Klassen who notched up the sixth stage spot with a 5-4 win over the pony-tailed one.
Along with Smith, falling just short today were Shane O'Connor, Andy Smith, Barrie Bates, Nick Fullwell and…Tony Eccles who, although he did have the support of an entire darts forum, didn't quite have the darts required in his final match against Vincent van der Voort.
So the first of the two Desert Classic VIII qualifiers is history and, in quite a surprise, FOUR of the six players advancing to first round stage play – Whitlock (from Australia), van der Voort, Stompe, and Klaasen ( all from Holland) – are NOT from England.
One must wonder what tomorrow holds…
Can Roland Scholten, Michael van Gerwen, and Jan van der Rassel find the darts to continue the Dutch onslaught?
Will Johnny Kuczynski, Ray Carver and the rest of the American contingent find the stuff to reinforce the PDC's continued commitment to the Desert Classic and professional darts in this country?
Will Kevin Berlyn show up?
In twelve hours it will be GAME ON again and in due course all the answers will be revealed HERE at Dartoid's World.
From the Field,
Dartoid
The following two tabs change content below.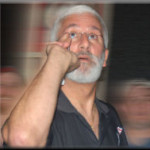 Author of the column that since 1995 has been featured by Bull's Eye News, the American Darts Organization's (ADO) Double Eagle and numerous other darts publications and websites around the globe.