Column #364 Desert Classic VIII – Qualifier Two
Tuesday, June 30, 2009
Column 364
Desert Classic VIII – Qualifier Two
DAMN it was hot today! At lunch I started hallucinating. I ordered spaghetti and thought I saw Olly Croft's image on a meatball.
I blinked.
I massaged my eyes.
The meatball morphed into Tommy Cox, sprouted legs, and started running around the table.
So I stabbed it, sliced it in half, and gobbled it up!
Now I can only hope Cox doesn't reconsider and decide to chalk my upcoming challenge match against the elusive Australian, Kevin Berlyn, who I think I caught a glimpse of today. I'm pretty sure I saw him hailing a taxi in front of the Mandalay Bay, disguised as a wallaby.
Presently, Cox is declining to keep score claiming that since Berlyn and I "both suck arse" and he has "a really big important tournament to run" there is "just not enough time to "subtract twenty-sixes all day for a couple of bozos".
Of course, I jest – Cox didn't use these exact words.
But he thought them.
And he is correct.
So…
After another day in the desert heat the Desert Classic qualifiers are complete.
Rounding out the thirty-two players who will begin first round stage play on Wednesday are 2003 Desert Classic champion Peter Manley, Colin Monk, Wes Newton, Louis Blundell, Scotland's Gary Anderson, and New Zealand's Phillip Hazell.
For the North Americans it was Ken MacNeil who came closest to glory. The Canadian fought his way to the fifth and final round but came up short to Colin Monk 5-3.
Advancing to the fourth round were Paul Lim, Gary Mawson, and Ray Carver.
Lim knocked out Andy Jenkins' en route but was stopped short 5-4 by two-time Desert Classic semi-finalist, Wes Newton, who handled Dutchman Roland Scholten 5-1 to book his spot.
Mawson's run was ended by Barrie Bates who was then ousted by Phillip Hazell.
Carver was unstoppable early in the day taking high profile scalps the likes of Steve Beaton and 2008 Lakeside champion Mark Webster, the later with a pressure-packed 108-finish in the tiebreaker. In the end however, it was relative unknown Louis Blundell who, in a less-than-sportsmanly manner, squeaked past Carver 5-4. Those who watched this contest (including Blundell's fans) had to be as unimpressed with the youngster's attitude as they were impressed with his darts.
In addition to those mentioned, Chuck Pankow, Jim Newman, Johnny Kuczynski, and Mark Stephenson also advanced to the third round.
For a handful of other North Americans – Dan Zimmerman, Larry Butler, John Denich, Gerry Convery, Steve Panuncialman, and Dieter Schutsch – the day ended with their second match.
For the rest the day ended pretty much when it started.
The Desert Classic reconvenes on Wednesday with first round stage matches, the draw for which will take place at the player's dinner following the Las Vegas Player's Championship on Tuesday.
For the Americans it will be Darin Young, Scotty Burnett, Chris White, and Bill Davis testing their power and precision against the best in the world as all thirty-two players remaining press on in their quest for the £30,000 first place check.
Check into to Dartoid's World tomorrow for results of the Player's Championship and the Desert Classic draw.
In the meantime, I plan to order a pizza and continue my hunt for Kevin Berlyn.
I wonder if wallaby's are attracted to pepperoni?
From the Field,
Dartoid
The following two tabs change content below.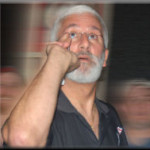 Author of the column that since 1995 has been featured by Bull's Eye News, the American Darts Organization's (ADO) Double Eagle and numerous other darts publications and websites around the globe.