Column #362 World Cup XVII – a Preview
Monday, June 15, 2009
Column 362
World Cup XVII – a Preview
The last time I wrote about a World Cup was in advance of the 1999 event held in the capital of KuaZula-Natal – Durbin, South Africa. After scoping out the city and venue I offered advice to then ADO President, Sandi Cain, who was a little apprehensive about venturing to the Dark Continent…
Preparing to throw darts in Africa is different than tossing a few t-shirts and all you can afford to feed the slot machines into a bag to hit the North American Open. The Vegas showgirls may carry around some pretty pointy objects but, unlike the natives in KwaZulu-Natal, they don't go grocery shopping with spears.
Okay, not really – or at least lately – but still, there are a handful of items that my friend, David Barritt, suggested I collect up the first time I was packing to step on African soil.
"First, of course," he advised, "you've absolutely gotta bring a couple of pints of blood – you might even be able to get it freeze dried." Then he told me a story about the time he was attacked in a hotel elevator by a lion, two rhinos and some girl with a bone in her nose.
"A snake bite kit is also a must. Black mambas are everywhere and they'll take you out in a millisecond if you're not vigilant about carrying a vile of anti-venom in your pocket." Then he told me a story about the time one of these deadliest of the world's vipers leapt out of a toilet and tried to bite his wife Leslie on the butt. Another time one of these killer snakes chased her out of a jewelry story and across the entire concourse of a fancy shopping mall. "Actually, I owe that snake a debt of gratitude," David said. "There's no telling how much that woman might have spent."
"Last, and this is particularly important, forget the malaria pills – especially Larium. It'll make you hallucinate. What you must bring is an elephant gun. The mossies in Durbs (translation: the mosquitoes in Durban) are as big as buffalo. You're gonna need protection."
I don't know exactly what Sandi did to prepare the team – although I did hear later that she was pretty enthusiastic about packing blood, as long as it was mine.
Now, for just the third time since its inception in 1977 the World Cup is coming to America – and for the first time it is being held somewhere other than Las Vegas. This year, Charlotte, North Carolina and the Blake Hotel will be the epicenter of the darts world. In 2008, Charlotte was rated the "Best Place to Live in America" so it's no surprise that the city was selected as this year's host.
So far, thirty-six countries – from Australia to Turkey, Japan to Pakistan, India to Belize, Russia to Iceland to Brazil – have sorted their teams and confirmed attendance. Forty-three teams converged at the last World Cup so the line up is certain to increase.
The U.S team – the only one that really matters – is set and includes Brian Blake, Ryan Barnette, the one and only Jim Widmayer, Steve "Chunky" Brown (who was on the team that traveled to Durbin – and who had no worries because, his nickname not withstanding, he was (and still is) able to outrun most slow snakes), Stacy Bromberg and Marilyn Popp.
For the first time ever America will send a boy and a girl to the World Cup. The youth entrants are still to be decided in Stamford in August at the Youth Nationals during the USA Dart Classic. I've got a feeling though about a kid named Miles "Barack" Gallagher from Boston, although his brother, Shannon, can shoot the lights out too. I'll say nothing about the little girls because I'm liable to get in trouble.
Festivities begin on Wednesday, September 23 with the opening dinner, ceremony and reception. Action starts on Thursday with the men's team, women's and youth pairs competitions and continues on Friday with the men's singles and pairs, women's and boy's and girl's singles events. The staged semi-finals and finals will round out the prestigious tournament on Saturday, followed by the closing banquet.
While it would seem America's powerhouse team is well positioned to wrestle the overall World Cup honors away from the Netherlands, which has won back-to-back titles in the biennial tournament (2005 in Perth, Australia and 2007 in Rosmalen, Netherlands), history is not in the home team's corner. America has never won the event. In addition to the Netherlands, England has won eleven times and Wales three times.
Since 1977 only Nicky Virachkul (in 1979) has ever brought back gold in men's singles. Erik Bristow won the event four times, Raymond van Barneveld three times, and John Lowe twice.
The US ladies have faired a bit better – but it's been since 1993 (Kathy Maloney) that they've brought home the honors. Sandy Reitan won ten years earlier, in 1983, and Eva Grigsby won in 1989.
Erik Bristow and John Lowe teamed to win the men's pairs SIX times. John Part and Carla Mercer chalked up Canada's only win in 1993. For America it's still a big zip.
It's in the men's team event that the US has tasted success, twice…
A stellar assemblage – a team of four of America's true legends of the sport (Tony Payne, Rick Ney, John Kramer, and Dan Valletto) took the cup in 1985. Ray Carver, John Kuczynski, Bill Davis, and George Walls notched America's only modern day win in 2003 in Epinal, France.
I asked American Darts Organization (ADO) President, Buddy Bartoletta, for his early take on the tournament and this year's American team. "We're strong and we're going to be ready," he told me, "but England and the Netherlands are always tough."
"But we'll be tough too. The World Cup is unique among darts competitions – it's not about ranking points or money; it's about national pride and bragging rights. We're going to Charlotte to win."
Bartoletta went on to talk about logistics and all the work remaining to be done before the players arrive. "We're going to fill the hotel and we're going to put on a terrific show – but we need volunteers," he said. "Tell people to go to the ADO website and sign up."
So go here NOW: World Cup XVII Volunteer Registration.
Of course, Bartoletta also pleaded with me not to insult anybody with this first salvo on the tournament and I assured him I would abide his wishes. It is for this reason that I have not mentioned The Website that Shall not be Named.
For more details on World Cup XVII be sure to follow the official tournament website at Official World Cup XVII Website and for continuing insight that you are unlikely to find there or anywhere else don't forget to check back often at Dartoid's World.
From the Field,
Dartoid
The following two tabs change content below.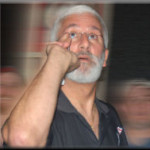 Author of the column that since 1995 has been featured by Bull's Eye News, the American Darts Organization's (ADO) Double Eagle and numerous other darts publications and websites around the globe.