Column #334 Toodles SEWA!
Thursday, October 9, 2008
Column 334
Toodles SEWA!
After months of consideration, the other day I quit participating as a poster at the popular SEWA website. I posted my reason for doing so in what I felt was a helpful and constructive manner. I have since been bombarded with e-mails from people wanting to know the story behind the story…
Honestly, there is no mystery. I got bored. The value in the site to me was to find ideas to write about and to hatch new ones. That value had dissipated. It's as simple as that. For many people the specific value of the site to them will certainly continue.
Several of the e-mails I have received have shared the reaction of some who have since posted to suggest that leaving the site and announcing my decision in a post was either: 1) "just Dartoid joking around" or 2) an example of my "monumental ego".
Let me respond…
I understand why some people might think I'm joking around (although the "monumental ego" thing does surprise me because if there is anyone alive who does not take themself seriously it's me)…
Even after nearly 30 years of marriage (I was married when I was just 5-years-old) my wife still, quite often, asks me if I am being serious.
For example, just the other day (when she asked me why I was growing my beard back) I told her it was "to keep warm" because I thought MCCain's and Palin's first act after their Inauguration would be to amend the Constitution to require all American male land owners to go to the wilds of Alaska and kill a moose.
"Come on…" she said.
I replied, "Okay, maybe not exactly that, but I do think that if they are elected and as soon as the next Great Depression takes complete hold I may have learn to hunt, travel north and shoot animals to fill our freezer."
And she says, "We don't have a freezer. Should I buy one?"
Why is it that no matter what you say to a woman, even in jest, it ends up costing you money?
From the Field,
Dartoid
The following two tabs change content below.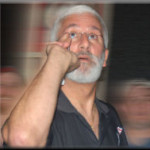 Author of the column that since 1995 has been featured by Bull's Eye News, the American Darts Organization's (ADO) Double Eagle and numerous other darts publications and websites around the globe.