Column #335 Nicole Watson leads the MMDL back to greatness
Wednesday, October 29, 2008
Column 335
Nicole Watson leads the MMDL back to greatness
I've just returned to Tampa from the heart of the once famous, then infamous and, now, on the road to becoming great again Minute Man Dart League…
I was lured to Boston by what I thought was an offer to throw a charity match against a Hooter's girl. Apparently I misunderstood.
I ended up facing off instead against twelve-year-old, four-foot-tall darts phenomenon Miles Gallagher. This kid is a serious talent. In fact, he's the best twelve-year old shot I have ever encountered.
Earlier in the day of our match Miles took a couple of games off Eastham's towering Roy Chad, one of the unsung best shots in the country. I think the defeats shrunk Chad an inch or two (which according to his girlfriend, Stephanie Burton, is "not something he can afford." For Miles' part (and despite a touch of the flu), I suspect the wins had him feeling confident he wouldn't end up sporting an Obama t-shirt – his fate according our side bet should he lose to me later in the day. Should I lose, my destiny was to wear a McCain/Palin shirt and spout conservative whack-job nonsense.
In addition to precision darts Miles has a knack for the kind of wit that will carry him far as he ventures forth in our sport, and life, particularly among the trash-talking group of shooters who make up the nucleus of the MMDL hard core. As Miles and I strolled into breakfast together on Saturday morning I remarked how desperate I was for a beer: "If I don't get a Budweiser in me fast I'm gonna be missing the board by miles." The kid's retort was immediate, albeit not subtle: "I wish I could come back with an equally awful pun."
He should be slapped for mouthing off to an adult.
In our best-of-three 501 match only double trouble stopped the 100-pound youngster from a clear-cut win, enabling me to sneak back and steal the first leg with a double eight. Had Miles not struggled to close in the starter I have no doubt I'd have never gotten a look in the second leg. But I did and a triple twenty, tops finish sealed the deal.
Like a man, Miles coughed a few times and then took his medicine – slipping an Obama shirt over his head before crying like a baby. I may have misunderstood but I think he said something about "exacting his revenge" sooner than I might expect. Huh?
Over the weekend I was fortunate to be able to spend time with several of the new leaders of the MMDL board. For instance, President Nicole Watson was kind enough to drive ninety minutes to join Miles, his brother Shannon and father, Larry, and me for breakfast on Saturday and never once commented about the time we spent admiring her badoinkies.
Okay, this is a lie. I didn't peek even once. I swear it. Neither did Larry. And Miles and Shannon are too young to be thinking about babes. They need to go to school, do their homework, go to college, find good jobs, get married – and then jeopardize it all by spending their evenings in bars drinking beer and throwing darts.
This is a fact: Watson has far more brains and curves than any other league president I have met and she's laser-focused on the task at hand. I can't imagine anyone better suited to lead the largest darts league in the world. As far as I can tell, the only thing she lacks is navigation skills. (We got lost for an hour driving the three miles from the restaurant back to the hotel.)
In truth, my primary reason for heading north was to be brought up-to-date by Watson, Adam Sherlock, Greg Tong and others on the new MMDL board's plans to return the league to the players and long overdue respectability. But they screwed with me.
They DIDN'T TELL ME the temperature was going to dip into the fifties at night and that this Florida boy was gonna freeze his cohunes off at the hotel at night. They DIDN'T TELL ME they were going to tie me down and force me to drink shots of something that tasted like pineapple and cause me to lose my eyesight. They DIDN'T TELL ME my super luck of the draw partner would be the wild and crazy Rachey Imrie. They DIDN'T TELL ME I'd be drawn against Donald Garnett's best buddy, Dave Walsh, in the traveling singles shoot. And they sure as hell DIDN'T TELL ME that the kid they'd lined up for me to play for charity was a frickin' ringer!
Damn, I would have been safer hanging out with the old MMDL crew (except I know from a recent visit to Alcatraz that there aren't dartboards in prison).
Scully cap-donned bagpipe aficionado, Derek Ewell, picked me up at Logan airport in his fancy Saab and we headed to the wharf for lunch at the No Name Restaurant with the league's new business administrator, Sherlock, who looks to be about the same age as Miles Gallagher. Sherlock inherited years of minutes, check book registers, and other incriminating documents from the old board's years of nefarious stranglehold over the league. I learned a LOT. For example I'll bet you weren't aware that the good old boys "invested" and lost $21,000 of league money in a Ponzi scheme…
But I'm not going to get into all this sordid old stuff. The bums have been thrown out and a new day has dawned. That's great news for darts in Massachusetts.
Mostly we spent our time talking about fresh plans that are in the works to cut costs and stabilize the league's financial situation and, eventually, hopefully, to bring back some of the great tournaments of better times. The bottom line – the raison d'être for the new guys in town – is to run the league honestly and for the players, not the other way around.
Here's just one example of what darters have to look forward to (and this is BREAKING NEWS, just confirmed by the Professional Darts Corporation): the 2010 Ladbroke's World Championship will be held in Bob Cedrone's "room" at the new Liberty Hotel. Yep, there's a little pun buried in there…
Derek and I then headed to the Abington Town House (236 North Avenue) to the regular Friday night super luck of the draw. The Town House is a cozy place with low ceilings and a bar in the back and, I think, there was a blue man with wooly mammoth-like hair wandering about. I don't know for sure. He might have been on the television.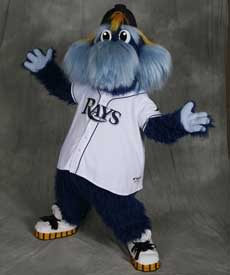 I think his name was Raymond Ray.
Somebody bought me all my beer so I didn't mind about the blue guy or that my partner, Rachey Imrie, and I got knocked out straight away. Really, I didn't care. Rachey didn't either. In fact, I'm not entirely certain she'll remember she was even in the joint until she reads these words.
Several of us then headed to the Rockland Eagles (Aerie #841) for a bit more warm up and a lot more cold beer. We closed the place. And it's a damn nice place – the darts set up on the main floor is as good as they come. I saw no more blue men but I did see an overweight cross-eyed dude puking on himself in the men's room. He was just sober enough to blubber: "Hey Dartoid. I love you. My name is Chubby Blues. Please come back to SEWA."
Not a chance, you bozo.
Thanks to Dave Walsh – who blanked me 4-0 – I spent most of the Saturday singles shoot eating hotdogs and shooting the breeze at the picnic tables next to the horseshoe court behind the club. It was a welcome opportunity to do what I love so much about our sport – to renew acquaintances and to meet and get to know others who together make darts the great game it is.
I was surprised when Paul Lim strolled by to say hello. I was embarrassed to realize a moment too late that it was actually Greg Tong, the newly elected vice president of the league. He was carrying a ping pong paddle.
Of course it was good to see Roy Chad again – and Bob Given, who won the singles shoot over Frank Smith, and who I had not seen since the Oregon Open in April. Smith paired later in the day with Walsh to take the doubles over Given and Rob Peterson.
It was also good to finally meet Tom O'Conner, who I worked with in 2007 to help raise funds to help our friend Bob Elliot and his family who were struggling to overcome unexpected medical bills. Although I was sorry that Bob (or his old roommate, Charlie McDevitt) was unable to make it to Rockland, I was pleased to learn that he is doing well. Sad news did greet my first morning back home – word arrived that another old Cape Cod darts friend, Daryl Sutherland, just 42-years-old, died of a heart attack over the weekend while the rest of us were enjoying the game he loved.
Speaking of Cape Cod, it was my great pleasure to spend time with the slight and soft-spoken Jim "the King" Spinosa. If ever in the history of time there was a darts player who makes an impression – who is impossible to forget – it is Spinosa!
Well, there is also Paul Hooley… but except to note that if you rearrange the letters of his name, drop some and add a few it spells "I inject beer" I won't comment.
I met many others – Tom Boehner, Paul Kirby, Paul Hunt, the smooth stroking Avery Barry and Dennis Savicke (who finished in the top four), Mark Mahoney, Ron "the Big Guy" Packard, Gary Esterbrooks, Brian Cornish and Mike Roach.
Finally, I'd be remiss if I did not mention Chris Ryan who gave me my final lift back to my hotel (and who during the weekend let me know 309 times that he used to have hair).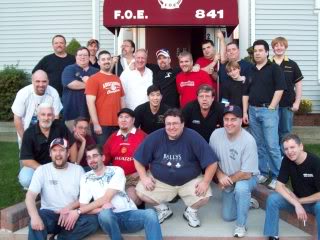 So that was my trip to Boston. The MMDL is in GOOD hands. The MMDL hard core is good people. And the Rockland Eagles Children's Christmas Fund is $520 better off than they were before the weekend began.
Leaving new friends and my diminutive, sharp-shooting opponent behind, hacking and not-so-proudly wandering about the Aerie in his Obama duds, I returned to Tampa – just in time to see Raymond Ray finish stomping the Red Sox and move on to the World Series.
The next day Miles' closing barb hit me hard.
I came down with the flu.
Damn kids.
From the Field,
Dartoid
The following two tabs change content below.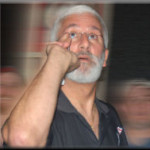 Author of the column that since 1995 has been featured by Bull's Eye News, the American Darts Organization's (ADO) Double Eagle and numerous other darts publications and websites around the globe.