Column #333 Darts – from Alcatraz to the Eagle's Drift
Wednesday, October 1, 2008
Column 333
Darts – from Alcatraz to the Eagle's Drift
Rule #5 on the "Rock" – at Alcatraz Federal Penitentiary – was Rule Number One: "You are entitled to food, clothing, shelter, and medical attention. Anything else you get is a privilege." And "anything else" certainly didn't include a beer and friendly few hours at the oche.
To kill some time earlier today, I toured the notorious prison before heading to Eagle's Drift Lounge (1232 Noriega Street at 19th Avenue) to meet up with Mike "Diddle" Andrewjeski, Chris White and others for the joint's regular Monday night shoot. Neither the Rock nor the bar, both indisputable dives, disappointed.
And yes, Andrewjeski really does call himself Diddle. I kept my distance.
For years I had planned to visit Alcatraz but just never found the time. For even longer, certain people, like the Professional Darts Corporation's (PDC) Tommy Cox, have wanted to send me there for good.
As school children everywhere know, the famous island was accidentally discovered in 1775 by the bloodthirsty, moose-killing and not-too-smart Spanish explorer Alfonso Catraz. These days of course, Catraz is most remembered (and honored by hordes of whacked out conservative nut jobs) as the great, great, great grandfather of Republican vice presidential candidate Sarah Palin.
It was on the heels of Prohibition and the Great Depression (not the current one) and as Bonnie and Clyde and the Ma Barker Gang were rampaging through rural America, that Alcatraz was opened in 1934 as a maximum security federal penitentiary. Before its closure 29 years later its 1,545 tenants included criminal legends the likes of Al Capone, "Machine Gun" Kelly and Robert "the Birdman" Stroud.
Originally opened as a lighthouse and then a fort, Alcatraz served as a prison pretty much from the beginning. It confined soldiers convicted of crimes during the Civil War, Indians captured during the various Indian wars of the mid-to-late nineteenth century and military convicts during the Spanish American War of 1898. After Alcatraz closed in 1963 and following Texan Lamar Hunt's bid to turn the island into a commercial theme park, it was occupied on three separate occasions by Indians who, before being removed, tried to negotiate a deal similar to the purchase of Manhattan Island, offering to buy Alcatraz from the federal government for $24 in beads and colored cloth. Since 1972, the island has been the centerpiece of the Golden Gate National Recreation Area, administered by the National Park Service. Today roughly one million tourists annually fork out $26 for the twenty minute ferry cruise into the salt-laden cold wind and fog to visit the most foreboding prison that ever was.
Wearing special headphones that recreate the sounds of prison life, I spent two hours wandering through the "joint," up and down the four old cellblocks, into the dining hall, shower and library, and around the recreation yard. I was able to enter several of the five by nine foot cells, including solitary. I could only imagine what life was like, particularly in dark confinement on a festive night like News Years Eve, when the sounds of freedom wafted eerily over the gently rolling water from the shores of San Francisco just a mile in the distance.
In nearly three decades only thirty-six men broke out of Alcatraz, or attempted to, and of these eight were shot and killed or found drowned in the bay. Twenty-three were captured before they even made it to the icy cold and shark infested waters. Five remain unaccounted for although presumed dead, the most famous three being brothers Clarence and John Anglin and Frank Lee Morris, whose ingenious escape in 1962 utilizing fake heads made from soap and hair from the barber shop and rafts fashioned from stolen raincoats, became the subject of the popular prison movie, Escape from Alcatraz.
Finding no dartboard, and times being different, with a ferry full of others I managed to escape the Rock, pledging never to do anything bad that might ever land me in such an awful place (with the exception of drinking, ogling, shirking chalking responsibilities, and occasionally making inappropriate comments about PDC officials and unqualified political candidates who have major league badoinkies).
Speaking of awful places, at least from a decorating standpoint, I must not forget to tell you my next stop – the Eagle's Drift Lounge. After all, this is a column about darts and after writing 708 words with little to no mention of the sport it really is about time to get to the point.
Yes it's true, the Eagle's Drift, now more than twenty years into an apparently hard life, was not designed and is not maintained by someone with decorating sense. It's dark. It's dirty. It's smelly.
It's PERFECT! It's the epitome of a great dart bar dive and massively offensive to Martha Stewart.
I arrived early and stopped for dinner at a Thai restaurant across the street. There are also Japanese, Chinese and Vietnamese restaurants on the short block. This explains why there are no dogs wandering the street.
Inside the door to the right, somewhere in the dark, is a long bar and way in the back is a pool table with green/brown felt and beer stains. To the left of the door is the darts area. There are eight boards. There is a little window that connects the area with the bar so players don't have to walk but a step or two to get a beer. This is one of the best things about the place.
The other really great thing, at least for someone like yours truly, is how the weekly tournament is run. It's a singles 301 deal and local players who have managed to win at some time or another are forced to throw at a disadvantage. A newcomer, even if they suck, has it relatively easy.
More specifically, and with just one exception, a former winner has to start with 499 points. (The exception is if the former winner's name is two-time national cricket champion Chris White. He has to start with 16,000 points.) A former winner can reduce their starting number by thirty-three points each week they show up and do not win. Don't ask me why it's 33 points. I don't have a clue. It makes about as much sense as nicknaming yourself Diddle. But it keeps people coming back.
I strolled in, had a few beers, warmed up and drew my first match. Since my opponent had never won before and since I was new we both started at 301. Since I sucked just a little bit less I won and advanced.
This is the way it went until I was matched against someone who had actually won the tournament on a previous night. As a former winner who had apparently not shown up again since pocketing the big bucks he had to double in beginning at 499 while I continued to start at 301. For me it was a good deal.
So I continued to advance by facing and beating people who threw just a little worse crap than me or former winners who had to begin with a boatload of points. Eventually I found myself in the finals…
I faced a former winner who I had defeated earlier and who rebounded in the loser's bracket and had to take two-out-of-three legs from me twice and bring down 200 more points than me in each leg, every time, in order to take home the victory and the cash. I was a shoo-in… well, not quite, thanks to the DAMN required first double. But in the end I prevailed in a squeaker.
So the moral here and my advice: if you're a crap darts player the Eagle's Drift is a destination you can't afford to pass up.
After another couple of beers and some conversation I collected my winnings and headed into the night. Back across the street I trod for my second dog burger of the day which (speaking of vice presidential candidates) is what Sarah Palin will be after Joe Biden finishes with her in tomorrow night's debate.
From the Field,
Dartoid
The following two tabs change content below.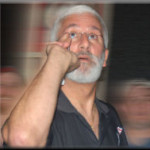 Author of the column that since 1995 has been featured by Bull's Eye News, the American Darts Organization's (ADO) Double Eagle and numerous other darts publications and websites around the globe.