Column #321 Roger Carter hits a PERFECT GAME but…
Monday, June 30, 2008
Column 321
Roger Carter hits a PERFECT GAME but…
The way I figured it if Bill Davis could shove a few bucks into the slots and walk away $90 to the good so could I. In fact the way I had it calculated if I shoved my money into a $5 slot instead of a penny machine I could fly home first class. So I did it.
And it worked!
With just one pull of the lever, in all of about fifteen seconds last night I cleared $350. So while I may not be sitting in the cushy seats on my return flight to Tampa I will be able to fill up my car on Monday, at least half way.
As has been my practice for the past month, today began with a jog. In my bid to become one of the country's darters with sex appeal – so I can get on television and win some of the big money now on offer – I hired a personal trainer. His name is Mike Tool and he has me on a strict regimen. Following the jog, and referring to the exercise list he gave me to follow the week, I did three pushups and a jumping jack. Then I showered and went to breakfast at Nathan's Hotdogs.
PRIVATE NOTE to CANNIBAL and TRIPFLOOR: Please try not to be offended by my personal trainer's name.
As today's first qualifier for the seventh Desert Classic gets underway I would be remiss if I did not take a moment to comment just a bit more on yesterday's happenings.
I should thank Jim Boan from Atlanta Darts for re-pointing my wife's arrows. Jim's professional advice to my better half is that she discontinue using her darts to chip ice cubes.
ANOTHER PRIVATE NOTE to CANNIBAL and TRIPFLOOR: Please try not to be offended by the name of the amazing darts man from Atlanta.
An apology is due to "The Ethiopian" Steve Panuncialman from Chicago, whose name I spelled wrong in yesterday's column. I am hoping Panuncialman doesn't advance today because his name is just frickin' impossible to spell. Hell, I've been writing this drivel for fifteen years and most of the time I still mess up on "Kuczynski."
Notably missing yesterday were Brad Wethington, Ray Carver and Steve "Chunky" Brown. Nobody seemed certain were any of them were although several people claimed to have "spotted Brown at a Burger King in St. Louis."
I must mention that New Jersey's Robert Race secured $150 without having to throw a dart, no small feat. He received a bye in the preliminary round to earn the paycheck before being demolished by Germany's Michael Rosenauer.
As always, it was good to see Pat and Rose Carrigan from Las Vegas and a pleasure to renew acquaintances with Seattle's Pat Breithaupt and meet his brother "Dr. Bob." Bob's a dentist and was nuts enough to actually buy one of my books so it's a damn certainty that his future patients will run like hell.
It was also good to spend time again with Phil Taylor's buddy, Roger Goswell, who is here with his wife and pleased as hell to have been made redundant. Goswell is managing Taylor's darts shop and living the good life until he blows his exit check.
It's always great to spend a bit of time with Phil Jones – who yesterday showed up in a wild Wayne Mardle-like retirement shirt.
And it was a pleasure to finally meet and have a long conversation with Kevin "Bullshooter" Dowling, currently ranked eighty-seventh in the world but moving up fast. Dowling and I have "known" each other via the Internet for years, being two of the earliest members of Andy Fairclough's Superstars of Darts web forum. Our conversation yesterday can be summed up in six words (cover your eyes Cannibal and Tripfloor): Trina Gulliver is one hot babe!
Like the monsoon that recently slammed Myanmar and the real Mandalay the Vegas Mandalay Bay was flooded with over 200 players from across the world – Germany, Australia, Japan, Holland, England and Ireland – as the seventh annual Las Vegas Desert Classic kicked off with the first qualifier at noon.
In the preliminary round several prominent Americans were sent back to the casinos: Robert Heckman, Dan Lauby, Joseph Swick, Brenda Roush, Robert Race, Gary Mawson, Isen Veljic, Gordon Dixon, Johnny Kuczynski and Frederick Krueger, among others. Krueger fell victim to Stacy Bromberg 5-3. Lauby lost to the awesome shooting Mark Rosenauer. The "K-man" was edged in the final leg by Canada's Greg Lewis. Mawson just "couldn't find a double."
American casualties in the first round included Scott Burnett (to Paul Lim), Nick Rivera (to Steve Hine), Chris White (to Tony Eccles), Pat Breithaupt (to Ian Jopling), David Fatum (to Dave Honey), Scot Kirchner (to Simon Whatley), Dan Zimmerman (to Steve Maish) and Stacy Bromberg (to Andy Beardmore).
Two more Americans fell in the second round: Paul Lim to Adrian Gray and Dan Olson to Mark Walsh.
As the third round commenced just Roger Carter (who whitewashed Donnie Strode to advance), Steve Panuncialman (who won 5-2 over Ben Burton) and Joe Slivan (who got by last year's world championship runner-up, Kirk Shepherd) remained in contention for one of the eight first qualifier positions. Standing in the way of the American trio were Wes Newton (for Carter), Robert Thornton (for Panuncialman) and John Quantock (for Slivan).
For the Canadians only Shawn Brenneman remained – and he quickly took care of Mick McGowan 5-2 to move on to meet England's Steve Brown to earn his spot on stage. Brenneman then squeaked by Brown in the final leg to earn the first of the day's qualifying spots.
Panuncialman had double trouble and saw his hopes dashed by Robert Thornton.
Carter, who missed a nine-darter yesterday against Wayne Mardle – which would have earned him a $20,000 bonus – blasted out of the chute against Newton and landed his ninth dart in the very double he missed yesterday to record a perfect game to take the first leg. Unfortunately this time it was worth only spontaneous applause. Nonetheless, Carter methodically dispatched his opponent 5-3. Only Co Stompe stood in front of Carter's march to the stage but for Carter the steam was gone and it was Stompe who advanced to the Desert Classic stage.
In the meantime Mervyn King, Mark Walsh, Steve Maish and Martin Burchell grabbed their stage positions.
For the Americans only Orlando's Joe Slivan (who got past Quantock) remained and as Slivan now battled Robert Thornton, on the other side of the floor my friend Kevin "Bullshooter" Dowling exchanged blows with Adrian Gray for the final of the first eight qualifying spots.
Suddenly both sides of the tournament hall erupted…
And for Slivan and Dowling…
…tomorrow they will try again.
The first eight Desert Classic qualifiers are Mervyn King, Mark Walsh, Steve Maish, Martin Burchell, Co Stompe, Adrian Gray, Robert Thornton and CANADIAN Shawn Brenneman.
FINAL NOTE to CANNIBAL and TRIPFLOOR: I am now headed back to my hotel to do things you would not appreciate.
From the Field,
Dartoid
The following two tabs change content below.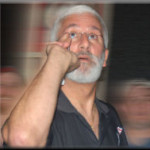 Author of the column that since 1995 has been featured by Bull's Eye News, the American Darts Organization's (ADO) Double Eagle and numerous other darts publications and websites around the globe.