Column #320 Bill Davis hits it BIG!
Sunday, June 29, 2008
Column 320
Bill Davis hits it BIG!
The day started off strong here in the heat and glitter of Las Vegas – at least for Philadelphia's Bill Davis – and it ended quite well for him too.
Following in Adrian "Jackpot" Lewis' footsteps of a few years ago Davis struck it BIG.
"I shoved in the maximum and hit for NINE THOUSAND!" he told me as he strolled into the tournament with his roommate, Roger Carter.
Unfortunately the 9,000 big ones were just PENNIES (and Davis quickly frittered away his windfall to just $1.90).
So tomorrow I must remember to ask him to buy me a third of a Mandalay Bay beer.
Following announcements which nobody understood by tournament director Tommy Cox, the Player's Championship field of 147 (including 45 North Americans) took to the line promptly at noon. The Americans had their work cut out for them.
U.S. number one for the past three years, "Big Daddy" Darin Young, drew world-ranked number six Andy "the Hammer" Hamilton and went down for the count. Young of course will next appear on Wednesday during the first round stage play of Desert Classic VII, having already earned his spot by finishing among the top three (at the top actually) in Bull's Eye News' Pro Ranking System.
Paul Lim faced Terry Jenkins (who he dispatched only weeks ago at the US Open) and went down for the count. Roger Carter stepped up against world-ranked number ten Wayne Mardle and went down for the count. Joseph Swick drew world-ranked number forty-two "Superman" Matt Clark and went down for the count. Frederick Krueger drew world-ranked number twenty-six Wes Newton and went down for the count. Chicago's Steve "The Ethiopian" Panuncialman took on Mark Dudbridge and went down for the count. Ohio's Gordon Dixon faced world-ranked number fourteen Kevin Painter and went down for the count. Nick Rivera faced world-ranked number fifteen Alan Tabern and went down for the count.
It wasn't pretty. The Mandalay Bay canvas was littered with American bodies.
Some however fared slightly better with their draws and faced each other. When the early dust settled Dan Zimmerman moved past Robert Heckman (but then went down to three times world champion John Part), Johnny Kuczynski dispatched Isen Veljic (before going out to Mervyn King) and Bill "Mini-Jackpot" Davis knocked out Florida's Joe Slivan.
Meanwhile, others among the American contingent just plain threw great darts, at least early on.
The legendary "Bald Eagle" Larry Butler began with a win over a tough Isaac Julian and then Gary Blades. As Butler tried to capture the stroke that propelled him to his stunning victory in 1984 over Dennis Priestley in the first World Matchplay (having defeated Jockey Wilson, among others en route) his wife Sharon cheered him on – as his seven-year-old daughter Sarah bounced about the couches just outside the tournament hall, oblivious to his quest. Unfortunately his cheerleaders weren't quite enough, at least this day, as he eventually came out on the losing end of a matchup with Colin Osborne. Butler now can rest for a couple of days as he too has already earned his place onto the Desert Classic stage.
The always in form David Fatum swept a 3-0 victory over world-ranked number twenty-seven Mick McGowan, Scott Kirchner advanced with a win over last year's world championship runner-up, 9-year-old Kirk Shepherd, and Dan Olsen took out Ian Jopling.
Several other Americans started out well but I'm too lazy to type their names, except for…
…BRENDA ROUSH, the only lady in the field, who breezed through the preliminary round with a 3-0 victory over Marc Garcia and then the first round with another straight sets win over Steve Randal – before running into the world-ranked number eleven Peter Manley buzz saw.
And oh yes, then there's Scotty Burnett who also zipped by his first opponent, Bobby Peters, to set up a rematch from last year with his close personal friend, world-ranked number fourteen Kevin Painter. Burnett then lost in a heartbreaker 3-2.
Other than John Part, the only North Americans to make it to third round top thirty-two play were San Francisco's Chris White (with a second round win over Scott Kirchner) and Philadelphia's Davis (bidding to add pounds more pennies to his winnings at the slots) with a victory over Alex Roy.
Standing in the path of Davis' march to more copper was Jim Withers, a brand new face on the PDC circuit, who Davis quickly moved past to set up a fourth round battle with young Dutchman Michael van Gerwen. For White the next obstacle was Brenda Roush's vanquisher, Peter Manley. White fought tough, but was disappointed 3-2 at the wire.
So after hours of play only Bill Davis was left standing for the Americans and only van Gerwen stood in the way of his advance to the quarter finals.
Sadly for Davis, van Gerwen methodically ended his run with a 3-1 win, leaving the Philadelphian with 60,000 pennies for his day's work. Like Young and Butler (and also Canadian Gerry Convery) Davis will be back in action during first round Desert Classic stage play.
As the Americans battled to advance, others were too, of course, and thirteen times Phil Taylor in particular was burning up the sisal. The Power flew into the third round with back-to-back-to-back 3-0 wins and a 112 average, and then into the fourth.
Germany's Michael Rosenauer, who knocked out Raymond van Barneveld in the first round, continued to walk through the competition. So did Ronnie Baxter, Mark Frost, Terry Jenkins, Mark Walsh, James Wade and van Gerwen. And by the quarter finals this is the group that remained.
Baxter then took out Jenkins 3-2. Taylor and Walsh ended van Gerwen's and Wade's hopes 3-1 respectively. Rosenauer finished off Frost.
The semi-finals saw Rosenauer toe up against Baxter and Taylor versus Walsh – with the losers, Rosenauer and Walsh, pocketing $2,500 each.
The finals saw thirteen times world champion Phil Taylor as expected, and American crowd favorite Ronnie Baxter step to the line…
Taylor stormed out of the gate with back-to-back maximums and took the first leg in twelve darts. Baxter evened things with a fourteen darter but Taylor notched up the first set in sixteen after Baxter saw his second handful score just thirty-six. Still steady, Baxter took the next set with legs of eleven and fifteen darts to even the match.
But then Taylor turned on the juice that earned him his nickname. In a flash and as the tournament ticked into the six hour mark, he reeled off four successive legs without reply to take the final two sets, seal the match and claim the $10,000 first place prize. Baxter took home $5,000.
And that was it… another Las Vegas Player's Championship, essentially a warm up for the fierce Desert Classic competition to follow, ended. The tired crowd filed out and into the evening heat…
At noon tomorrow the first Desert Classic qualifier kicks off with the first eight of sixteen players to advance to Wednesday's and Thursday's first round stage matches to join the top dozen players in the world, already seeded – Phil Taylor, Raymond van Barneveld, James Wade, John Part, Terry Jenkins, Andy Hamilton, Adrian Lewis, Colin Lloyd, Roland Scholten, Wayne Mardle, Peter Manley and Dennis Priestley and the four North Americans – Darin Young, Bill Davis, Larry Butler and Gerry Convery.
The final eight places will be contested on Tuesday.
So stay tuned… by the end of week over $250,000 will have been awarded and $40,000 of that will begin collecting interest in the winner's bank account. Eight players will take home as much as Phil Taylor won today. Sixteen will pocket as much as Baxter did.
In the meantime, tonight, well… this is Vegas baby.
That is all I am at liberty to say…
And in the morning… I'm going to see Bill Davis for a beer.
From the Field,
Dartoid
The following two tabs change content below.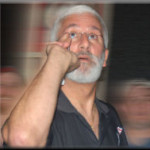 Author of the column that since 1995 has been featured by Bull's Eye News, the American Darts Organization's (ADO) Double Eagle and numerous other darts publications and websites around the globe.