Column #322 The Las Vegas Caterpillar Gazongas
Tuesday, July 1, 2008
Column 322
The Las Vegas Caterpillar Gazongas
You learn a lot about local goings-on when covering a darts tournament.
Recently in Las Vegas (motto: "Our women have major league gazongas!"), residents reported an outbreak of giant caterpillars. Perhaps you think there are no giant caterpillars…
As the French say, "au contraire" (literally: "Bite me!").
I have here in my hands a copy of an Associated Press article sent in by alert Dartoid's World reader, Hermie, whose name can be rearranged to spell "HEEIRM", although that is not my main point. "Hermie," by the way, has the letters "emie" in common with "Monica Lewinsky," speaking of major league gazongas.
According to a quote which I am making up, from Las Vegas Mayor Oscar B. Goodman (informally "Mayor Weiner"), giant caterpillars rank as a major city crisis just behind alcohol, pornography, gambling, prostitution and the annual summer invasion of British darts players, as evidenced by the following conversation between Las Vegas government employees:
FIRST LAS VEGAS EMPLOYEE: "There's a giant worm eating my computer!"
SECOND LAS VEGAS EMPLOYEE: "I'll show a giant worm baby…"
FIRST LAS VEGAS EMPLOYEE: "Au contraire!"
Fortunately I have a suggestion for Mayor Weiner, and that is: Contact Tommy Cox at the Professional Darts Corporation (PDC). He can solve all problems. He will lay down the law and kick their wiggly arses straight out of your fine city.
No, seriously, my suggestion does not involve the PDC tournament director because he is sitting next to me as I write this and might punch me on the nose. My suggestion is more along the lines of a "coup de grace," from the French "coup," meaning "small car or boat," and "de grace," meaning "to send or ship with haste." The procedure (Mayor Weiner, you may want to write this down) requires that you:
1. Put the caterpillars on a boat.
2. Send them to Olly Croft.
The Las Vegas city council (motto: "We have friends in Jersey!") however has another idea…
They think that they (the giant caterpillars), large and soft and nice to touch as they are, should be rounded up and saved for an emergency, and today sent this message to the public and the world:
"In the event of a silicon shortage Vegas is READY!"
Speaking of which, according to CANNIBAL and TRIPFLOOR "The Caterpillar Gazongas" would be a great name for a ladies' darts team.
In other news today, at the Mandalay Bay Resort and Casino the PDC held the second qualifier for the final eight spots on stage beginning tomorrow at the Desert Classic. After hours of play five Americans – Johnny Kuczynski, Scott Kirchner, David Fatum, Chris White and Dan Lauby – were still in contention among the top thirty-two.
But one by one, down they went. Kuczynski had his shot against Barrie Bates but two untimely bounce outs and a miss at a double that would have sent the "K-man" to the top sixteen let Bates even the match at four legs and he went on to close the deal.
Fatum (who squeaked by Nick Rivera 5-4 to make the top thirty-two) fought another barnburner with Sam Rooney but fell short at the end by the same margin.
Kirchner and Lauby were whitewashed by Mick McGowan and Steve Beaton.
And then there was two-time national cricket champion Chris White…
White was taken to the wall by Kevin McDine but pulled out a 5-4 victory to reach the top sixteen, needing just one more win to make the Desert Classic stage.
White grabbed the first leg, fell behind, fought back – but when tied in his final confrontation England's Sam Rooney and with a shot at double to move ahead, an errant dart landed in the fifteen instead of the double two letting Rooney back in.
White hopes were then dashed 5-3.
After the dust settled it was Jelle Klassen, Barrie Bates, Mick McGowan, Kevin Painter, Matt Clark, Alan Tabern, Dennis Smith and Sam Rooney who survived the day and will continue their quest for the $40,000 first place prize when stage play begins.
The first eight best-of-eleven-legs first round matches kick off at 11:00 a.m. tomorrow with Dennis Priestley vs. Co Stompe, Terry Jenkins vs. Mick McGowan, Wayne Mardle vs. Adrian Gray, world champion John Part vs. Mervyn King, thirteen times world champion Phil Taylor vs. Kevin Painter, Colin Lloyd vs. Sam Rooney, Roland Scholten vs. Barrie Bates and hometown favorite Darin "Big Daddy Young vs. Martin Burchell.
The remaining eight first round matches will begin at the same time on Thursday with Andy Hamilton vs. Canadian Shawn Brenneman, Philadelphia's Bill Davis vs. Mark Walsh, Canadian Gerry Convery vs. Jelle Klaasen, Adrian Lewis vs. Robert Thornton, Raymond van Barneveld vs. Matt Clark, James Wade vs. Dennis Smith, Peter Manley vs. Steve Maish and the one and only Larry "the Bald Eagle" Butler vs. Alan Tabern.
Second round action will commence on Independence Day followed by the quarter finals on July 5 and the semi-finals and finals both on July 6.
Dartoid's World will continue to report on all the action unless yours truly is either: 1) banned from the arena by Tommy Cox or 2) eaten by giant caterpillars.
Stay tuned. Be afraid.
From the Field,
Dartoid
The following two tabs change content below.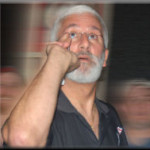 Author of the column that since 1995 has been featured by Bull's Eye News, the American Darts Organization's (ADO) Double Eagle and numerous other darts publications and websites around the globe.