Column #296 Qualifier Two is Over – and the Stage is Set
July 4, 2007
Column 296
Qualifier Two is Over – and the Stage is Set
Following another late night at one of Binions' Texas Hold-em tables and three hours sleep, my preparations for today's second qualifier began in typical Las Vegas tourist fashion with a hearty prime rib breakfast and a wave goodbye to a hundred bucks trying to win a Z-4 at the quarter slots.
As is becoming customary, this installment in the annual Dartoid's World series on the Professional Darts Corporation's (PDC) Desert Classic must again begin with a round of apologies…
To Jay "Bird" Tomlinson at Bull's Eye News (BEN) who has just merged his magazine with both Time and Newsweek – I should not have suggested yesterday that sales might be slow. As I consider this now I must admit that my words were misguided. How silly of me. Considering that BEN has carried my crap for almost fifteen years and still managed to grow is unequivocal evidence that you're doing something right. Still, as I have suggested many times, I think you'd do even better if you featured topless girls on the cover. Let me know if you need help with this.
To Kevin Burdelsky (and his wife, "Sweet" Carolyn) of Kevin's Creations: Okay, okay… I'll buy one of your little gold darts, even though I already have two of them. Just give me time to hit it big at Caesar's Palace. My wife loves the ring I picked up for her a few years back and it is a filthy lie that her finger turned black and fell off.
To Jim Boan at Atlantic Darts: I spent the afternoon yesterday throwing with Ronnie Baxter and his darts seemed to find the triple twenty quite nicely. Since yesterday's column posted, both Tomlinson and Burdelsky have encouraged me to bring my darts to you for surgery too (and even offered to pay for your work). So, I guess the hammer system really is effective.
Finally, to LONG ISLAND's Joe Swick, who nearly made the cut in both qualifiers, falling in the last sixteen yesterday to Mervyn King and today in a 4-3 heartbreaker to Mark Dudbridge. Joe, you can thank Laurett "MOM" Meddis and Joe Hogan for making it damn clear to me that you're not British, as I thought (not that there's anything wrong with that – unless your name is Dave 'Boy' Green).
And also, a special note for British darts fans, particularly those who have been following the rise of Scunthorpe's Dave Ladley since his defeat of Lionel Sams and his 4-3 squeaker of a loss to James Wade at last year's world championship: Ladley just today shook hands on a deal that will see him enjoy FULL sponsorship from Des Comerford's Fallen Hero. Watch out for this young talent in the coming months!
Today marked the second qualifying round for the PDC's sixth annual Desert Classic tournament and I'll have you know that I prepared for months. I spent endless hours in front of my practice board. This was not because I expected to qualify, or even win a leg, but rather because tonight, following the draw for the first stage round, is when Stacy Bromberg and Joe McElligott hold their annual "Shoot for Charity" for the Make-A-Wish Foundation.
Tonight was to be my re-match with Erik "The Commandant" McVay who took me out 5-4 in our first contest somewhere up in the wilds of the American Northwest. To my great disappointment however, McVay and his wife Darci experienced a minor setback and were unable to make it to Vegas. Apparently their house was hit, all at the same time, by a hurricane, a volcano, an earthquake, a flood, and a meteor that came crashing through their roof. It was just a horrible thing and fortunately they are both okay. So it's understandable that McVay couldn't make it to Vegas for our battle.
The thing is that I had proposed that the loser of our match don a dress. I even brought a pretty little number with me just in case lightening struck and I somehow lost. Hilarious concept, I know, but stranger things have happened.
Now I am told that some people are suggesting that, McVay's horrible tragedy aside, he should concede defeat by forfeit, squeeze into something pink and frilly, have a snapshot taken, and post it at his website at http://www.sewa-darts.com. I DON'T AGREE. This is just plain WRONG. I think he'd look much better in something black and strapless.
The Commandant did miss a terrific night and many people missed him. And truth be known, my own attendance at this year's Desert Classic was an on again, off again, and on again affair. Just ten days ago I e-mail McVay from Thailand to let him know that due to a business conflict I was going to have to miss our match. I offered to slip into a dress myself and send him a photo.
So, right here and now, I want to let The Commandant know that I am willing to keep my word. All he has to do is e-mail me and request the photo. Alternatively, I am willing to kick his arse as I would have done, any time and any place, in a rescheduled rematch. Somebody just e-mail me the details and I'll be there. Following that I want to play Tommy Cox. If he wins I'll buy him a new pair of shorts.
Other than Swick, the only American who advanced past the last sixty-four in today's final qualifier was Dayton legend Larry Butler who was dispatched 4-1 in the last 32 by Tony Eccels.
At the end of the day, moving on to join yesterday's eight qualifiers were Alan Tabern, Andy Smith, Vincent van der Voort, Steuart Holden, John Ferrell, Mark Dudbridge, Steve Smith, and Tony Eccels.
The draw for Wednesday's and Thursday's sixteen first round pairings was made after the usual player's dinner. Tomorrow, defending champion John Part will face Steve Maish, Gary Mawson will toe up with Stuart Holden, and Ray Carver will have his hands full with world ranked number five and last year's quarter finals loser to John Part, Terry Jenkins.
On Thursday Darin Young will see Tony Eccels, Jerry Convery will face a tough Mervyn King, and American number one for four years running, Johnny Kuczynski, will begin his quest against Alan Tabern.
The other Wednesday pairings are: Phil Taylor vs. Dudbridge, Colin Lloyd vs. Wes Newton, James Wade vs. Colin Osbourne, Andy Hamilton vs. Steve Beaton, and Wayne Mardle vs. John Ferrell.
Thursday's pairings will be rounded out by Roland Scholten vs. Andy Smith, Peter Manley vs. Vincent van der Voort, Raymond van Barneveld vs. Kevin Painter, Dennis Priestley vs. Denis Smith, and Adrian Lewis vs. Steve Smith.
Thursday night the next draw will be held and on Friday the remaining sixteen players will step to the line again for second round best-of-fifteen leg stage play to determine who will come back on Saturday to face off in the best-of-nineteen leg quarter finals.
All will then be decided on Sunday when both the semi final and final will be staged in the best of twenty-one and twenty-five leg battles.
Check in often at the PDC website at http://www.planetdarts.tv/page/Welcome for updates on all the action.
And also stay tuned to Dartoid's World for more insults, more apologies and, perhaps, some inappropriate photographs that I snapped last night at the Palomino.
From the Field,
Dartoid
The following two tabs change content below.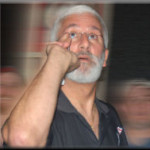 Author of the column that since 1995 has been featured by Bull's Eye News, the American Darts Organization's (ADO) Double Eagle and numerous other darts publications and websites around the globe.