Column #295 Qualifier One is Over and CARVER ADVANCES!
July 3, 2007
Column 295
Qualifier One is Over and CARVER ADVANCES!
Today's installment in the Desert Classic series must begin with a couple of apologies.
To my friend Bill Davis from Philadelphia, who threw terrific darts yesterday during the Player's Championship: I'm sorry I called you Bill Bell!
To Germany's Charis Munster: I'm sorry for continuing to spell your last name wrong. I must remember. I must remember. Munester Cheese! Muenster Cheese! Ich bin so traurig!
And to Sacramento's Scotty Burnett (who came so close today, starting with a whitewash of Colin Monk and making his way to the last thirty-two): my apologies for neglecting to mention your near miss yesterday against the always personable Kevin Painter.
Today began (and ended) with the sun bright in the sky, boiling small puddles on the sidewalks and frying baby birds. Friday the mercury reached 110. It is 107 degrees now (and its 10:00 p.m.). Tomorrow is forecast to hit 117. They're all out shots that I can't touch so I won't be competing – just writing, and melting. The $40,000 first place check for the Professional Darts Corporation's (PDC) sixth annual Desert Classic is safe for somebody else.
My money today was on unknown Karl "Taechon" Hartman from Korea. He won his first match 4-0 against Chattanooga's Ryan Barnette. I worried, and duly so, as he faced Steve Hine next. But Taechon showed his stuff and, although he had six shots at the winning double, Hine prevailed to advance with a 4-3 score line.
So, my money's gone. Hartman is my room mate so technically I had to put my bucks on him. Had he won I'd have been treated to a steak dinner, which would have been an improvement over the dog burger he bought me when we first met in Seoul a few months back.
There were fifty more entries today than in yesterday's Player's Championship and the crowd of onlookers swelled considerably. Phil Jones wandered the floor in shorts and a Hawaiian shirt while John McDonald manned the microphone in a suit and tie – so things have definitely become comfortable for Jones in his retirement. Frisky Melissa Clopton walked the floor looking frisky. Adrian Lewis' girlfriend wiggled about looking sexy. Robbie "Kong" Green and Alan Green held court with Jason Clark in the smoking area outside, talking British (before Kong returned to crush Columbus' Justine Queen. Atlanta Darts' Jim Boan performed surgery on Ronnie Baxter's darts, with a hammer. Kevin Burdelsky sold jewelry that is too expensive. Erik Bristow sneered at me. Jay Tomlinson lost more hair and taught his wife Jeanne how to work the Bull's Eye News credit card machine, just in case someone drank enough to buy a subscription. And Tommy Cox spent the day searching for his shorts (and is probably sneering at me now).
Some things however, were the same as yesterday. A Budweiser was still $4.75 and a bottle of water was still $5.50. So water costs more than beer here in the dusty desert and the outrageous price of gasoline across America ain't really that bad. It's a damn good thing too, it really is, at least here in Vegas, that nobody's yet figured out a way to power a car with Crystal Springs.
So the first qualifier is complete. Just under 200 darters battled to the finish in a short best-of-seven legs format to fill the first eight of sixteen spots (the final eight to be decided in tomorrow's second qualifier) to join those already seeded in the first stage round beginning Wednesday morning.
From North America, Johnny Kuczynski, Darin Young, Gary Mawson, and Gerry Convery have already earned their slots, along with the PDC's top twelve: Phil Taylor, Raymond van Barneveld, Colin Lloyd, Peter Manley, Terry Jenkins, Dennis Priestley, Adrian Lewis, Wayne Mardle, Roland Scholten, Andy Hamilton, James Wade and John Part.
When the dust settled it was only Ray Carver, for the Americans, who locked in a spot under the lights on Wednesday. Carver worked his way through Bob Anderson, Barrie Bates, Jason Clark, and Dan Olson to earn his place. Now a full-time professional and hailing from Chicago, Carver continued to impress and is certain to be in the thick of things, not just as the tournament progresses but as the months tick onwards towards the world championships in December.
Brad Wethington, Scotty Burnett, David Fatum, and Jimmy Widmayer all worked their way to the last thirty-two but went down to Wes Newton, Colin Osbourne, Joseph Swick, and Bob Anderson respectively. Without a doubt all four of these darters will be forces to be reckoned with in tomorrow's second qualifier.
At day's end Carver was joined by Newton and Osbourne, along with Dennis Smith, Steve Maish, Kevin Painter, Steve Beaton, and Mervyn King.
So tomorrow we do it all over again and I have high hopes that Taechon might shock the world… and I might get my steak. He and I and Mike "Petro" Petrucelli, also from Korea, took notes off John Part at lunch and followed that with a couple hours of serious darts instruction from Ronnie Baxter at CD's Sports Lounge.
As I write Taechon is asleep, probably dreaming about the double he missed against Hine and having nightmares about the beating he took from Baxter.
Morning will be here in a few hours…
The sun will then fry a few more birds. Bristow and Cox will continue to sneer at me. Beer will still cost a small fortune.
And maybe, just maybe, my room mate and a few more of the Americans will take the next step toward the $40,000 pot at the end of the Desert Classic rainbow.
From the Field,
Dartoid
The following two tabs change content below.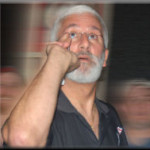 Author of the column that since 1995 has been featured by Bull's Eye News, the American Darts Organization's (ADO) Double Eagle and numerous other darts publications and websites around the globe.