Column #297 First Round Results (and Exploding Crickets)
July 5, 2005
Column 297
First Round Results (and Exploding Crickets)
Here's a FACT for you: If you count the number of times a cricket chirps in a fourteen second interval and add the number thirty-eight to it, you will get the exact temperature of the air in which you (and the cricket) are standing.
What's this got to do with darts and The Professional Darts Corporation's (PDC) sixth annual Las Vegas Desert Classic? Let me tell you, Mr. Mouser von Smarty Pants…
Las Vegas is engulfed in a heat wave – out at McCarran Airport today, where the official temperature is recorded, it was so hot that nobody could figure out how hot it really was. Why? Because all the frickin' crickets EXPLODED!
Most of you will know, for example, that water boils at 212 degrees. What you may not be aware of, unless you have taken Asian cooking classes, is that small insects like grasshoppers, scorpions, and crickets burst into flame when accidentally heated in a nice broth past the 110 degree mark.
Understand, Mr. Mouser?
This is why you can pack your silly ideas away and why in professional darts, 501 will continue to be the only game played. Until someone designs a miniature heat retardant suit that can be fitted on the entire world population of crickets it will continue to be just too damn dangerous to throw them at darts tournaments.
Now to the first day of first round stage play for the Home Team…
Last year's champion, current Canadian number one, and two times world champion, John Part, advanced to Friday's second round matches, although he didn't exactly have an easy time of it against Steve Maish.
Canadian Gary Mawson (living in Cleveland) also advanced with a solid 6-2 over the relatively unknown Stuart Holden.
This leaves Gerry Convery, who faces Mervyn King in the first of the final eight first round matches in the morning, to attempt to make it three for three for the country up north. Convery is going to have his hands full however.
In the only other contest featuring a Home Team darter, despite superb play and a string of maximums Ray Carver came up on the short end of a 6-3 battle with Terry Jenkins.
In other action, which may be of interest to somebody walking the moors somewhere…
Colin Osbourne outlasted James Wade 6-5.
Steve "the Adonis"Beaton ensured that the ladies have a favorite to cheer for in round two by nipping Andy Hamilton 6-5.
Wes Newton continued his love fest with the Desert Classic by dismissing world ranked number three, Colin Lloyd 6-3.
Wayne Mardle danced his way to a 6-3 victory over John Ferrell.
And in the shocker so far of the tournament, Mark Dudbridge sent thirteen times world champion Phil Taylor looking for a flight home.
Up today are: Gerry Convery vs. Mervyn King, Dennis Priestley vs. Dennis Smith, Darin Young vs. Tony Eccles, Peter Manley vs. Vincent van der Voort, Raymond van Barneveld vs. Kevin Painter, Johnny Kuczynski vs. Alan Tabern, Adrian Lewis vs. Steve Smith, and Roland Scholten vs. Andy Smith.
And tonight: the draw for the second round.
So stay tuned and keep your crickets cool.
From the field,
Dartoid
The following two tabs change content below.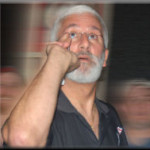 Author of the column that since 1995 has been featured by Bull's Eye News, the American Darts Organization's (ADO) Double Eagle and numerous other darts publications and websites around the globe.