Column #294 The Las Vegas Player's Championship
July 2, 2007
Column 294
The Las Vegas Player's Championship
In a result unprecedented in darting history, indeed in the history of all sport, thirteen times world champion Phil Taylor today won the Professional Darts Corporation's (PDC) Las Vegas Player's Championship without being present.
Reached at his home for comment, Dave 'Boy' Green, in his typically understated way, had this to say: "Taylor seems like a nice enough bloke but, honestly, what's he really accomplished? Sure, he's won a few titles but he's never played me. I'd whoop him senseless."
Also quick to comment was idea-a-minute-man, Mouser, of http://www.sewa-darts.com fame. Mouser – who has suggested that professional darts players in American be drafted onto twenty regional teams (each to each be purchased for $500,000 by really dumb rich people) and that televised Mickey Mouse competitions between the teams be held in basketball-like arenas in front of 30,000 screaming fans (with big money to be made off the sale of hot dogs and darts paraphernalia) – was enthusiastic following the Player's Championship final. "I'm telling ya 'Toid, that Dave 'Boy' Green is one hell of a talent. He's gonna go quick in the draft."
In actual fact, Taylor faced a flight cancellation and missed the tournament (although he'll reach Vegas in time to take on all comers at the Desert Classic). The first of two qualifiers begin tomorrow.
In Taylor's absence some breathed more easily, some perhaps too easily, and in the end it was reigning world champion Raymond van Barneveld from Holland and Premier League finalist Terry Jenkins who battled to the final leg, trading maximums and ton pluses, before Barneveld finally found the finishing dart in the final leg of the final set.
For the Americans, Ray Carver advanced the farthest before losing 3-2 in a quarter final heartbreaker against Mervyn King, who was then whitewashed in the semi finals by Jenkins. Philadelphia's Bill Davies continued to do his city proud making the final sixteen before being steamrolled 3-0 by Dennis Priestley. Darin Young was on fire and had his shots against eventual finalist Jenkins, losing 3-2 in the final thirty-two. And David Fatum found smooth sailing before being stopped 3-0 in the top thirty-two by Wayne Mardle.
For the ladies (which I promised Charis Munster from Germany I'd be sure to mention), Stacy Bromberg – the only member of the fairer sex to enter the competition – ruined Andrew Bennett's day before Ronnie Baxter ruined hers.
Bromberg is also the only lady entered in the Desert Classic.
Elsewhere early in the day, Dave Ladley spoiled Bill Bell's run, Tom Wilson knocked out Scott Kirchner, Dan Zimmerman put the shock on Johnny Kuczynski (before being buzz sawed buy Alex Roy), Vincent van der Voort stopped Gary Mawson, Andy Jenkins nipped Brad Wethington, Terry Jenkins stopped two time national cricket champion Chris White, Andy Smith retired Isen Veljic, and Denis Ovens blanked the one and only Larry Butler.
If you followed the tournament you will know that Dartoid's World tracked the progress of the event in real time via text messaging to the moving banner on the front page of this website. Errors were made and for that I must apologize. Specifically, I inaccurately reported that Dave 'Boy' Green showed up during the final wanting to be inserted into the competition, and was shot dead on site. This was false. Apparently he was only winged and will be back, in his mind, on top of the darting world soon.
For detailed results of the Players Championship I encourage you to click to the PDC's website at http://www.planetdarts.tv/page/LatestDetail/0,,10180~1065235,00.html for Matthew Porter's and Dave Allen's review. And be sure to check in frequently as the week progresses for their always excellent and timely play-by-play.
Also continue to stop by Dartoid's World for daily commentary. There's no telling what might appear in this space. I certainly have no clue.
And neither do Dave 'Boy' Green and Mouser.
From the Field,
Dartoid
The following two tabs change content below.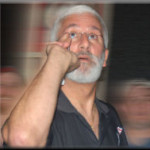 Author of the column that since 1995 has been featured by Bull's Eye News, the American Darts Organization's (ADO) Double Eagle and numerous other darts publications and websites around the globe.