Column #263 Part Advances. Asteroid Taks Aim at London.
July 10, 2006
Column 263
Part Advances. Asteroid Taks Aim at London.
Wednesday, June 28
Darters dragged into the Mandalay tournament hall today following Stacy Bromberg's fundraiser last night for the Make-a-Wish Foundation at CD's Sports Lounge (3025 E. Desert Inn). Over 200 darters gathered for the annual event including John Part, Ray Carver, Paul Lim, Isen Veljic, Chris Helms and Brad Wethington. Helms and http://www.SEWA-darts.com honcho Erik McVay drew each other in the Luck of the Draw, won and helped close the joint in the wee hours of the morning. The charity event, thanks in large part to its perennial patron Joe "the Wiz" McElligott, collected over $10,000 which will benefit terminally ill children.
Darin Young kicked off the day for the partisan crowd by storming into a 2-0 lead against Raymond van Barneveld and had a shot at 156 to go ahead 3-0, but missed double 18 to fall disappointingly short. The purple dinosaur then did some storming of his own, reeling off six straight legs to dash Young's hopes and quiet his fans to a decibel level akin to that on Wimbledon's Center Court (a simile chosen because at about the same time, Switzerland's Roger Federer was manhandling England's Tim Henman in second round 2006 Wimbledon play – not that any self-respecting darts fan really gives a rat's arse about tennis).
Next up for the American's was Ray Carver and Carver didn't disappoint, jumping to a quick 2-0 advantage over Ireland's Mick McGowan. But McGowan struck back with a 13-darter and evened the score in the fourth leg. Carver then brought his fans to their feet, closing 26 to move ahead in the match, but that was his last hurrah. McGowan streaked through the next four legs with closes of 92, 92, 120 and a 13-darter to end Carver's run.
For Brad Wethington, Superman Matt Clark proved to be just too strong on the day. After dropping the first leg Wethington stroked to a 2-1 lead. Clark replied quickly however to move up 4-2 and although Wethington battled back, striking a maximum on his way to taking the seventh leg, that was all she wrote as the man from Kent found the doubles required to close out the match 6-3.
Finally for the Americans, seven-times Mr. Philadelphia Bill Davis stepped to the line to take on world-ranked number twelve, Terry Jenkins. Davis quickly took the first leg, momentarily injecting new life into the subdued American crowd, but could do little but watch as Jenkins pounded his way through the next six legs to easily move into the second round tomorrow.
In other play, possibly of interest to someone, Chris Mason gave Colin Lloyd a colonoscopy; John Part donned the purple dinosaur's trousers (after splitting the seat of his own while bending over to retrieve a bounce out) to dispatch Ronnie Baxter; twelve-times world champion Phil Taylor whitewashed his student Adrian Lewis; Peter Manley held off Steve Beaton; a missed double 18 that would have tied the match after ten legs cost Bob Anderson big time in his battle with Roland Scholten, who then produced an 11-darter to move into the next round; Dennis Priestley managed Dennis Smith, also producing an 11-darter en route to a 6-2 win; in the battle of the Andys (Jenkins and Smith), Jenkins emerged the victor 6-3; then still another Andy (Hamilton) knocked off world-ranked number seven, Kevin Painter, despite a superb comeback by Painter; Wes Newton ended Wayne Mardle's (runner up in the past two LVDCs) dream of finally winning the tournament; the amazing Barrie Bates (no relation to Norman but just as scary of late) easily saw off Mark Dudbridge; John MaGowan advanced against Canadian Gerry Convery; and Steve Smith announced his intentions by putting the whoop-ass on world-ranked number ten Denis Ovens.
So that was the day – not a pleasant one for the American contingent and their fans or for many of the top ranked players in the world, six of whom (Lloyd, Mardle, Baxter, Painter, Dudbridge and Ovens) will spend the rest of the tournament in the cheap seats.
There are two bits of good news however. The first of course is that long-time American circuit competitor, Canadian John Part, has his old spark back. If he can find a pair of trousers that will keep his arse from smiling at the crowd he'll face his friend Roland Scholten tomorrow in one of the more enticing pairings of the second round. Likely to be a battle of Part's legendary high finishing prowess versus Scholten's power scoring, the match is certain to keep the Americans in the crowd on their feet. Tomorrow will also see Manley versus Priestley; Taylor versus Andy Jenkins; Barneveld versus Smith; MaGowan versus Mason; McGowan versus Newton; Bates versus Terry Jenkins; and Clark versus Hamilton.
The other good news is that scientists have recalculated the path of the giant asteroid and it is NOT going to smash into Indianapolis but "somewhere in England is a possibility." Officials at the National Dart Association (NDA) are jubilant, although they don't know how to spell jubilant. To commemorate their good fortune they have just announced another change in the rules governing the soft-tip game. Effective immediately, the circumference of all NDA dartboards will be "the same as that of a standard 40-gallon garbage can cover." Also, "all boards shall henceforth be painted chartreuse."
When the British Darts Organization's (BDO) Olly Croft learned of the potential asteroid threat he commented in expected fashion. "Damn that Barry Hearn – he'll stop at nothing to destroy my organization."
From the Field,
Dartoid
The following two tabs change content below.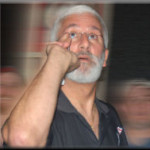 Author of the column that since 1995 has been featured by Bull's Eye News, the American Darts Organization's (ADO) Double Eagle and numerous other darts publications and websites around the globe.