Column #262 Can Superman Stop the Asteroid?
July 7, 2006
Column 262
Can Superman Stop the Asteroid?
Tuesday, June 27
Chris White, Dave Kelly, Bob Gargan, Monty Broadway, Dan Zimmerman, Paul Lim and Johnny Kuczynski came close today and Roger Carter came closer (falling 4-2 to Welshman Barrie Bates after jumping to a 2-0 lead) but at the end of the day only Marilyn Popp, for the ladies, booked a place on stage for the Red, White and Blue. Honorary American and two-times world champion John Part also made the grade along with Chris Mason, Wes Newton, Steve Beaton, Dennis Smith, Adrian Lewis, Bates and a spry lad named Bob Anderson (who pulled out a 4-3 barnburner against some bloke named after a train).
So after almost twenty hours of grueling floor competition only the City of Brotherly Love can lay claim, in the name of Bill Davis, to advancing one of its own in the competition. Davis joins pre-qualifiers Darin "Big Daddy" Young, Ray "Razor" Carver and Brad Wethington – as only four Americans move into the 32-man first stage round tomorrow at the $175,000 PDC extravaganza.
Young will face the purple dinosaur, Dutchman Raymond van Barneveld. Carver will go up against Irishman Mick McGowan. Wethington will face Superman (Matt Clark from Kent) and Davis will toe-the-line with Terry Jenkins. The scuttlebutt tonight is that in drawing Barneveld, Big Daddy has his hands more than full. Further thinking is that Wethington faces a tough match against Clark but as one insider commented, "Bradley may be playing the Man of Steel but don't count him out – he dates Keri Stephenson so, you know, he must be some kind of a Superman himself."
Speaking of Superman, and in other important news, the new movie Superman Returns hit the big screen today. Worried scientists are hoping that the real Man of Steel has arrived just in time to head off the giant asteroid that continues to barrel towards earth on a trajectory that may see it hit Indianapolis, headquarters of the National Dart Association (NDA) on July 3. (Others are equally hopeful that the new Superman will fail.)
In any event, the word is that NDA officials are taking the threat serious and are furiously constructing a protective dome over their office out of billions of multicolored bits of plastic.
From the Field,
Dartoid
The following two tabs change content below.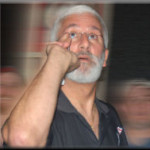 Author of the column that since 1995 has been featured by Bull's Eye News, the American Darts Organization's (ADO) Double Eagle and numerous other darts publications and websites around the globe.