Column #255 The Future of the WSOD is now up to YOU!
May 21, 2006
Column 255
The Future of the WSOD is now up to YOU!
Unfortunately this LAST report on the Professional Darts Corporation's (PDC) inaugural World Series of Darts (WSOD) is not coming to you from the Mohegan Sun Casino and Resort. The joint was attacked today by COWBOYS and I had to make a hasty retreat.
Seriously, due to personal circumstances outside of my control I had to leave the tournament early.
My goldfish broke its leg.
By now you will have received the sad news that American Johnny Kuczynski is not a millionaire. Despite averaging just under 90 per handful, Kuczynski was unable to keep up with the on-form Wayne "Hawaii 501" Mardle. For Kuczynski though, his top finish among the American contingent combined with the sterling darts he threw at the world championships surely leave no doubt in the minds of the British who have begun to track state-side darting talent that he is the American to most fear at present.
Of course, you will also know that thirteen time world champion Phil Taylor, who possibly wishes he had taken a naturalization exam before the tournament, took his protégé Adrian Lewis to school in the final, averaging over 102 in an as expected 13-5 victory.
The result also vindicates odds maker Stan James, which rose more than a few eyebrows by posting 9-1 odds on the 21-year-old sensation. Although Lewis' second round match with Colin Lloyd went into the tiebreaker Saturday night and his quarter final contest against Denis Ovens was closer than the soccer suggests (9-5), the darts he displayed while dismantling the legendary Dennis Priestley 11-1 in the semi finals were simply, well, Taylor-esque.
In the other semi final Ronnie Baxter managed to stay even with Taylor through the first eight legs but Taylor then moved into overdrive, finishing Baxter off 11-5 compliments of a 101 point average.
Backing up briefly, let me recap the second round match-ups and results. Lewis squeaked by Colin Lloyd 6-5; Denis Ovens defeated Andy Jenkins 6-4; Peter Manley beat Mark Walsh 6-2; Dennis Priestley overcame Roland Scholten 6-4; Phil Tayor took care of Terry Jenkins (despite Jenkins averaging 99.59) 6-3; Mark Dudbridge defeated Kevin Painter, Wayne Mardle handled American Johnny Kuczynski 6-3; and Ronnie Baxter beat Alan Warriner-Little 6-4. Four darters averaged over 95. Taylor averaged 104.88.
In the quarter finals Lewis took out Denis Ovens 9-6; Priestley finished off Manley 9-7; Taylor put out Dudbridge 9-6; and Baxter defeated Mardle – to set up the semi final matches already discussed above. In the quarters only one darter scored above 95 and that was Taylor with a 105.46 average.
Now just briefly let's go back to the American effort in the first round on Saturday. Around and about the Internet forums there is a lot of discussion about what went right and what went wrong. My purely unbiased opinion is that everything would have gone perfectly if Tommy Cox hadn't rigged the rules.
Yes it's true. In a secret meeting with the American players on Friday – a meeting that I tried to attend but was dismissed from – Cox went through the rules. Cox and I spoke afterwards and he explained that he was sorry to have to shoo me away but that "a lot of hard work and money" had gone into organizing the event, and therefore the Brits felt it "entirely reasonable" to require the Americans to take Quaaludes an hour before stepping on stage.
But again seriously, for the first WSOD, for the first time for most of the Americans on stage under the lights, in front of the cameras before a screaming flag-waving crowd, and with a potential million dollar payday on the line, I can't fathom how anyone question can the quality of the performance of any of the players who stepped up to take on the sixteen top-ranked players on the planet. Sure, every single American, including Johnny Kuczynski, knows and has proven time and again on the U.S. circuit that they can throw stronger darts. But the WSOD was a different animal.
I'm not sure just what averages really suggest over such a short format, but the format was the same for everyone who competed. So take a look at the statistics for each of the Americans during the first round.
Colin Lloyd (87.25) – Isen Veljic (81)
Adrian Lewis (81.98) – Jim Widmayer (73.57)
Andy Jenkins (88.81) – Tom Curtin (72.24)
Denis Ovens (88.03) – Bill Davis (80.25)
Peter Manley (91.28) – Ray Carver (84.42)
Mark Walsh (83.77) – Jeffrey Russell (85.13)
Roland Scholten (91.24) – Roger Carter (81.08)
Dennis Priestley (82.75) – Joe Efter (72.91)
Phil Taylor (96.05) – Tim O'Gorman (77.93)
Terry Jenkins (80) – Timothy Grossman (70.66)
Kevin Painter (77.42) – Jim Watkins (72.62)
Mark Dudbridge (92.97) – Joe Slivan (73.45)
Wayne Mardle (89.9) – Dave DePriest (86.75)
John Part (89.08) – John Kuczynski (86.11)
Ronnie Baxter (84.36) – Brad Wethington (73.98)
Alan Warriner-Little (87.55) – Joe Chaney (69.65)
Now consider that during the second round Peter Manley averaged 83, Andy Jenkins averaged 84 and Mark Walsh averaged 69.35 (lower than any American in the competition). In the quarter finals Lewis, Ovens, Manley, Priestley and Mardle all averaged under 90.
Americans Veljic, Davis, Carver, Russell, Carter, DePriest and Kuczynski each averaged over 80 and, while Kuczynski made it through to the second round, one would be hard-pressed to argue that were it not for some bad luck early on the doubles more of the Americans would have made it further in the tournament.
The reality is – and even the most hard core of the doubting Brits must accept this – the WSOD has put the spotlight on the fact that America does have what it takes to toe-the-line on a competitive footing with the best in the world. We're just not quite there, yet.
The future is brighter that it has ever been for the sport of darts in this country and the world.
That is a credit to all who supported the PDC's World Series of Darts brainchild.
Certainly it's a credit to the more than 2,000 American players who turned out during the regional qualifiers to compete. It's a credit to the players and fans who made the trek to the Mohegan for Friday Night Madness and the event itself. Certainly credit is due those who worked so hard behind-the-scenes to organize the qualifiers – many of them long-time leaders of the American Darts Organization (ADO) such as Buddy Bartoletta, Laurett Meddis and Denis Aitken. Absolutely, the tireless work of Bull's Eye News honchos Jay Tomlinson and Mike Harris must be highly regarded.
PDC Chairman Barry Hearn's and Embassy Row's Michael Davies' leadership and clout attracted ESPN and sponsorship and plowed life into Tommy Cox's and Dick Allix's dream. Over the years I have had my disagreements with both of these guys but never, not ever, have I doubted their absolute commitment to do what is right for the sport and to do it as well as it can be done. For anybody, anywhere, who ever may have had doubts that they were up to the latter, the WSOD should erase forever any speck of it.
There are SO many others. Dave Allen, just to mention one, works harder than most people I know and bring to the world the results of all PDC events literally minutes after they unfold to those in the darts arena, wherever it may be in the world. As one who writes for a living, I envy his industry as much as I do his ability to succinctly convey the sense and statistics of what takes place – and do so at lightening quick speed. I urge you to click to http://www.planetdarts.tv/page/Welcome to read his detailed reports on all the WSOD action.
I say the future is bright for the sport of darts. That's not debatable.
What is still in doubt is the future of the World Series of Darts and similar events of this caliber in America.
Its future depends on the success of the ESPN production and the eight-part series that will begin to air on July 18. And that success depends on all of us who have supported and participated in the WSOD, in any capacity, to keep the full court press on.
It's now a ratings game and it's only just begun.
If the World Series of Darts is truly to meet our highest expectations, if it is to storm America the way the World Series of Poker has, and once and for all pull out sport out of the darkness and into the spotlight, we must promote it at every turn.
Congratulations again to all who competed.
Congratulations to Johnny Kuczynski for showing the world that darts in America is for REAL.
Congratulations to Phil Taylor on winning and for showing us all, again, the difference between great and phenomenal.
Thank you Tommy Cox and Dick Allix for bringing your dream to America.
And THANK YOU to all of you who have followed the March to the Mohegan at Dartoid's World.
Coming soon from yours truly – it's back to the really important stuff. Next up: the results of an in-depth study concerning the impact of bosoms on sport of darts in America, including an interview with Ellen Czipo.
Watch for it. Be afraid!.
From the Field,
Dartoid
The following two tabs change content below.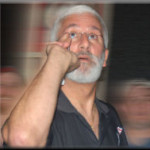 Author of the column that since 1995 has been featured by Bull's Eye News, the American Darts Organization's (ADO) Double Eagle and numerous other darts publications and websites around the globe.