Column #254 The PDC — 15; America — 1
May 20, 2006
Column 254
The PDC — 15; America — 1
This World Series of Darts (WSOD) report is coming to you in real time (hence the typos) from the Professional Darts Corporation (PDC) press room somewhere inside the sprawling Mohegan Sun Resort and Casino. All is wonderful as I sit here with Dave Allen, the PDC's Media Officer. He's eating something from Starbucks and I'm polishing off my second cheeseburger from Johnny Rockets. I promised my wife I would eat well!
We're keeping tabs on the action while watching a television monitor with no sound. Apparently the Mohegan Tribe didn't pay all its taxes. Either that or Tommy Cox better find the damn switch soon!
Colin Lloyd has just appeared on screen with a beautiful girl, walking through the crowd. Now here's Isen Veljic, also with a girl. She's dressed in a green ball gown. She doesn't look happy. I don't know why. Note to myself: talk to Veljic about this. The crowd's yelling and waving little American flags as Veljic takes the first leg. Lloyd evens it and quickly takes it to 3-1. It's now 4-1 to Lloyd after "E" misses d16 – Lloyd closes d18. Tension on Veljic's face. E misses d8 to have a shot to take a second leg but is off by a half an inch. Lloyd closes d4. E throws strong and brings it to 4-2 – after having shots in the previous two legs at the double – which would have him ahead 4-2. Match to Lloyd 6-2 with a tops close. Score line: the PDC – 1; America – 0.
Now Adrian Lewis and Jimmy Widmayer are appearing on my television monitor. Still there is now sound. There are no girls for this walk on either. Shame. Lewis jumps ahead quickly 1-0 after Jimmy fails to close 63, wiring the d8. Lewis goes ahead 2-0. Lewis looks determine. Beads of sweat are forming on his brow. A frown has begun to cross Widmayer's face. Lewis goes up 3-0. Lewis goes up 4-0. Lewis goes up 5-0. Match to Lewis in a whitewash. Widmayer was just a wire off his game. The score belies the darts he threw. Score line: the PDC – 2; America – 0.
Ah, now appearing are Andy "Rocky" Jenkins and Tom "Top Cat" Curtin. Curtin's decked out in a fancy bright blue shirt. Jenkins strikes 140 to start, while Curtin wrestles with his nerves and Jenkins closes d10 to jump ahead, with Curtin looking at 246. Jenkins closes 64 with Curtin looking at 181 to take the match to 2-0 – and Jenkins pounds in 180 to start the third leg and streaks to the double, leaving Curtin on 380. Jenkins throws another maximum in the fourth leg, followed by 140, just wires a 121 finish – leaving Curtin the opening he's been waiting for and Top Cat cleans up 95 to finally pick up a leg against the number eight ranked player in the world. Curtin has another look at 95 in the fifth leg but wires the third dart and Jenkins take the match to 4-1. Jenkins moves ahead 5-1. Jenkins wins 6-0. Score line: the PDC – 3; America – 0.
It's the bearded Denis "the Heat" Ovens and Philadelphia's Bill Davis walking onto the stage for the fourth match of the morning. Davis, who booked his spot late last night at Friday Night Madness, is beaming with pride in his bright red shirt – as he should be. This man has owned darts in the City of Brotherly Love for a Decade. Ovens starts with 140 and Davis follows with a ton – but they don't call Oven's "the Heat" for nothing and, despite continued strong scoring by Davis, Ovens holds his throw to go up 1-0, closing 64. Davis misses a bull finish to clean up 113 but Ovens is still on 178 and can't finish. Davis cleans up 25 to hold his throw and even the match and bring the American flag-waving crowd to its feet. But just as quickly the crowd is subdued as Ovens turns on the heat, leaving Davis on 255, to go ahead 2-1. Davis strikes back with a 140 start and sees a deflection cost him a maximum with his second handful, BUT he throws in 140 with his third set. Davis misses a shot at an eleven darter, then misses again, and again, and again and yet again! Ovens struggles with the double as well but finally steals the leg, moving up 3-1 when a 2-all match was securely in the bag for Davis. In the fifth leg both darts score 180s but Davis ends up short and Ovens strokes to a comfortable 4-1 advantage. Davis cleans up 68 to inch back into the match, taking the sixth leg, and brings the score to 4-2. Ovens keeps the heat on, takes the next leg and moves up 5-2. Never-say-die Davis (who came from behind a 3-0 deficit to outlast Darin Young last night) brings the match to 5-3, closing 48 with Ovens looking at 80 – and then, with nerves seeming of steel, takes the ninth leg to bring the match to 5-4. But in the end Davis didn't despite fighting the good fight – the best fight any of the Americans has put up so far in the competition – Davis didn't have quite what was needed, as Ovens stuck his final dart into the d20 to take the match 6-4. The score line: the PDC – 4; America – 0.
Next up is one of the most anticipated matches of the tournament so far – with Ray the Razor" Carver to face world-ranked number five, Peter "One Dart" Manley. The good news is that the girls are back for the walk-on. Manley looks pleased with his, a blond. Carver looks mighty pleased with his too, another blond in a sparkly low-cut dress. Both women look bored however. They also look familiar. I think they are the same girls that were with Lloyd and Veljic. It seems they get around. I turn around to talk to good old Dave Allen here in the press room and when I turn back to the monitor Manley has suddenly jumped into a 2-0 lead – and then closes 116 for a twelve-darter to move up 3-0. The cameras pan the crowd and the faces are long and drawn, worried. Carver is one of the American's great hopes and he's in the fight of his life. BUT suddenly there's a spark. Carver just misses 180, closes d4 and picks up his first leg. Then just as suddenly again Carver knocks down a d1 (yes d1!!!) to scratch closer yet, bringing the score to 3-2. Ah, but now it is 4-2 to Manley after a tops close. Ah but NOW Carver is back again, closing 86 (t18, d16) to pull back within one, 4-3 – and Razor has the throw. You can feel the momentum shifting. The crowd is coming back to life. But Carver has just thrown a 22. Manley score big and leave 83. Carver is on 78. But Manley finds the double first to break Carver's throw and move ahead in the match 5-3. The crowd has grown quiet again. Manley is looking at 87 for the match with Carver on 136 and Manley cleans it up. Carver put on a good show for himself. It just wasn't his day. Score line: the PDC – 5; America – 0.
Now up is Jeff "the Big Guy" Russell and Mark Walsh. Russell was on my board last night at Friday Night Madness so I am routing for him to show the stuff he displayed last night and that nearly took him to victory three times during the course of the regional WSOD qualifiers. If Russell is on his game it's lights-out for Walsh (who incidentally, put my lights out last year at the Las Vegas Desert Classic IV). Nature calls though, even when world-class darts is center, and when I return Russell is looking down the barrel of a 4-0 deficit. He takes leg five however to bring the score slowly back into reason at 4-1 and then cleans up 54 with a messy 11, t3, d17 – but scrapes back to within two nonetheless. With the score 4-2 and the throw Russell strikes a ton, 140, and another 140 to leave 121 and powers ahead of Walsh in the seventh leg – and then cleans up 20 to pull within one, 4-3. Just a wire separated Russell from a 116 finish in the next leg but the miss was costly, with Walsh sticking the d5 to move ahead 5-3. Russell then brings the crowd to its feet, brandishing sticks with cardboard images of his head, with a 48-close to pull with in one at 5-4. But then, sadly it is heartbreak. Russell has the crowd going wild, setting up a tops close with a 132, with Walsh looking at 115 – BUT Walsh digs deep and finds the darts, closing 115 to take the match 6-4. Score line: the PDC – 6; America – 0.
Now its good old boy Roger Carter, probably the most experienced of the Americans, walking to the stage with Dutchman Roland "Tripod" Scholten, ranked number four in the world. Scholten is scoring heavy, as usual. He's moved quickly into a 4-1 advantage – with Carter only managing a leg so far. Amazingly, particularly for Scholten, through five legs he's throwing 100% on his out shots. Now it's 5-1 to Scholten. The crowd is quiet. Scholten throws 65, Carter throws 81 and follows with two 140s and Scholten throws one of his own. Scholten is looking at 141; Carter at 46. Scholten leaves 60. Carter misses tops. And Scholten cleans up the 60 takes the match 6-1 with relative ease. Always the gentleman, Carter moves in quickly with a handshake and a smile to congratulate the number four ranked darter in the world to the enthusiastic applause of the fans. Score line: the PDC – 7; America – 0.
At the line now are "Bazooka" Joe Efter and the legendary Dennis "the Menace" Priestley. Efter told me last night that he had nothing to lose and absolutely everything to gain – and a million dollars didn't figure one iota into his thinking about the possibilities. He is here for the love of the game and to do his best, nothing more and nothing less. Frankly, it's a tough match to watch – both shooters are more than just methodical. Between handfuls the television cameras pan the crowd. There's Johnny Kuczynski (due to face Canadian John Part in just about an hour) and Ray Carver watching the action. Kuzcynski gives the camera a wink and mouths a confident "Yeah baby." Back to the board, Efter is down 4-0 and averaging 74.29 per handful. Priestley is averaging just under 90 and seems to have the match well in hand. Priestley takes the fifth leg, Efter squeaks out the sixth closing 60, and Priestly then finishes Bazooka Joe off to end the affair 6-1. Score line: the PDC – 8; America – 0.
NOW, the crowd has come back to life. On stage are thirteen time world champion Phil "The Power" Taylor and Tim O'Gorman, the New York detective who qualified last night to earn the chance to slay the giant. The blonds have returned too! I wonder where they go to change between matches? Taylor takes the first leg (missing d8 for a 126 close) and then follows with 140, 180, 165 to set up a ten-darter in the second leg but took two darts to close in eleven. BUT THEN, O'Gorman finds the double first to inch back into the match, 2-1. He's big scoring big, just not big enough to live with The Power. Taylor wastes no time setting the score however, taking the fourth leg – although O'Gorman had a shot at 76 to even the match. Miss a double against Phil Taylor and you pay immediately. Taylor easily notches up the fifth leg for a 4-1 advantage. O'Gorman hangs tough though and just as easily takes the next leg, closing 80, to bring the match to 4-2. Taylor steams right back though and finishes O'Gorman off in the next two legs. Score line: the PDC – 9; America – 0.
Ledbury's Terry "Tucker" Jenkins is on the stage now to face New York's Tim Grossman. Grossman fought his way through a huge 259-man field at the Windsor Locks regional qualifier, defeating Dave "New Wave" Marienthal to earn his spot on the Mohegan stage. The atmosphere among the American crown in the hall is optimistic, despite the results so far, that Grossman can produce the goods to take out the number 15 ranked darter in the world. Despite taking the lead 1-0 (the only American so far to actually be ahead in a match, except for Isen Veljic, who was briefly up 1-0 over Colin Lloyd) and steady darts Grossman quickly finds himself down 3-1. Had fate been just slightly more favorable he'd be even up with his opponent instead. Like so many of the Americans this afternoon, missed doubles and unfortunate deflections have cost him big.
Still, Grossman continues to throw strong. He's picked up the fifth leg to bring the core to 3-2 and is looking at tops to even the match at 3-3. Grossman's dart lands high and Jenkins closes tops himself to move ahead 4-2. Somehow both players find themselves on d1 in the seventh leg and after half a dozen darts each, Grossman finds the mark to move within one of Jenkins at 4-3. The crowd is on the edge of their seats. The American flags are in the air again, after a long rest. Jenkins has now wrapped up the eighth leg to move within one of victory, 5-3 and subduing the crowd just a bit. Grossman required 91 to stay in the contest. Jenkins has twenty remaining. Grossman CLOSES d4 to bring the match to 5-4 and the crowd back to its feet! Jenkins has the throw, making the challenge all the greater for Grossman and Jenkins doesn't give way closing 40 and leaving Grossman sitting on 245. Probably the best match of the day so far, Grossman put up one hell of a fight. Score line: the PDC – 10; America – 0.
The players are approaching the stage again. I hope the girls are with them. This is getting tough to watch. Nope, no girls – just Kevin "the Artist" Painter (world ranked number seven) and Jim Watkins, winner of the Philadelphia regional qualifier. Painter looks serious. Watkins seems to be jerking his darts – nothing, at least early on, is smooth about his release. But his shirt looks great – rich black fabric with bright red lettering. Watkins is loosening up and has just missed 116-out, leaving Painter a chance to close first, which he does to go up 1-0. Painter is now ahead 2-0 and frustration is noticeable on Watkins' face, BUT he has just closed tops to get back in the match at 2-1. But Painter strikes back and moves up 3-1. Then Watkins strikes back at Painter and makes it 3-2. Then Painter comes back, after Watkins wires d14, to move ahead 4-2. Watkins, one of America's true veterans of the sport, and who in his day would never have missed the double he just let go, can only shake his head. BUT he comes back strong and moves back to within one, making it 4-3. Painter is looking at 41; Watkins has 231 remaining and HITS A MAXIMUM to leave 51 – but Painter makes the close to move within a leg of victory at 5-3. Painter then closes d18 to finish off a stubborn Watkins and move into the next round. Quite a show from one of America's great darters from another day. Score line: the PDC – 11; American – 0.
Now it is Mark "Flash" Dudbridge, world ranked number ten, moving through the crowd to the stage along with Orlando's Joe "Sly" Slivan. Anyone who knows Slivan knows he's got the darts to take care of business. Slivan looks serious, very focused. He will have to be against an on-form Dudbridge. The first leg goes to Dudbridge, with Sly looking at 86. The second leg goes to Dudbridge, with Slivan looking at 128. Dudbridge hits 180 to set up a tops close in leg three and sticks it, leaving Slivan with 174. Slivan's look, his posture has changed. Dudbridge is on-form, thoroughly controlling the match at this juncture, and unless things change drastically and fast it's going to be near impossible for Slivan to claw his way back into contention. Slivan is now looking at 32, misses the d16, misses the d8 AND the d4 (just like I would do) and Dudbridge quickly closes 66 (t10, d18) to move ahead 4-1. The fifth leg goes to Dudbridge, literally in a flash, as he leaves Slivan looking at 211. Both darters throw 140 and follow with 60 in the sixth leg but Dudbridge throws in a 125 with his third handful while Slivan scores 85. Slivan now needs 170 to avoid the whitewash, with Dudbridge on 76 – but Slivan misses and Dudbridge is right on the mark. Match over, 6-0. Score line: the PDC – 12; American – 0.
Next up we have a potential thriller with Wayne "Hawaii 501" Mardle and Dave DePriest. DePriest has been practicing on a makeshift stage he created at home against tapes of Mardle's previous tournament play. Psychologically there probably isn't an American competing in the WSOD who has prepared more intensely, or at least scientifically, than DePriest. The first leg goes to Mardle – but DePriest is throwing strong, though is left with 110. The second leg also goes to Mardle (a twelve-darter) and DePriest, still right on the mark, is left with 109. In the third leg DePriest continues to throw heavy darts and finds the double first to bring the match to 2-1. DePriest EVENS IT UP AT 2-2!! The man from Michigan is throwing TERRIFIC darts at this point. But Mardle turns on the power with a 174 to set up a 32-close and then takes care of business his next trip to the line. DePriest takes a long drink from a glass of water and steady himself – he has the throw. Mardle continues to throw power, as does DePriest, but both struggle with the double in leg six but Mardle manages to stick the d1 to move ahead in the match 4-2. He then moves ahead 5-2, although DePriest continues to find the mark – Mardle's lead in legs bellies the darts DePriest is throwing (easily the strongest for the Americans on the day so far). DePriest now throws the darts need to hold back the Mardle surge and picks of the eight set, moving to within two at 5-3. Mardle however pounds in 180 to start the ninth leg, brings the score down fast, misses the bull to close 121 but leaves 25 – and cleans it up to take the match. A disappoint loss for Dave DePriest but a truly impressive effort. Score line: the PDC – 13; American – 0.
NOW we have the match deemed to be THE match of the first round: two-time world champion John "Darth Maple" Part from Canada versus American's number one ranked darter for the past four years running, Johnny Kuczynski. And even better: THE GIRLS ARE BACK! Part appears thrilled to be moving to the stage, shaking hands and smiling widely, but that's his. Kuczynski is having none of it. He's dead serious, but that his way. Kuczynski takes out d17 to go up in the match 1-0. Part takes out d16 to even it up. Kuczynski opens with 140 in the third leg but a bounce out costs him with his second handful – and Part eventually sticks another d16, leaving Kuczynski looking at tops, to move up 2-1. Part has another look at d16 (from 112) in the fourth leg but wires it, letting Kuczynski back in to close 89 (t19, d16) and even the match again. Two 140s helped power Kuczynski to victory in the fifth leg and the lead again at 3-2. An 86 close (18, t18, d7) after Part just missed finishing 82, moves Kuczynski into a 4-2 lead BUT Part THEN STRIKES WITH ONE OF HIS PATENED BIG MONSTERS, a 161 this time, to pull within one at 4-3. Despite a maximum in the eight leg, Kuczynski lets it get away and Part evens the see-saw battle again at 4-4. Kuczynzki closes d20 in the next leg after Part just wires tops himself to finish 104 – so Kuczynski is now within a leg of becoming the first American to make it through to the second round. But its Part's throw. Kuczynski JUST misses a 140 finish and Part comes back with a 93 finish of his own (bull, 11, d16) to take the match into the final leg! It's Kuczynski with the advantage of the throw and he scores a 180 with his third handful. Kuczynski has 70 remaining and Part is looking at 245. It's Kuczynski's match to win or lose. Part's suddenly on 112 – he hits the t20, 20 and MISSES the d6! Kuczynski is looking at 40, wires his first dart high and then… STICKS his second dart DEAD CENTER to become the first American to move past the first round and one step closer to a million dollar payday. What a match between to great darters and two good friends. Score line: the PDC – 13; America – 1.
Now under the lights on the television monitor (still without sound) here in the PDC press room are Ronnie "the Rocket" Baxter and Brad Wethington. Wethington is another of the Americans who came so close during the regional qualifiers but earned his spot last night at Friday Night Madness. Wethington and I have spoken often this afternoon outside the player's practice room and he's as calm as I've ever seen him, not that's he's an excitable guy in any case. Baxter jumps ahead straight away, closing 30 – but not before Wethington misses a chance at 90. Wethington calmly evens it up 1-1. Both darters struggle in the third leg and Baxter cleans up the double first but, again, not before Wethington had a shot at 44 and missed. Wethington is down 2-1 but has had the darts that could have and should have put him ahead 3-0. Baxter closes 107 in the fourth leg to move up 3-1, leaving Wethington looking at 190. Baxter is now up 4-1. Baxter is now up 5-1 – and, kindly – as it's been a long day – Denis Ovens, Colin Lloyd, Roland Scholten, Peter Manley, Andy Jenkins and Kevin Painter here in the press room are rooting Baxter on to end the misery, so they can go to dinner. Wethington is looking at 141. Baxter is sitting on 25. Wethington leaves 97. Baxter finishes the job and moves in for a handshake and a hug. It was a disappointing match for Wethington, one that but for a few better early, might have ended differently. Score line: the PDC – 14; America – 1.
Finally, we have reached the final match of the first round of the first World Series of Darts. Soddy-Daisy, Tennessee's own Joe Chaney (the man who knocked out Darin Young in the finals of the Washington, D.C. regional qualifier) is about to duke it out with the fourteenth- ranked darter in the world, Alan "the Iceman" Warriner-Little. Unfortunately the recap of this match can be short. There's just no other way to describe Warriner's manhandling of Cheney. The Iceman blasted to a 6-0 whitewash leaving Cheney just one look at an out. Case closed. Cheney will certainly be back. You don't beat Darin Young and get to the stage of the World Series and let a one whoopin' hold you back from kickin' ass another day.
Score line: the PDC – 15; America – 1.
Next up: round two. One American's hopes for one million clams REMAINS ALIVE. That's Johnny "Special K" Kuczynski.
Due to the length it time to complete today's first round only the first four matches of the second round will be played this evening. This means Kuczynski will step back to the oche until tomorrow.
His opponent: Wayne Mardle.
What a match it will be!
From the Field,
Dartoid
The following two tabs change content below.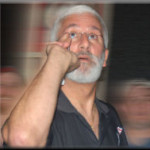 Author of the column that since 1995 has been featured by Bull's Eye News, the American Darts Organization's (ADO) Double Eagle and numerous other darts publications and websites around the globe.