Column #213 Joe Slyvan
January 30, 2006
Column 213
Joe Slyvan
If I had ten minutes on television, well… that's a big "if." But IF I win the million dollars I'll pay off my mom's house, and invest in real estate and my company.
— Joe Slyvan
__________________________________________________________________________
Nickname: Sly
Date of Birth: March 23, 1967
Place of Birth: Buffalo, New York
Hometown: Orlando, Florida
Hobbies: Acoustic guitar, buy & sell vintage sports cards & memorabilia
Movie: Pulp Fiction
Television Show: Dave Chappelle Show
Favorite Night on the Town: It's not so much what as with whom!
Meal: Give me a filet & lobster tail anytime. Red Bull with anything.
Sports Team: Pittsburgh Pirates
Music: Stevie Ray Vaughn
Book: Hidden Tahiti & French Polynesia
Worst Habit: Second hand smoking!
What Most People Don't Know About Me: I have a bionic left eye (with theme music when in use)!
Weapon of Choice: I have no idea who makes the darts I use!
___________________________________________________________________________
My first experience with a dart came at a carnival when I was eight… the dart came from my brother and ended up in the middle of my back!
Why darts, you ask, and not some other sport? Well, I'm still trying to find a way to fit a ballpark into my living room!
I first started actually playing when a dartboard was put up in the recreation room at college. Being the competitive type, I started to play because the guys I would beat in billiards could beat me at darts then. I become involved in the dart circuit when I met Joey Tomasino who used to play the national tournaments in the 1980s. He took me to my first steel tip tournament in Cleveland.
I haven't had the chance to get to the number of events that I would like because my business (and aluminum structure company) is rather time consuming. My current objective is to remain competitive at a national level. I was pleased last year to have a chance to partner with living legend Brian Dougherty at the Rae Chesney Memorial – and to make the finals in both doubles events.
When it comes to who I really admire in the sport in America, at least historically, I'd have to say Larry Butler. You've got to give him credit for his defeat of Dennis Priestley at the 1994 World Matchplay. No other American darts player has managed such a feat.
Outside of darts, I've always thought of Pete Rose as my hero. When I was growing up he was the ultimate in competitiveness and intensity.
Does the sport of darts have problems? Let me just say that you don't see professional athletes heading onto the field three sheets to the wind.
It's easy to boast. A lot of guys in darts do. What is difficult is to beat on a consistent basis someone who is, or used to be, on top of their game. I wouldn't exactly call him my nemesis, but Roger Carter comes to mind. I've met a lot of great people over the years, Roger among them, and anytime you get beat in a game of skill it raises the bar.
Mostly I throw doubles with Dave Lambert and Gary Mawson. I'm getting to tournaments as my business permits, but…
…mostly I'm looking forward to the World Series of Darts (WSOD). I think the event is great for darts in America and that a lot of guys will turn out for the qualifiers to earn a shot at the money. I know I will.
I do think the majority of the American television-viewing audience would prefer to watch a game with a little more strategy and counteraction.
I hope someday to see the Professional Darts Corporation (PDC) get a world cricket title going!
The following two tabs change content below.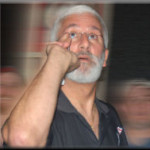 Author of the column that since 1995 has been featured by Bull's Eye News, the American Darts Organization's (ADO) Double Eagle and numerous other darts publications and websites around the globe.