Column #214 Bill Bell
January 31, 2006
Column 214
Bill Bell
If I had ten minutes on television I'd say hello to my mom, because without her I would not be here – and then thank everyone who helped me get to where I am. In darts, that would be Jimmy & Jay. I would also thank Laurett Meddis, the MOM of darts, for everything she has done to help this sport grow.
— Bill Bell
__________________________________________________________________________
Nickname: 5B (Big Bad Black Bill Bell)
Date of Birth: February 26, 1959
Place of Birth: Staten Island, New York
Hometown: Staten Island, New York
Hobbies: Basketball, pool, and writing
Movie: Magnificent 7 and The Great Escape
Television Show: ESPN and House
Favorite Night on the Town: Besides Darts? Clubbing
Meal: Lobster and a Budweiser
Sports Team: Pittsburgh Steelers
Music: Earth, Wind and Fire
Book: Bourne Identity
Worst Habit: Don't practice enough
What Most People Don't Know About Me: That I take care of my mom who is now 87 years young, have four sisters and a twin brother (and no, we do not look alike!).
Weapon of Choice: Black Eagles
__________________________________________________________________________
It was in 1993 or 1994 that I started throwing darts. My friend Mike Bianco called me up and asked if I wanted to play. I told him I did not know how. He responded, "Neither do we. But it is another reason to go to the bar."
I used to play basketball but hyper-extended my elbow. So now I throw darts. I made the American Darts Organization's (ADO) East All-Star Team in 2003 but I suppose my main claim-to-fame is my 301 victory over Darin Young in the finals of the 2003 Virginia Beach Classic. My goal in darts (besides winning the million dollars) is to become the ADO's number one ranked shooter. At one time or another I've beaten Johnny Kuczynski, Darin Young, Ray Carver, and John Part so I know what it takes.
I spent a year at the College of Staten Island Center for Media Arts studying to be a recording engineer. I also attended Cittone Institute for Massage Therapy. I work for UPS and am a Certified Massage Therapist. My goal outside of the sport is to someday open my own spa.
My dad's my hero but in darts I look up to Jim Widmayer and Jay Harrell. They taught me everything I know about the sport. My doubles partner is Joe "Geo" Giordano. I don't have a sponsor, yet, but shoot tournaments as a member of the USA Dart Club, LLC.
It bothers me that most people don't consider darts a sport. When I tell people that I play and then mention tournaments they are amazed by it. It is too unknown to the American public.
That's one of the reasons I like the idea of the World Series of Darts (WSOD). I don't particularly like the "Americans versus the British" theme of it and would rather it was organized as a random draw like they do in the World Series of Poker. There you never know who you're going to be seated next to. But don't get me wrong, I think the WSOD is going to be great for the sport of darts.
Am I practicing? You bet. Since this is a 501 tournament I'm working hard on doubles. I'm following Peter Evison's practice routine. I throw my first dart at the double one, the second dart at the double two, and the third dart at the double three. If for example, I hit only the double two, the next round I throw my first dart at the double one, the next at the double three and the last dart at the double four. I continue this way to the double bull and then do the same thing with the triples.
Will I be ready? Absolutely, but it's not something I'm dwelling on. Worrying is like a rocking chair. It gives you something to do, but it gets you nowhere.
As I said, my goal is to open my own spa. Winning the millions dollars will sure help. Of course, I'm single and relatively young still, so I have time.
Like my dad use to say, "You've got time. The love of your life is somewhere down the Road". So if I do win, the first thing I'll do is call Halle Berry.
The following two tabs change content below.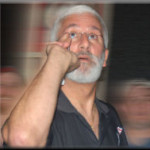 Author of the column that since 1995 has been featured by Bull's Eye News, the American Darts Organization's (ADO) Double Eagle and numerous other darts publications and websites around the globe.