Column #212 Roger Carter
January 30, 2006
Column 212
Roger Carter
I've had my ten minutes on television (not that I'm not planning on another prime time spot at the Mohegan). That was at the 1997 Embassy when I was kicking the crap out of the number one darts player in the world at the time – Martin Adams. What a night!
— Roger Carter
__________________________________________________________________________
Nickname: Taz
Date of Birth: October 28, 1961
Place of Birth: Sandusky, Ohio
Hometown: Auburn, Alabama
Hobbies: Basketball
Movie: Field of Dreams
Television Show: Law and Order. My name is Earl.
Book: DaVanci Code
Favorite Night on the Town: Dancing and being with friends.
Meal: Spaghetti, Jim Beam and Coke.
Sports Team: New Orleans Saints
Music: Aerosmith
Pet Peeve: Anyone who uses performance enhancing drugs to improve their darts.
What Most People Don't Know About Me: They never will!
Weapon of Choice: "Carter" signatures from Atlanta Darts
__________________________________________________________________________
My ex-wife Tina got me into darts while I was stationed in England in the air force. I was nineteen and we were hanging out at the pub. A gentleman named Franky Dennis used to piss me off while we were practicing by telling me I couldn't beat the English at their own game. It worked. He has taken credit (and he deserves it) for improving mine.
I always wanted to be a professional basketball player. Smoking and not being tall enough kind of took care of that. I think throwing darts is a lot like shooting free throws, and I was pretty good at that. Still am, actually!
I have two children. Ben is twenty-one and Harry is nineteen. Both are great and support me to the fullest. They live about two hours from me. The rest of my family lives in North Mississippi. I have been seeing a lady named Vera for about a year and she is awesome – never a moment of unhappiness. If I were stranded on a remote island she is who I would want with me. She pushes me to be better all the time.
I work as a finish manager for a company out of Columbus, Georgia – Jones and Minear Homebuilders, LLC. We build custom homes in Auburn, Alabama where I live. It's a great town – great people. I truly enjoy my work and look forward to putting my company's name on television during the World Series of Darts (WSOD).
My only non-darts related claim-to-fame (at least that's what I consider it) would be that I treat everyone with respect and admiration. Life is so short and we all must try to get along. I have helped raise my two sons to be respectable and drug free and they treat everyone with respect as well. My ex-wife has done a great job raising them at home alone for the past eight years and my boys love her very much.
I have been to four Embassy World Championships, three World Masters, two World Cups, and am a five-time member of the U.S. National Team. I had to pass on going to the World Masters and the World Cup in 2001 due to my brother passing away that year.
I have won several tournaments in the U.S. and would like to think that I have helped quite a few players to improve their game along the way.
I only wish there was a career in darts here in the States. We really only have amateur status and the money is not good enough to travel all over the country.
I look up to Franky Dennis, as he was the one that put me on the right track to improving my game. Paul Lim is probably my biggest hero in darts. I was fortunate enough to play darts against him in San Bernardino and lose several dollars along the way. Lloyd Wynn was a huge factor in my move into competitive darts as he forced me to go to a regional playoff and I beat Rich Baldwin Jr., Chad Sylvan and several other good players to progress to the ADO All-stars team. That was a highlight of its own.
Until he passed away, I wasn't sure who my hero was outside of darts. My brother Phil went from partier, to college graduate, to family man, to adviser and was probably the calmest person in the world when he found out he had mantle cell lymphoma. It has been four years now and I still cry when I think of not being able to see him anymore. I know he is watching somewhere and I can feel his presence when I question myself about anything. He is my hero. I guess John Wayne would be next to that.
The pro's live in England and the wannabe's live elsewhere. Until some sort of unity is achieved in the world about how darts is to be played and portrayed – until there is one governing body – it is going difficult for anyone but a few to make a living as a professional player.
I don't have a nemesis. Not one. At any time and in any place, I feel that any dart player can beat whomever they are playing. That is why I do not take anyone lightly nor do I ever take a match for granted. I feel if I shoot to my potential, then there is no one that can beat me. I just have to be a little more consistent.
Paul Lim and Franky Dennis were the most help to me. There have been a lot of other very supportive people during the past twenty or so years, especially my family.
The best doubles partners I ever had would have to be Britt Whitley, Jim Widmayer, Bob Gargan, Jake Thompson and Michael Bundschu. I have played with them more than anyone. I did play with Paul Lim once and truly enjoyed it. Mixed doubles partners would have to be Tricia Geisler, Susie Swisher, Nancy Jo Williams, Julie Nicoll, and Lori Verrier. Lori was always a good friend – as well as a great dart player. I played with Pamela Patton and we had great fun in Las Vegas. Paul Lim still owes me a steak for that one, by the way. He bet we wouldn't go as far as him and Stacy Bromberg. We beat them in the top four.
My tournament travel plans are tentative. My focus is on the WSOD. I intend to qualify. I like the idea of being a millionaire.
I practice 501. I start trying to finish is eighteen darts or less. When I beat that in the best of eleven I switch to sixteen darts or less, then to fifteen darts or less. If I finish in better than fifteen darts I usually quit because I don't want to think I am too good.
If I win the million dollars I won't change much. I would keep my job and enjoy my life a lot more – and so would my family. My goal is to live a good easy life and take care of myself so I can buy a few acres of land and build a cabin by a lake somewhere – watch the sun come up in the morning, cut firewood in the winter, play horseshoes with friends that visit and just enjoy living.
When I die I hope my friends will gather, have a drink and a laugh. Life is a joy and I'd like to think that I've contributed to plenty of enjoyable moments for others.
The following two tabs change content below.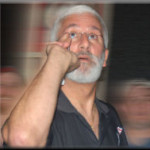 Author of the column that since 1995 has been featured by Bull's Eye News, the American Darts Organization's (ADO) Double Eagle and numerous other darts publications and websites around the globe.