Column #193 The General and Mr. Magoo
August 1, 2005
Column 193
The General and Mr. Magoo
Sitting at the table next to me at dinner tonight was a tall, gray-haired man. About seventy years of age, his hair was cropped tight, military style. He was dressed casually in a blue, short sleeve shirt, pressed beige Dockers, and black loafers. Back home I'd have thought him a respectable fellow. Maybe he was a retired General.
Across the restaurant was another man, animated with silver glasses, shorter, rounder, bald with a white goatee, but also well into his late sixties. In his loose fitting jogging clothes he reminded me of Mr. Magoo. Back home I think I would have liked his company.
But I'm not back home.
Cuddled next to each was a small, young girl, neither near twenty-years-old, each possibly not yet a teenager. Both wore their raven-black hair tied in a ponytail, the way my daughter used to do. Both wore short skirts and bright tight-fitting tops to help market their undeveloped bodies. Neither smiled.
I am in Bangkok — sitting in the restaurant of the Nana Hotel. Everywhere I look the scene is similar.
It's no longer dinnertime. It's 3:00 a.m. and the place is bustling. Nana Entertainment Plaza, the "new" Patpong, located directly across the street (Sukhumvit, Soi 4) has just closed for the night. Deals are still being negotiated. "You like? I show you good time." It's about $25 for a "short time." About $60 for a "long time." Tiny girls and old men pair off. They head to the elevators.
Other men, younger, perhaps aware, perhaps not, are with gorgeous women, dressed beautifully, like showgirls from a Las Vegas nightclub. But the women are not women. Their deep voices, large hands and Adam's apples give them away. The women are called "lady boys" or katooys in Thai. They are "she-males."
Earlier, I threw darts at a highly recommended bar in the Plaza called the Woodstock Rock-n-Roll Bar and Restaurant. It's an outstanding venue. But what I saw coming and going was like nothing I've ever witnessed.
Just before dinner and prior to entering the Plaza, I nursed a Singha at an open-air bar called the Golden, on the street just across the way from the Plaza entrance. The night was early. It was still light. Small children offered to sell me gum and roses. A wrinkly-skinned man tried to interest me in a Rolex. Women strolled by with babies in carriages. Taxies, tuk-tuks, and occasionally a car streamed by, filling the already stagnant, humid air with the choke of spent gasoline. On the other side of the street a vendor sold insects dipped in hot sauce. Along the sidewalk a man walked with a tall pole from which fluttered numerous small birds, apparently tied to strings.
I headed to Woodstock just as darkness fell. As I walked under the red and blue neon Plaza archway sign, I could begin to hear the music. As I weaved further into the throng of people, the sound of the music grew stronger and the flashing rainbow colors of the bar signage pulsated with the beat — Cat House, Lolly Pop, Pretty Lady, Spanky's, Fantasia, and the G-spot. Hundreds, thousands it seemed, of beautiful girls and girls who weren't girls closed in.
Not nearly as many boys, men, and old men surveyed the amazing scene. In a dozen different languages the negotiating began.
The Woodstock Rock-n-Roll Bar and Restaurant is located at the very back of the Plaza, on the second level. It's prominently marked with a large yellow sign and a red arrow. A lady-boy in a revealing white-lace top and bottom propositioned me as I climbed the stairs. I just don't understand…
When the large double wooden door of the Woodstock closed behind me, I was transported back to a time and place I did understand. One entire wall of shelves was lined with CDs — Canned Heat, Big Brother and the Holding Company, Iron Butterfly, Jefferson Airplane, the Band, the Doors, Fleetwood Mac, the Animals, Joe Cocker, the Byrds, and Creedence Clearwater Revival. My first thought was of Doctor of Darts, Patrick Chaplin. Chaplin collects CD's of old 1960's psychedelic rock bands. He would love this place.
Woodstock is not crowded and comparatively quiet compared to the bizarre world that gyrates just outside its doors. It's appointed in red brick and creamy wood the color of a Thai girl's skin. Much like an old 1960s tearoom, the large, multi-level Woodstock is somberly lit, illuminated only (except over the pool tables and dartboard) by numerous small triangular green lights strung from above. Black-light posters cover the walls.
I ordered a Singha for a little less than two dollars from a large selection of local and imported beers. After surveying a varied menu offering everything from spaghetti to New England clam chowder, I opted for a local dish, kao phat mun goong (fried rice with spicy shrimp), and headed to the board by the bar. I shook my darts from their case and stepped to the line. Pool balls cracked on the other side of the room. From speakers somewhere in the ceiling Bob Dylan was blowing in the wind.
Woodstock only has one dartboard but it's hung right and well lit. The backboard is a swirl of thick rope. There's a large chalkboard, set up primarily for Mickey Mouse, and a rubber mat. The area's cozy. It's perfect.
I warmed up for about an hour before one of the bartenders, a girl named Plon, asked if I wanted a game. "Sure," I replied. "Mickey Mouse?" I was surprised when she said she'd rather throw 501. She excused herself briefly and returned with a set of darts and, under her arm, another chalkboard and a grease pen. Now, I was more than just surprised.
I find people like Plon everywhere I go. They don't know what they are doing but they have talent. They just don't know what to do with it. They throw alone. They play the customers. They learn a little. But that's about as far as it ever goes. A few years back I met a guy, just like Plon, a bartender in another bar in Bangkok. He was good. We threw all night and then, the next night, met at another bar called Square 22 (Sukhumvit, Soi 22) and threw with some of the guys from the Thailand National Team. I don't know if he ever went back. I hope he did.
Plon managed a handful of tons and a 138 but, fortunately for me, went down (no pun intended) to defeat 5-0. I say fortunately because, had I lost, the night would have ended early. Humbled, I'd have been forced to shake hands, pay my bill, and head out the door to face the lady-boys. I threw alone until the music died, the green lights dimmed, and the bar, and Plaza, closed.
After passing back through the still milling, still negotiating crowd, I found my spot at the Golden and ordered another Singha.
For another hour, I watched people.
Then I wandered to the busy restaurant for a cup of coffee and a snack. The General and Mr. Magoo were back.
I wasn't surprised, just disgusted, to see them with two new little girls.
From the Field,
Dartoid
The following two tabs change content below.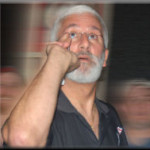 Author of the column that since 1995 has been featured by Bull's Eye News, the American Darts Organization's (ADO) Double Eagle and numerous other darts publications and websites around the globe.