Column #194 Pub 1418 and the Philippine Darters Reunion
September 1, 2005
Column 194
Pub 1418 and the Philippine Darters Reunion
Jun de la Cruz. Jake Ubaldo. Darren Liwanag. Leo "King Leo" Gonzalez. Joel Singsong. Caesar and "Boy" Eribal. Cayetano "Tanny" Gonzalez. Ike Borja. Luis Bustamante. Egay Alejandro. Renato Mauricio. Paeng Musiko. Gene Shoaf. Rich Herrera. Mel Ponce. Ramon "Mon" Sabalboro. Freddie Deen. Ricky Villanueva.
Except for Sabalboro (long time, and still, Philippine National Team member), Deen (once ranked third in the world) and Villanueva (TWELVE TIMES Philippines' national champion, now throwing the American circuit), outside of the Philippines and much of Asia the names are unfamiliar. Even inside the Philippines, these darters, once the best of the best, are, sadly, pretty much forgotten.
In the late 1980's, de la Cruz, Ubaldo, and Liwanag, along with the late Deen, commuted to Hong Kong for three years running, every single weekend, forming the nucleus of the dreaded Foreign Guns darts team. De La Cruz, the 1987 Philippine Masters Champion, now works for Marshall Aerospace in the United Kingdom. Ubaldo, three-time Philippine national champion and a winner of the Hong Kong, Thailand and Malaysian Opens, is now retired (though rumored to be contemplating a comeback). Liwanag is pleasantly retired as well. They've done well.
Joel Gonzalez, who won the Philippine Open way back in 1979, breeds fighting cocks. He asked me to pull down my pants but I declined.
Singsong, winner of the National Open in 1987 and the Philippine Masters in 1988, co-owns an architectural firm called the Song and Periquet Design Group. Tanny Gonzales is a consultant to the Philippine Sports Commission and Athletics Director for the University of the Philippines. They've done well too.
Borja is a racing car official. Mauricio writes for Sports World Magazine and is a Customs Examiner. Musiko is a broker for the PhilTown Corporation. Shoaf is a building contractor. And Bustamante — is Vice Mayor of Las Pinas City.
These are the manes that represent the history of darts in the Philippines.
To a man, they've all done as well in life as they did at the line.
And together, minus Sabalboro, Deen and Villanueva, with a dozen or so others, they reunited last night at Pub 1418 (1418 Roxas Blvd., Pasay City). It was an honor to be invited along for the ride.
They drank a few San Miguel's, though not nearly as many as they were once capable of putting away. They threw some darts, though not nearly as straight they did so many years ago. They flipped through the pages of yellowed scrapbooks, brimming with old pictures, laughed at their once dark hair and sturdy bodies, and reminisced about the days when no one could touch them at the boards.
And they wondered — the same way darters still do in the Philippines — what could have been, had they had the financing to travel and compete seriously on the international circuit. It's no wonder that Villanueva has an entire country routing for his success. The Philippines is a down and out country. Filipinos ask for nothing but a chance — and respect.
The reunion was arranged by the Darts Council of the Philippines through its officials, Errol Magtubo, Logie Estacio, Allan Buenacosa, and Steve Dorotheo, and Tertoncraft's Andy and Cora Mercado.
Pub 1418 is a small, quiet bar, with two boards. It's definitely a stop worth making if you find yourself and your darts in the Manila area with a free night or two.
The décor is western. Colorful pennants from Michigan, Purdue, the University of Southern California, the Dodgers, and White Sox are tacked to the walls between the boards. There's a framed poster of Marilyn Monroe. There are the usual couple of televisions and a karaoke machine. This particular night, the group of old friends was entertained by the crooning of Magtubo, whose passion, second only to darts, is singing. Also among the small crowd and who, unexpectedly, sang a couple of songs, was the popular Philippine recording star, JoJo Valerio, who is one the regulars.
The food is great — I recommend the tenderloin tips and garlic mushrooms. The beer is as inexpensive as it gets — a San Miguel costs less than a dollar a bottle.
And for those who aren't into darts, or find yourself in Manila without your darts, and are looking for "entertainment" of another kind, it is recommended that you check out the joint next door. I don't know what it's called and I think it's best not to go into details — except to say that the fare looks better than tenderloin and is supposedly about as inexpensive as the beer at Pub 1418.
As the night moved into morning I got a chance to play some of the guys. The only one of them I managed to take a few games from was Dorotheo, but he confided that he was "the one darter in the room of has beens who never was," so I suppose the legs I picked off are not much to boast about.
Not one of these old-timers had handled a dart in a decade. But no one would have guessed.
I watched the comeback-minded Ubaldo throw for an hour against some aspiring young gun who showed up for the occasion and Ubaldo stroked at least a half-dozen maximums.
The others were just as good in their day. Except for Dorotheo. And me.
And they all agree — their lives were enriched for having played the game.
From the Field,
Dartoid
The following two tabs change content below.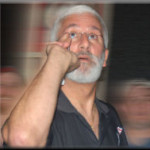 Author of the column that since 1995 has been featured by Bull's Eye News, the American Darts Organization's (ADO) Double Eagle and numerous other darts publications and websites around the globe.