Column #192 They Came, Won the Money and Went Home — But Our Women are SAFE!
July 4, 2005
Column 192
They Came, Won the Money and Went Home — But Our Women are SAFE!
The British are going! The British are going!
And it's not a minute too soon.
They have beaten up the Americans. They have beaten up each other. If they weren't on their way back home, en route to the Stan James World Matchplay which begins on July 24, I'd worry that they might soon show up at my door and put the whoop-ass on my golden retriever.
Credit is due to Americans George Walls, Johnny Kuczynski and Darin Young who fought the good fight — and Ray Carver who fought it better. Carver battled his way through the qualifiers to take his spot on stage where he eventually saw his dream dashed by Englan's Wes Newton. Still, Carver pocked about $7,500 for his effort and earned the chance to represent America at the world championships in Purfleet beginning December 19.
Credit is also due Gary Mawson and Scott Kirchner. Both shooters went down to defeat in tough top eight qualifying rounds, just missing the opportunity to test their skills against the world's best. Kirchner in particular, being basically a soft-tip star, did his genre of the sport proud, proving to some (even me, temporarily) that plastic darts is not always merely a Tupperware party.
In the end though, the result was as expected. Twelve times world champion Phil Taylor showed again why he is, well, twelve times world champion. He routed Wayne Mardle 6-1 in a Final that was never in doubt to take the championship and add another $25,000 to his multi-million dollar bank account. For the ladies, world number one Trina Gulliver defeated Deta Hedman 6-2.
The ironic thing is that in England some people find this all quite boring. Taylor "always" wins. There's "no excitement." Some even argue that there should be no Desert Classic V.
Crikey, what's the matter with these blokes!
Yet, maybe these homebound British have a point — and based on the sorry level of participation among Americans, it would appear that many American darters would agree. In their flats these British darts fans have lounged in front of the telly all week, with a sack of crisps in one hand and a jar in the other, complaining!
What's the point, they have lamented on some of the darts websites, of flying all the way to Las Vegas just to beat the crap out of each other and then watch Taylor walk off with all the cash? Presumably most of all but the some fifty Americans who made the journey feel much the same. Of course they couldn't watch the tournament on the telly, because in America we don't generally use sissy vocabulary.
Well, the point, you frickin' idiots, is the gambling and the showgirls!
Seriously, the point is that there's an aura about Las Vegas and it makes for good television, even if none of the American networks seem to be able to figure this out. The possibility that an American like Darin Young might hammer an Andy Hamilton, or a Ray Carver might carve up an Adrian Gray or Denis Ovens — makes good television. The possibility that a soft-tipper might make the stage is unheard of in the Mother Country! The Desert Classic offers up possibilities for the viewing public that other tournaments can't. Obviously the PDC and Sky recognize this, even if others don't.
Good television means viewers. Viewers mean advertising. Lots of advertising means money for darts, more tournaments and more potential money for all you lot who have been sitting on your asses complaining — wherever you've been doing it, in England or America.
The Professional Darts Corporation (PDC) has handed American darts an extraordinary opportunity and only a handful of American darters take the time to make the trip to Las Vegas each year to participate. Those Americans who continue to decline to take part are missing so much…
I ask you — every one of you: where in this great land of ours can you go to a darts tournament, walk into the bathroom, and actually touch the great Phil Taylor or John Lowe right on the, well, uh… shoulder!
Whether you're ranked in the top few hundred by the American Darts Organization (ADO) or the American Darters Association (ADA), you owe it to yourself next year to make the trip. Even if like me you're ranked at the absolute bottom of one of these organizations, you won't be disappointed, just a bit humbled. The event is a darting experience that is next to none in America.
The only justifiable reason I can think of for an American to pass on this tournament is if the American is a member of the National Dart Association (NDA). See, I told you my respect for the soft-tip game was only temporary.
So another Desert Classic has come to an end. Unfortunately the action wasn't televised in America. But neither was the world hot dog eating contest, which competed with the televised finals in America a couple of years ago — so there's been progress. Perhaps next year…
The big money went home with the British but the Americans collected their share. But for a wire, America's Stacy Bromberg, not Trina Gulliver, would have been toeing the line in the Finals against Tricia Wright. And but for a few wires in the finals of the fourth qualifier, it may well have been America's Deb Parker who Bromberg would have been facing.
Philadelphia's Bill Davis tore up the sisal in the qualifiers, going down in the seventh leg of the second qualifier to England's Dennis Smith. Numerous other American's did their hometowns proud — Chris Helms, Chris White, Justin Queens, Brad Wethington, Darren Parzow, Dan Lauby, Ronnie Lott, Paul Lim, Ricky Villanueva and others.
Villanueva and England's Steve Coote did their bit for charity, helping to raise some $15,000 at Bromberg's fundraiser for the Make-a-Wish Foundation.
In the absence of Master of Ceremonies Phil Jones, Russ Bray dressed up and did a terrific job. Phil has many friends in America who wish him well and hope to see him back soon.
As always, it was a pleasure to renew acquaintances with friends from England, like John Lowe, Bob Anderson, Mick Manning, and Sid Waddell — and make new friends like Mark Walsh, Alex Roy, Adrian Lewis, and Lionel and Caroline Sams (two truly class acts). NOTE: Speaking of class acts, it is not by accident that a certain former five times world champion named Eric Bristow is not mentioned in this paragraph.
Of course, there were people who usually make the tournament who did not this year. Former PDC media director Gayle Farmer has moved on and she was missed. New media director Dave Allen has tall shoes to fill and is filling them well. He's doing an awful job however, filling out her black teddy.
California's Debbie Gordon didn't make it and was sorely missed by many of her friends.
Most of all, for my part, I can say that — despite sparse criticism from some and a whole hell of a lot of ribbing from me — I appreciate the opportunity each year to (NOTE: Read these words carefully because I will never repeat them!) work around PDC tournament director Tommy Cox and the others.
Tommy, Dick Allix, and their crew run a smashing tournament, like nothing that can be experienced anywhere else on the American circuit. It really is a shame that so many darters, on both sides of the ocean, choose to sit it out each year and throw "slings and arrows" of a different kind.
The PDC blokes are very gracious each year to provide me with a special pass to wear on a string around my neck so I can wander anywhere I want. It doesn't get me out of chalking during the qualifiers. It doesn't get me on stage to throw on television. And it definitely doesn't get me out of the cover charge at the strip clubs. So I guess the pass kind of sucks.
Plus, when Tommy yanks on the string it stings really bad and makes me want to pee on his shoes.
Yes, the British have come again, kicked American ass, and flown home again with the money.
But all is good. Not until they start stealing our women will we really have to worry.
From the Field,
Dartoid
The following two tabs change content below.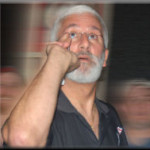 Author of the column that since 1995 has been featured by Bull's Eye News, the American Darts Organization's (ADO) Double Eagle and numerous other darts publications and websites around the globe.