Column #191 My Prediction: England Will Win!
July 3, 2005
Column 191
My Prediction: England Will Win!
And then there were none.
Well, two — four if you count the ladies — but neither of the remaining men is American, or Canadian or Dutch or Belgianeese. All four finalists here at the Professional Darts Corporation's (PDC) Las Vegas Desert Classic IV are from the Mother Country and it really sucks.
Even worse, in very unVegas-like fashion the ladies are being required by Tommy Cox to actually wear their shirts! NOTE TO READER: Several sentences elaborating on why this policy is harmful to darts were deleted by the PDC.
So ladies first. Tied 3-3 and requiring 92, America's Stacy Bromberg took aim and missed against England's Trina Gulliver and then could only watch as Gulliver checked out 60 to advance. Gulliver will face countrywoman Deta Hedman who dismantled Tricia Wright — Wright would have been better off sleeping in and skipping the whole embarrassing affair.
In the first men's Semi Final Wayne "Hawaii 501" Mardle continued in similar gear to that which he took into battle yesterday against Colin Lloyd. But John "Darth Maple" Part stepped to the line in the same gear — and had it not been for double trouble the result of this match would have been different. It almost was anyway.
A sluggish start saw Mardle lose the first set in three legs but then the showman reeled of six straight — topped off by a spectacular 132 close, thanks to a couple off bulls-eyes and double sixteen, to surge ahead in sets 2-1.
Part fought back however, evening the match at 2-2 after the fourth set.
In the fifth set it was Darth Maple who nearly produced the sensational darts when he popped back-to-back maximums to begin the third leg. As the crowd held their breath Part just missed his seventh dart, spoiling his chance at a perfect game. Moments later he had the shots at double to go up in sets but wired, leaving the door open for Mardle, who quickly slammed it shut.
In what turned out to be the final set, Part took the first leg and Mardle the second. Part then dazzled his fans again with a ten-darter, but Mardle popped right back to even the set at 2-2. In the final leg Part again faced double trouble, missing five darts. Mardle jumped on the opportunity and took his place in the Finals.
The other Semi Final went as expected — to twelve times world champion Phil "The Power" Taylor in a 4-0 rout of Wes Newton (the man who spoiled Gary Mawson's shot at the stage in top eight qualifier play just a couple of days ago). Despite the result, Newton did himself and his fans proud, taking more than just a few legs of the champion, even forcing the fourth set to a final leg.
So, it's déjà vu all over again between Taylor and Mardle — a repeat of last year's Final (won 6-4 by The Power). For the ladies it will be Gulliver versus Hedman with their shirts on.
Both matches could go either way. My prediction: England will win.
It sure ain't much of a July 4th present for the Americans. Or the Belgianeese.
From the Field,
Dartoid
The following two tabs change content below.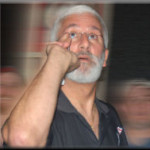 Author of the column that since 1995 has been featured by Bull's Eye News, the American Darts Organization's (ADO) Double Eagle and numerous other darts publications and websites around the globe.