Column #79 Virginia Beach, Virginia
October 1, 1999
Column 79
Virginia Beach, Virginia
It's been about two years now since I left my home on Cape Cod to relocate to Virginia Beach — and, as unlikely as it may seem, I can't say I much miss the place. The tourist crush on Cape Cod in the summertime just plain sucks. What I miss are Kayem's hotdogs.
For a while I also missed my darts team. Chris James, Bill Woods, Cheryl Collins and I formed the nucleus of two teams over a period of 5-6 years that worked their way, nearly, to the top of each division. And it wouldn't have been "nearly" if Chris and Cheryl hadn't been fraternizing on some beach in Antigua the night of the "A" division finals. But that's another story.
Chris owned a pizza joint. Bill was a bartender. Cheryl was a marine biologist. We were a team. We were friends. And, man, do we share some memories… like the night Bill and I were hiding in the beach grass with a camcorder while Chris and Cheryl were frolicking on the Antigua sand.
The thing is, as difficult as it is to say goodbye to the best of friends — it's even more difficult to replace the chemistry that so often is the key to success in league darts. Seriously, how many teams do you know of that have hung together for more than a season or two? In my time in this sport I have seen many a team of "better" shooters lose to a team of lesser ability, but which truly enjoyed each other's company. A team of friends.
So I consider myself fortunate to have found, not just one, but two new groups of friends in Virginia Beach. We throw from the Jolly Frog Pub. Owned by Butch and Moon Emerick, the ten-year old Frog (4848-10 Virginia Beach Boulevard) is one of the most popular darts bars in the Tidewater area. The night I discovered the joint (thanks to my new mixed doubles partner, Tammy Fisher, from Newport News) my eyes were drawn first to the shiny polyurethane oches which are bolted to the floor in front of the four boards to the left of the entryway. Honestly, these little plastic blocks — with the Frog logo sort of hovering inside — are like nothing I've ever seen before. I've since tripped over them many times.
My eyes were drawn next to the corner stool at the long bar, with it's black, leather-padded elbow rest that runs the entire length of the left side of the place. There, nursing a beer, legs crossed, and dressed in the skimpiest thing you ever did see, was Cheryl! Okay, that's not exactly accurate. Seated at the bar — dressed somewhat as I've described — was none other than "Thumper" Galloway, long-time public relations director for the Tidewater Area Darts Association (TADA). One of the little customs down south here where they treat their fillies (translation: ladies) right — at least among some of the good ole boys and sailors — is that a loss to a lady must be properly accorded. To accomplish this, this night anyway, Thumper was wearing a skirt to honor the lady who vanquished him at the line the night before. A strange custom. And a downright dangerous one in the backyard of two of the top female shooters in the country, Sharon Borgeson and Doreen Berry.
Adjacent to the bar, accented from above by a string of ruby lamps, and running the length of the right side of the establishment, is a row of cozy booths. The colorful cast of characters you are likely to encounter here are something like the lamps — fixtures, occupying the same general spot each night that they did the night before. Eating the same food (fried shrimp). Drinking the same brand (Budweiser). Talking the same talk ("Damn. Thumper needs Nair!"). Listening to the same music ("All My Ex's Live in Margaritaville"). And walking the same crooked walk to the line.
You'll meet my teammate "Bear" Masters who is certain to greet you immediately with a strong handshake and a friendly: "Hey, man… how the hell are ya? I'm Bear. I did 65 tours in Vietnam." Bear's a graphic artist. He collects rocks but, unfortunately for a lot of shooters that have come up against him, he doesn't throw 'em.
You'll meet my teammate Fred Walker, nephew of the late, great Al "The Iceman" Lippman of Philadelphia. Lippman represented the United States at the News of the World tournament in the early 1970's, back about the time Tom Fleetwood still had hair. Fred used to drive The Iceman around late at night as he hit the bars to hustle games, waiting patiently outside with the car in gear in case a quick get-away was required. Suffice it to say, if ;you ever play Fred you'll realize in quick order that he learned a lot more from his uncle than how to drive.
You'll meet my teammate Mike Smith who'll surely distract you with a joke ("Hey… if a man speaks in the woods, and a woman's not around, is he still wrong?") before he stomps you at the line. And my teammates Don "Kermit" Kreiner (who's nicknamed after Kermit the Frog for reasons I've never quite understood), Jerry "Jay" Jackson (the lean, mean fightin' machine who used to be an anti-terrorist instructor for the Navy) and Keith Olsen (whose hot shooting girlfriend, Michelle Clegg, is currently cleaning clock down 'round Corpus Christi). Most likely you'll also meet my teammates Paul "Ken" Clauson, Randy Nice and Robert Holmes. Every one of these guys is capable of taking out the best of 'em.
If you stay long enough or if you hit one of the Frog's weekly tournaments (Fridays and Sundays) you will meet Mike's wife Ginny, "The Mailman" Phil Kealaluhi (more commonly known as Phil "K" — and whose trademark is the quarter he wears in his ear), "The Cooks" Jeremy Houghton and Jerry Lanuzza, "The Grocers" (Chuck and Mary Walling), "The Rudeman" Rudy Sabastian and his super shooting girlfriend Gina Miller (who went to Ohio State, which makes her my friend for life), Ronnie Parsons (captain of the Jolly Frog Division 2 Team), Chris and Linda Bender — and Cecil Winstead (all of whom without, along with Thumper and Lisa Rectenbaugh, the TADA would be much less then it is), Larry Lambertson, Rich Dumas, Robert Dysangco, Shane Meeks, Larry Miller and … DeEtte Breedlove (the friendliest little bartender you ever will find).
Whew! I guess if you walk into the Jolly Frog you're gonna meet a LOT of people. But it's that kind of place. Cozy. Friendly. A darts bar that welcomes regulars and new friends with equally open arms.
There is, of course, one other person you're likely to meet at the Jolly Frog. That is yours truly. In fact, like the whole crowd at the Frog, though perhaps for different reasons, I hope that you will stop by soon. When you do, if you do, please keep a couple of things in mind. First, for less then twenty bucks I can get you a really nice video from Antigua. Second, I can be bribed with hotdogs. And third: if you beat me, my teammate Jay will break your knees.
From the Field,
Dartoid
The following two tabs change content below.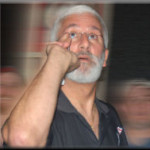 Author of the column that since 1995 has been featured by Bull's Eye News, the American Darts Organization's (ADO) Double Eagle and numerous other darts publications and websites around the globe.