Column #78 Santa Claus Throws in Thailand
September 1, 1999
Column 78
Santa Claus Throws in Thailand
Without a doubt, the dye was cast the instant Ville Pitkalahti's message appeared on my computer screen. "You come to Thailand. I show you good darts. We go to Lucky Draw." Hmmm…
Now, I don't know about you, but I know a challenge when I see it — and when somebody flings one my way I just gotta grab the mother. Be it some slob with brass bar darts trying to impress the girl he's chattin' up at his stool or some orange-robed monk from Thailand — I just have to get to the line. Win or lose. It doesn't matter. Darts is darts.
I walked into the New Cowboy Bar (Sukkomvit, Soi 22) at about dinner time. It's a small place. A few tables on the right. A long bar on the left. One board in the rear. Around the perimeter, a string of red, orange and blue Christmas lights cast a constantly moving, multi-colored glow upon an array of beaten up American license plates that adorn the walls. Ohio. Missouri. Hawaii. Weird. Behind the bar is a little darts accessories shop and the hardware that the Cowboy's various darts teams have won over the years. Trophies. Plaques. The menu's varied — a bowl of Tom Yum Kung (spicy shrimp soup), a cheeesburger. Yep, the place is a bit strange. A sort of east meets west nexus.
I was in the Cowboy but a short while, long enough only to order my second Singha, when Ville sauntered in. Captain of Bangkok's "Flying Meatballs" darts team, Ville and I had arranged to meet early. I was going to warm him up and watch the match. Then we were going to hit the darts bars. And I was gonna kick some Thai butt.
I can admit now that I was surprised when I caught my first glimpse of Ville. It wasn't that the confidence, the sort of swagger in his step, was unexpected. I'm no fool. I picked up, loud and clear, the gauntlet thrown down between the lines of his friendly little e-mail message. I gathered that this guy was sure of his darts. What I did not expect was his hairdo.
Not that much of anything is "typical" in Thailand. But, trust me, in this neck of the world you're far more likely to see boys with 36-D's than anything other than jet black locks on the locals. And my man Ville was blond!
It turns out he was from Finland, just studying in Bangkok. I never did quite figure out what he was studying though I'm pretty sure it's women and darts. Not a problem. Like I said, darts is darts. This would be a Finnish butt-fry instead.
I was even more surprised when Ville introduced me to his team mates. Two other members of his team, Osmo Huplis and Hannu Helo, also hail from the fjords of Scandinavia. The Meatballs are rounded out by a sharp-shooting local girl named Oh.
So, here I am — 8,000 miles from home, in the core of downtown Bangkok — eyeball to eyeball with what must be the better part of the Helsinki darts community and some girl named after an exclamatory. Also attached to the team is an attractive little chalker named Mee. She told me I looked like Santa Claus, which I'm pretty sure is the polite Thai way of saying : "You very old man". On the other hand, it could mean: "I cost 5,000 baht."
The Meatballs finished (I'd say the "Finnish finished" but I'd blow up my Grammer Check) off their competition, the Hong Kong Transpack, in pretty quick order — in time enough for Ville and me to head up the street to check in on several of the other darts bars off Sukkomvit, Soi 22. By daylight we hit no less than eight more little establishments, each of which centers a portion of its business around darts action: Square One, No Problem, Silver Dollar, Texas Lone Star, Larry's Dive, Wild Country, Prince of Wales and Bourbon Street.
Without a doubt, Square One — with five boards — attracts the cream of the local competition. In fact, just recently while at the North American Open, Helen Clawson and Dot McLeod from Australia entertained me with their exploits at Square One while they were in Bangkok for the Thailand Open. The place is a darts bar and nothing but a darts bar — and thoroughly Thai. Dark. Austere. An exotic sort of spice/smoke smell permeates the air. There are two boards to the immediate left of the door on the first level and three more boards up the stairs in the rear. Shooters with names like Narong, Surapol and Char live in the joint 24 hours a day and they are more than prepared to handle the occasional westerner who wanders in, whistling that tune from the Bridge over the River Kwai, looking for a game. Well, maybe not. But they man-handled me.
Down the street is another stop worth making, if only just for a dose of contrast. Rumor had it that Larry's Dive was set along one of the finest stretches of beach in the world — as good as the Copacabana in Rio de Janeiro and Bondi in Sydney — and was unrivaled as the "best bar, grill and dive shop" in all of Thailand. Although this struck me as discouragingly similar to a restaurant I once knew on Cape Cod which boasted to have the "best fish and ice cream" in Massachusetts — and although I knew Sukkomvit, Soi 22 wasn't even close to water, Ville earnestly maintained that, amidst the sand, shells and nightly barbecue, Larry's was also home to some decent darts and a heck of a good time. Right he was.
Of course, there's no beach at Larry's. The closest thing to even a pool is a pool table — though, true to the marine theme, it is accented by a giant, inflatable shark which dangles from above by a rope. A solitary, but constantly in use, dartboard is fixed just to the right of the door, adjacent to a small sign that reads: "Who the FUCK is Larry?" The crowd is primarily western — a mix of ex-pats, bikers, jocks and students studying abroad. Chicken wings, chili, burritos and souvlaki top the menu — hardly a common find in the East. There's Heineken, Carlsberg and even Guinness.
As Ville and I sat down to order a bite and as "Margaritaville" hit the jukebox, I noticed another sign: "The Cook Has Gone Mad — Stay Out!" I figured it was best to opt for a drink instead of a sandwich and quickly selected my fourth Singha of the night over some home-brewed vodka and cranberry concoction called "Sex With Larry". I don't know. It just didn't sound inviting.
A half-dozen Singhas later, and at about the same time Jimmy Buffett "wasted away again" for something like the fifth time since we strolled onto Larry's beach, Ville and I finally made our way to the line.
One game. 501. I quickly won the cork by sticking my dart just inside the triple ring, under the triple twenty. I knocked down a 26. Ville threw up a seven. And back and forth we went, head-to-head, toe-to-toe, mug-to-mug. Finn to American. American to Finn. The match was on!
We ground our way towards the finish at an excruciatingly pitiful pace — another 26 here, another seven there, a couple of darts in the wall. We tipped our beers when Ville recorded the high three-dart tally of our match with a remarkable 41. And finally, after some ten minutes of effort each attempting to close the double one, I somehow emerged victorious. By any measure, our performance was about ten beers shy of any kind of butt-fry and proof positive that Buffett doesn't have a lock on the good life.
Ville and I weaved down the street to our last stop, a dinky hole-in-the wall called the No Problem. We ordered a final beer (which we couldn't drink) and lost a sloppy game of three-way cricket with a bar girl there.
As we oozed back into the morning air the young lady attracted the last of my remaining faculties as she whispered suggestively to me… "You look like Santa Claus," she cooed. "Yea," I replied, feeling the full effect of an evening of darts Thai-style, "I'm a very old, and very tired, man."
From the Field,
Dartoid
The following two tabs change content below.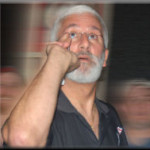 Author of the column that since 1995 has been featured by Bull's Eye News, the American Darts Organization's (ADO) Double Eagle and numerous other darts publications and websites around the globe.