Column #80 Grand Rapids, Michigan
November 1, 1999
Column 80
Grand Rapids, Michigan
I guess my friend Bruce Gerber thinks I owe him an apology. It's been well over a year since we met up in Grand Rapids, Michigan for a night of darts.It's taken me until now to put pen to paper. But that's Bruce's fault. It was only yesterday that I received his reminder message. So what if it was his 103rd…
Bruce and I have an unusual relationship. In something like ninety years of life between us we've come together for just over ten hours. Our paths have crossed precisely three times. In three different countries. All we've ever done is drink beer and throw darts.
It was in Singapore in 1994 that we met first. Rick Osgood from CyberDarts suggested I contact Bruce. Rick didn't exactly know him either but he'd heard Bruce was writing a book about the darts scene there and that he had a long list of every bar on the island. Rick's information turned out to be accurate. That first night Bruce took me everywhere and I pounded him good. He, of course, doesn't quite remember it this way.
We met up next a year later in Bangkok at a little bar called the Sexy Night. Although there was a dart board, I would be being less than honest if I were to suggest it was the main focus of the small establishment. Bruce got the best of me that night. But I was distracted.
So, we were even up. We exchanged e-mails for a year or two. Trash e-mails actually. There was a score to settle. Then, about a year ago, Bruce informed me that he was no longer on the other side of the globe — he was in Grand Rapids — and that I "had no excuse for dodging" him any longer.
I can't remember exactly how he put it to me but his message began with the friendly salutation "Hey Hemorrhoid" and ended with "… so meet me in Grand Rapids, you pussy". Damn. Maybe it's just me. I just can't shrug off such challenges.
So I flew to Grand Rapids. We met at a place called Cali's, which is the lounge at the Hoffman House (4101 28th Street). According to Bruce this is one of the more popular hangouts for the dart crowd in Grand Rapids. I'll admit, it's a damn nice joint. What I can't understand is why the Grand Rapids Darts League (GRDL) would let a drunk like Bruce hang out with them. Apparently they're just harder up than most leagues for chalkers.
Cali's feels something like a rainforest. The joint exudes a warm tropical ambiance. It's packed with large green plants. Several ceiling fans create a bit of a breeze. There's a full length mural of a jungle scene — with brightly colored parrots and ferns — covering the long wall to the right of the entryway. The appointments surrounding the classy horseshoe bar in the center have a garden-like feel. Even the ample-sized cart where the Happy Hour hors d'oerves are stocked (Cajun peel and eat shrimp is the house specialty) is protected from the "elements" by an attractive light-green umbrella. Cali's definitely brings the outdoors indoors.
Cali's four dart boards are located in the back of the bar, just off the left corner of the horseshoe. The set up is nice. Good lighting. Carpeted floor. Dozens of trophies won by Cali's teams are lined up on a mantel above the boards. Just to the right is a bulletin board crammed with important league postings. I noticed a small picture of Bruce tacked to this board. But I don't think the dozens of little holes in it were made by tacks.
The truth is that Bruce is a hell of a darter. I suppose it's debatable how we fared in our little challenge in Singapore. It was well after four in the morning that we parted company. Neither of us could see. Bangkok was a bust, not so much because of the scantily clad locals but more due to the positioning of the board, about a foot low and immediately below a whirling fan. What is not debatable is how we fared in our little challenge in Grand Rapids. Bruce ripped me a new hemorrhoid, if you know what I mean.
The most recent message from Bruce floated in through cyberspace from Youngstown, Ohio. He's there now, in what has got to be one of the most depressingly ugly cities in America, doin' whatever it is he does duringthe day… and then, doin' what it is that anybody who's read this far does in the evenings. He's hittin' the bars. He's poundin' the board. He's enjoin' the sport, that better than any other, can bring together — if even for just a few hours — two people from different backgrounds and different lands, and unite them forever in friendship.
And yeah, as usual, there was a challenge in Bruce's most recent message. "Hey Hemorrhoid… meet me in Youngstown, you pussy." Damn.
From the Field,
Dartoid
The following two tabs change content below.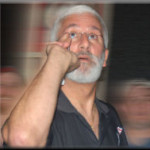 Author of the column that since 1995 has been featured by Bull's Eye News, the American Darts Organization's (ADO) Double Eagle and numerous other darts publications and websites around the globe.