Column #66 Dart Dreams
November 1, 1998
Column 66
Dart Dreams
A long time ago in a land far away a little boy dreamed. At night on the floor of his barrio he'd leaf through the tattered pages of American picture books and imagine himself outside the lush rainforests, away from the abject poverty of his land. He saw himself carrying a briefcase below the skyscrapers of Manhattan or in a raft on the mighty Colorado blasting through a gorge in the Grand Canyon. The little Filipino boy longed for a life of opportunity. Robert Dysangco began to hatch a plan.
Thousands of miles away an even younger boy, a child who was born into the world Robert could only imagine, had a dream of his own. Unlike most little boys his age, he did not want to be a professional baseball player or a fireman. Shane Meeks wanted to be a darts champion. He wanted to be the champion of the world.
Little could either Robert or Shane, particularly Robert, have ever imagined that someday their paths would cross, that their dreams would become one.
The quickest route away from the some 7,000 island archipelago, Robert's grandfather advised, was to join the Navy. Never one for kowtowing to authority, Robert dismissed this idea promptly. Swabbing decks in rolling seas and then puking over the starboard side was about as far away from Robert's vision of getting to America as an idea could get. Robert was and is his own kind of guy, determined to make his way in life and to find success on his own terms.
Around about the same time, Shane was beginning to hone his skills at youth tournaments. Kids Shane's age and kids 5-6 years older were regularly beginning to bite the dust against the 13 year old shooter. They'd lose and then head home in their father's fancy cars to take a dip in their backyard swimming pools. Robert had never heard of the game. In fact, he'd never even used a telephone.
One humid day, some 15 years ago now, Robert sat under a tree sipping coconut milk and reading the newspaper next to a small cafe in his barrio. Flies buzzed and naked children splashed in the muddy puddles left by the previous night's rain. In the sports section, sandwiched between the soccer scores, appeared a small story about the Philippine darts team and how they had fared the weekend before at a competition in Singapore. Robert's plan began to take shape.
He tracked down the local darts scene. He learned the basics. He practiced. He found a coach. And he practiced more. To perfect his follow through Robert would throw toothpicks for hour after hour at a used board he salvaged from somewhere to hang on a wall where he lived. He would often cover the board with large circles of paper and then throw at the small rectangular slit which left only the triple twenty exposed. By counting the holes in the paper Robert could track the progress of his skills.
Practice, determination and a constant and unshakable focus on his dream eventually earned Robert a place on the Philippine National Team. He competed across his country and then throughout the Far East. Singapore. Hong Kong. Thailand. Finally, the day Robert had imagined for years arrived. He was to travel with his team to Atlantic City. Robert was about to step into the pages of his childhood picture book.
But Robert's dream was not about darts. Neither was it the dream of the other members of his team. The moment the Filipinos hit American soil each and every one of them hit the pavement. Not a one of them ever stepped foot into the tournament hall. They disappeared completely into the fabric of the land of opportunity. The year was 1992. Robert was 26 years old. Shane was 15.
Robert found his way to Norfolk, Virginia and holed up with friends of friends. Penniless, he fell back on what he knew best. He hit the Blind Draws and, when he could, he'd hitch a ride to tournaments around the east coast. He won nearly everything he entered and along the way knocked off many of the best among the American darting circuit.
Sometime during this period Robert and Shane were introduced for the first time. As Shane recalls, it was an auspicious first encounter. "He dismissed me completely," Shane laughed, "It was as if I didn't exist." But Shane was in awe of Robert's skills. And, as 15 year olds are prone to do, Shane boasted to Robert. "I told him that someday he would want to know me because someday I would be champion of the world."
And then, in 1994, the bottom fell out of Robert's world. He was on the cusp, or so he thought, of a US National Team birth. He was ready for the ADO Eastern Regionals but was denied the opportunity to compete. Someone had gotten wind of his alien status. Robert headed back to Virginia to face deportation.
Somehow Robert avoided the one-way ticket home. He managed to get a Green Card. He found a job. And he began to study for his naturalization exam. Robert put his darts away. Once he became an American citizen no one could ever threaten to send him away again. Meanwhile, Shane continued to pound the board in his bedroom. He was virtually undefeatable at youth competitions.
It was 1997 when Robert and Shane met for the second time. Shane, now 20, was competing at a Blind Draw in Virginia Beach. Robert, now 31, had recently released his darts from their case for good. His job was going well. He could see the light at the end of the tunnel of his studies. Robert was recommitting himself to the sport that brought him to America, the land of his dreams. Like Shane, Robert was now also determined to be the best there ever was.
Shane swaggered up to Robert immediately upon spotting him. "Remember me?", Shane challenged. Robert responded blankly, as he is known to do when he doesn't know someone well, and Shane continued (as he is known to do, whether he knows you or not), "I'm the kid who told you five years ago that someday you'd want to know me. Tonight I'm going to kick your ass." And that night Shane did exactly that.
Today, of course, Robert and Shane are partners. How else could such a story end? Shane has recently cracked the ADO's top fifty. In August they cracked the top four in 501 at the Virginia Beach Muscular Dystrophy Classic. They now throw toothpicks together.
Just before noon on October 7, 1998, I sat with Robert in United States District Court as he raised his right hand in front of the presiding judge to take his Oath of Allegiance. I watched as he proudly recited the Pledge of Allegiance for the first time and as he accepted his naturalization certificate, a small American flag and a handshake from a representative of the Daughters of the American Revolution. I think I saw a tear in Robert's eye.
Afterwards Robert asked me if I had heard what the judge had said. I replied that I was uncertain of what he meant.
"Dream great dreams," he told us, "and then work hard to make your dreams come true." "That's what I did to become an American citizen. Now that's what I — what Shane and I — are going to do with our darts."
From the Field,
Dartoid
The following two tabs change content below.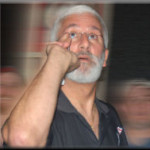 Author of the column that since 1995 has been featured by Bull's Eye News, the American Darts Organization's (ADO) Double Eagle and numerous other darts publications and websites around the globe.