More to Dartoid…by Jay Tomlinson
Who Really Is Dartoid?
As published in Bulls-Eye News Magazine December 1998, www.bullseyenews.com", by Jay Tomlinson
Have you ever seen the movie Butch Cassidy and the Sundance Kid? Its a classic. Remember the part where Butch and Sundance cant shake their trackers and they keep asking, Who are those guys? Well, thats the question that comes to mind time and again when I read Dartoid's World. Who is this guy?
The following two tabs change content below.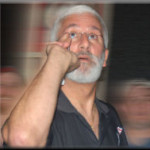 Author of the column that since 1995 has been featured by Bull's Eye News, the American Darts Organization's (ADO) Double Eagle and numerous other darts publications and websites around the globe.