Column #65 Battle of the Sexes
November 1, 1998
Column 65
Battle of the Sexes
Like most everybody else who converges on Chicago each year for the annual Windy City Open, I rolled in this past October with my heart set on a big, fat Giordino's pizza. A couple of those greasy, spicy slices is about all it takes to get me to unbuckle my belt a notch or two. Well… there's also Baywatch and warming up with Holly Boynton and Tina DeGregorio, but that's another story.
This weekend it was different. This weekend turned out to be more of a wing kind thing. Not exactly Buffalo-style. But a wing got barbecued just the same.
For me it was a little like tossing pies at Giordinos or stirring the "hot, wild, hurt me" sauce at one of Buffalo's finest. I was as close to the fire as a mesquite chip in a Webber grill.
It was billed as the Battle of the Sexes, a grudge match extraordinare. A giant placard stood at center stage announcing the start time and the names of the combatants. In the pink, hailing from Sin City USA would be Stacy Bromberg — lawyer, private investigator and current hottest-of-the-hot at the oche among the fairer sex. In the blue would be Charles Wing, III, the prolific letter to the editor of Bull's Eye News writing, beer drinking, factory worker and All American Boy from America's hinterlands. Twenty-six years after Bobby Riggs trashed Billie Jean King to "prove" that little girls lacked hand-eye coordination and were therefore, better suited to baking quarter-sized muffins in their Easy Bake Ovens or playing "doctor" than competing in a man's game, the stage was set again. Different world. Different sport. But the undercurrent was unmistakable.
How all of this began is no longer clear. How an exchange of letters and e-mails escalated — or degenerated — into such a competition is simply lost. But it did. On this day man and woman would meet again to determine whether a childhood of having tea with Barbie or tossing and catching spirals were indicative of future respectability at the oche. This I just had to see. After all, every red-blooded American school boy knows girls are more fun to wrestle than boys and that Barbie looks mighty fine in a bikini.
So I sought out Charles and teamed up with him for doubles cricket. With Stacy chalking we lost our very first match, which I explained to Stacy was for one of three reasons. First, we were pretty sure Stacy cheated — we just didn't want to accuse her of this because Charles was concerned she might take this out on him later. Second, Chad Johnson and Dan Lauby were also in our bracket — we figured that beating them might also lite Stacy's fire. Charles really didn't want to take the chance. Third… well, I just suck. Really, how does one of sound mind and body actually miss a single fifteen?
But I got a chance to get to know Charles. He was rather circumspect as he surveyed the hundreds of darters roaming the Ramada Grand Ballroom, moving in and out of the main entrance past the Mueller Sporting Goods display and through the rubbery smell of the silk screening t-shirt operation. "I think a lot of people have blown this whole thing out of proportion" he told me. Stacy put it another way: "Controversy is good for the sport," she said "whoever comes out on top, it's the sport and charity that are the real winners." Stacy's plan, if she won, was to donate her winnings to the Make-a-Wish Foundation. Charles had selected the Boys Club of America and (he confided) his check was already made out.
It was late into Saturday evening before Stacy and Charles finally stepped to the line and as I stepped up to chalk, about the same time actually as Dave Marienthal was accepting cudos after taking the Open 502 singles title. The particulars: best of 25, corker's choice, ten bucks a game — for charity. For honor.
As the crowd began to gather Charles stuck a double bull, called cricket, and quickly took the lead in the match. He beat his chest, hollered like Tarzan and mocked a swish from center court. Okay, that's a lie.
Charles then won the second cork, called his bread and butter a second time… and watched Stacy even the match up, a leg each.
The third cork… the fourth, fifth, sixth and the seventh… all went to Stacy. Five games of 501 and a sudden twenty minutes later Charles was looking down the barrel of a 6-1 deficit. Stacy curtsied and blew kisses to the crowd (okay, that's a lie too). I began to think seriously about buying an Easy Bake Oven.
The next diddle went to Charles who threw caution to the wind, called into Stacy's strength, and pulled out a close 501. Somewhere, Bobby Riggs stirred.
The next three legs, including a 14-dart 501, were all Stacy. Charles then squeezed a third dart just below the top wire of the double one to pick up leg twelve and bring the match tally to 9-3. Fifteen quick minutes later the score was 13-3. The match was history. Bobby Riggs stirred no more…
…and across America as little boys honed their skills shooting baskets and catching footballs, sweet little girls excused themselves from their dainty tea parties, dressed their Barbies in their most fashionable athletic attire, and then secretly — time and time and time again like Stacy must have done for years — stroked their dolls into the bullseye in the boards on the back of their bedroom doors.
From the Field,
Dartoid
The following two tabs change content below.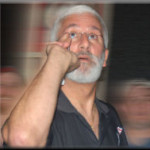 Author of the column that since 1995 has been featured by Bull's Eye News, the American Darts Organization's (ADO) Double Eagle and numerous other darts publications and websites around the globe.