Column #64 Phuket, Thailand
September 1, 1998
Column 64
Phuket, Thailand
Located in the sparkling waters of the Andaman Sea, just seventy miles by plane from Bangkok, is an island paradise known as the Pearl of Siam. This tropical playground of the rich, formally called Phuket, offers everything, and more, that a visitor could possibly hope for — mountains, jungles, coral reefs, sprawling beaches set against an endless turquoise sea and, of course, darts.
It's the international trade in gibbon that has brought me to this special place. For the past week or so several buddies and I, undercover cameras in tow, have been talking with traders in Vietnam who have offered to trap and then sell us hundreds of these fuzzy primates for less than $200 each. In the west a single gibbon will easily fetch $10,000 or more. If we play our cards right we could be millionaires in a week!
It turns out that Thailand is an important link in the Indochina trade route. In fact, there are more gibbon to be found in captivity in Thailand than there are still swinging from the trees in all the rest of the world. And Phuket Island itself (though home to one of the most respected gibbon rehabilitation centers in the world) is no stranger to the trade.
Tonight we planned to plot our next move. We chose a quiet, out of the way location where we wouldn't be disturbed — the Pink Elephant Bar next to the swimming pool at the Le Meridien Hotel (along Relax Bay, south of Patong). Actually, we selected the Pink Elephant at my insistence — because it's the only place within miles that has a dart board. I had no intention of plotting anything. The day may be for saving little monkeys. But the night's for standing at the line with a Budweiser.
The Pink Elephant is, well, a pink place. A very pink place. Never, ever, have I seen so much pink stuff. Pink napkins. Pink flowers. I find I kind of like pink — especially the little pink dresses the waitresses wear. Very nice. Yes, pink is good.
The dart board hangs in a cabinet next to the far side of the bar in sort of a nook all it's own. The area's carpeted, well lit, and accented by a huge hand-painted mural of a happy jumbo, pink of course, throwing a dart.
While my friends sorted out our next venture into the rainforest I picked up some Cricket with a tall, hippie-looking guy named Russ from Seattle. Russ took me on with the bar darts and held up well until he was distracted by the little pink dresses. In fact, he left with one of them.
Next up was a photographer called "Little" Richard from Israel who was on holiday with his wife and another couple. While it's a certainty this guy had never stood in front of a dart board before in his life we managed to get through an enjoyable couple of games. I can still hear Richard's thick Kissinger-like voice asking "Where now do I throw the dart?"
It was well after midnight when Jak from Salt Lake City swaggered over and wrote his initials on the board. He won the cork. Chose Cricket. Closed the twenties. And smirked. My first three darts took out the 20's, 19's and 18's. My next three tosses (much to my own surprise actually) accomplished the same on the 17's, 16's and 15's. So much for Morman smirkers.
And so much for beautiful Phuket. As the sandy beaches and lush forests grow small beyond the window of my plane I carry with me very special memories (of gibbon romping free and of darts until dawn) and a one-of-a-kind momento — a little pink dress, for my wife. Now I've just got to figure out a plan to get her to wear it — and serve me beer while I practice.
From the Field,
Dartoid
The following two tabs change content below.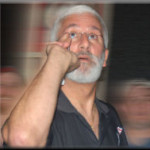 Author of the column that since 1995 has been featured by Bull's Eye News, the American Darts Organization's (ADO) Double Eagle and numerous other darts publications and websites around the globe.