Column #63 Bombay, India
September 1, 1998
Column 63
Bombay, India
Mark Twain once described India as a "land of dreams and romance, of fabulous wealth and fabulous poverty, of splendor and rags, of palaces and hovels… of genii and giants and Aladdin lamps." Rudyard Kipling wrote of India's "heat and smells and oils and spices and puffs of temple incense." The India I experienced was all of this, I suppose. And more. It just wasn't so damn romantic.
In Bombay I confronted a puzzling, and very troubling, mix of contradictions — a city, they say, that "slams you in the face with heat, spice and dirt and then seduces you with color and sensual pleasure." I was slammed but I wasn't seduced. It just wasn't possible after meeting Johnny.
I was about to hail a taxi when this dirty little boy approached with his sisters begging for money for milk. We struck a quick deal. In return for five cartons of powdered milk Johnny would serve as my guide for the day. After a quick walk to a grocery we hopped into a cab together.I showed Johnny my darts as we sat in the back of the cab and explained what I was looking for. Johnny held them in his hand. I showed him how to aim them and he pretended to throw at an imaginary board. I then tucked them carefully back into their case.
We talked as we cruised the city. I learned that Johnny had no home — that he lived with his family in cardboard boxes in a vacant lot. I learned that his mother was dead and that his father drank and was unemployed. I learned that Johnny hadn't attended school for years because he had to earn money for food.
We went to the zoo and to the circus. We made our way to the top of a cliff to gaze at the Bombay skyline. We toured the glitzy high-rise buildings at Nariman Point and ate samosas at the five-star Taj Hotel across from the famous Gateway to India monument. We watched snake charmers coax cobras out of their baskets on the waterfront. For hours, perhaps for the longest stretch of time in years, not once did the thought of throwing a dart cross my mind. The same could not be said for Johnny.
As night began to fall Johnny took charge. The taxi driver began to hit the bars, one after another. We'd stop. I'd run in. I'd locate a snooker table and a couple of drunks. I'd dash out. But Johnny was undaunted. He insisted he knew where I could get a game in Bombay.
I found myself at the end of a dark alley. As we approached, Johnny, the taxi driver and me, I could hear Hindi voices and the familiar rhythmic thunking of a game in progress. As we drew close and moved into the dim light I could not possibly have been more astounded at the sight before me. There, laying in the dust, was a huge, ringed, tree stump. Dangling from it was a knife. And standing about ten feet in front of it were four guys holding more knives. Darts. Bombay style.
My visit to India was brief but special. I observed the contrasts of which Twain wrote. I experienced the exotic sensual pleasures Kipling described long ago. But I also made a friend. A homeless kid with a limited future who reminded me that, sometimes anyway, there's a little bit more to life than darts.
From the Field,
Dartoid
The following two tabs change content below.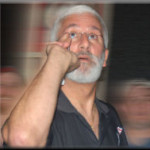 Author of the column that since 1995 has been featured by Bull's Eye News, the American Darts Organization's (ADO) Double Eagle and numerous other darts publications and websites around the globe.