Column #14 London, England
July 1, 1996
Column 14
London, England
When many people think of England images of rolling emerald hills, colorful rhododendrons and red phone boxes tucked along side winding country roads come to mind. Small towns. The quiet life…
For others it's the history, the culture, the pagentry, the politics. The hustle and bustle of Picadilly Circus. The Tower of London. The River Thames. Trafalgar Square. Windsor Castle. Westminster Abby. Buckingham Palace. Stonehenge. The Royal Family. Churchill. Thatcher.
For many a darts connoisseur, such as myself, this is all a load of crap. England is pubs and darts. More pubs and more darts. The rest is nothing but a frame of sorts within which all that really matters here resides.
When was the last time you entered a blind draw to be paired with a gray haired old lady that carried you? This actually happens here. When was the last time you flipped the channels on your television and passed one, let alone two or three, stations airing a darts match? Yep, this happens too.
If England is anything but boring (and as wrapped up as it sometimes is with its unique brand of pomp and circumstance it can be very, very boring) it's unquestionably the darts capital of the world. And I've just enjoyed a bit of the real British culture at a couple of pubs in the center of London.
First stop was the King's Arms (2 Shepherd's Market in Mayfair — just off Picadilly and around the corner from the Park Lane Hotel). Here, on the second level, you'll find one board, set up perfect. But you'll also find one minor problem (at least I did). My first dart knocked the board off the wall! Good crowd though. A lot of shooters.
The next and last stop (I helped close this pub down), was in Soho at a lively place called the Red Lion (on Great Windmill Street). Just one board again. But, as usual here, the set up was ideal. This pub is generally crammed, noisy and full of people with their eye on the board. Especially when an American is in the place! Threw well though and kept the board until the Tenents Extra (a beer worth sampling, several times) sort of fogged things up. This is a superb little pub — definitely a place worth checking out if your ever in the area.
So if you find yourself in London and are looking for a good time and a good game stop by the King's Arms or the Red Lion. You won't be disappointed.
If it's disappointment you're looking for, go watch the Changing of the Guard.
From the Field,
Dartoid
The following two tabs change content below.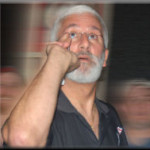 Author of the column that since 1995 has been featured by Bull's Eye News, the American Darts Organization's (ADO) Double Eagle and numerous other darts publications and websites around the globe.