Column #13 Singapore
July 1, 1996
Column 13
Singapore
When Sir Stamford Raffles claimed Singapore for the British East India Company in 1819 it was nothing but a swampy, thickly jungled island populated by a handful of fishermen and sea gypsies. Today this tiny island is a vibrant, modern city-state of almost three million people and, arguably, the regional center for much of Asia's trade, transport, banking, tourism and communications. Sandwiched just off the equator between Malaysia and Indonesia, Singapore also just happens to offer more darts bars per capita than any place I've ever visited.
Singapore's got to be the greenest — and cleanest — spot on the planet. And it plans to stay that way. Smoking is against the law almost everywhere (though the darts bars appear to be excluded). Lighting up in the wrong place will run you $1000. Littering will cost you another grand. Light a joint and you'll die. The penalty for drug trafficking is "mandatory death" and possession is deemed as prima facie evidence of trafficking. It's even illegal to chew gum here! Apparently the government just can't handle the cost of cleaning up "indiscriminately discarded" wads of gooey matter. Odd place, Singapore. But clean. Damn clean.
The nights are muggy. When it rains it pours. Perhaps this is why so many of the locals flock to the air conditioned pubs for a night of darts and a few pints of the popular — and excellent — Tiger beer. Tonight with my friend Bruce Gerber, one of the organizers of the Singapore Darts Association, I went along for the ride.
We stopped first at a new little place called Kakadu's (77 Boat Quay) to watch the first match of the season between two of Singapore's "Premiere Division" teams. League play is serious business here. It hurts me to say that either of the teams (especially the "Guinness") shooting at Kakadu's would wipe up any of the "AA" teams in my league back home.
We wandered then. Found some noodles at some all night, open air, food court in the center of town called Newton's Circus. Seems like all there is to eat out here is noodles. And an occasional fish head!
We ended the night at about 2:00 AM after a few hours of shooting at the Leisure Pub (189 Selegie Road). This place and it's owner, Jeff Lim, sponsor five teams. It's outstanding — nothing but beer and darts, darts and beer. Two boards. Brightly lit. The oche's so high that you have to be careful (at least after the Tiger beer takes hold) not to trip over it. Seems like there are places to chalk everywhere. For my part, about the best I could muster tonight was a T60 and and 86 out — but I highly recommend the Leisure Pub (and Kakadu's) to anyone who happens to pass through.
A note of caution though. If you do happen to stop in Singapore and make it to Kakadu's be careful not to put your hand under the first bar stool to the right of the boards. That's where I "indiscriminately discarded" my wad of Wrigleys!
From the Field,
Dartoid
The following two tabs change content below.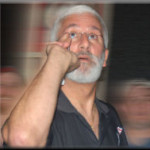 Author of the column that since 1995 has been featured by Bull's Eye News, the American Darts Organization's (ADO) Double Eagle and numerous other darts publications and websites around the globe.