Column #15 Atlanta, Georgia
July 1, 1996
Column 15
Atlanta, Georgia
It was like Groundhog Day today here at the Groundhog Tavern (just across the road from Hooters) in downtown Atlanta, Georgia (94 Upper Prior Street).
Punxsutawney Phil wasn't anywhere to be found (but you can buy a cute stuffed version of the little guy and a t-shirt with his mug on it at a booth on your way out the door). Bill Murray wasn't in the place to give me a game. Most certainly, Sonny and Cher's "I Got You, Babe" wasn't playing over and over again on the radio.
But, seemingly — if my absolutely monotonous string of B&B's was any indication — I was stuck in a "Groundhog Day-type" time warp. Like the first time I ever tossed a dart at a board in the basement of my parent's home. 1969. I couldn't hit more than a 26 in those days either.
Finding a place to throw in Atlanta wasn't easy. After striking out the first night in the Buckhead area (sort of north of city center but worth a vist — try "Bones" for a fantastic steak) the following day I committed to wandering the popular downtown "Underground" area and the bars adjacent to it to try my luck. I finally found a board at the Groundhog. It's just across the way from Hooters. Or have I already mentioned this?
The Groundhog is a friendly sort of place. No question about that. Sort of intimate. But kind of homey. Good food. Huge portions. Great service. Unbelievable prices. A stop I'll definately make again — if only to finish the meal I barely made a dent in today.
Around the back is the one and only dart board I was able to find in this city. Except for the fact that the oche is smack in the middle of the main thoroughfare between the restaurant and the bathrooms, the set up is almost functional. Decent board. Bright light. There's even chalk.
So I threw for awhile. Sort of. A couple of 20's. A time out to let the traffic pass. A triple one. A glance across the street. Three fives. Three ones. Another pause to let some woman and her kids pass through. A ton. A string of 26's. Another glance across the street. Another 26. Done.
The best thing about the Groundhog Tavern is Hooters. Certainly the distractions are a whole lot better.
But the frustrations are a whole lot worse!
From the Field,
Dartoid
The following two tabs change content below.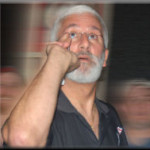 Author of the column that since 1995 has been featured by Bull's Eye News, the American Darts Organization's (ADO) Double Eagle and numerous other darts publications and websites around the globe.