Column #16 Ho Chi Minh City, Vietnam
July 1, 1996
Column 16
Ho Chi Minh City, Vietnam
It goes without saying that the descent into Ho Chi Minh City is like none other in the world. Eerie. Almost surreal. To think of Vietnam in terms of the present is impossible. For one's thoughts to be drawn to the tragic, wasted, past is inevitable. It's so terribly sad…
I've now left the country. And, yep, I've thrown a few darts. Still, I can't shake the images… now, both past and present.
I came to Vietnam to investigate the trade in endangered animals. I followed hunters into the leech and bug infested rainforests where the war was once fought and where animals are now cruely trapped to be traded on the black market. I met with traders willing to sell almost anything if the price were right — rhino horn, tiger bone, bear gall bladders. I visited restaurants where bear, lion, eagle or baboon could be picked out of a cage — like a lobster out of a tank — and then eaten for dinner minutes later. I went to zoos — decrepit zoos — that sell their animals under the table to anyone willing to write a check. When it comes to animal welfare I've seen no place worse than Vietnam…
The good news, I suppose, is that it's possible to find a game of darts in this muggy little backwoods nook of the world. At either end of about a 250-mile stretch of rubber trees and rice paddies I managed to find two boards. And for a brief few hours I was able to distance myself from the images. That, of course, is one of the joys — as well as one of the necessities — of darts. Focus. An opportunity to escape the day-to-day pressures of life. The need to concentrate to be successful. To avoid the errant arrow.
There is a westernized little restaurant and bar in the center of Ho Chi Minh City called the Tex Mex (24 Le Thanh Ton) where I picked up a brief game with one of the locals named Nguyen Phuoc Tieu Phung (otherwise, and fortunately, known as "Donna"). There's just one dart board but it's a Unicorn and it's set up fine. A beer is 18,000 dong (about $1.50). Try the "333" (pronounced "ba ba ba" — like the "blacksheep"). Supposedly the Tex Mex runs a blind draw the last Wednesday of each month.
Five hours north, along the (moped jammed) road to Hanoi, is a beautiful mountain town caled Delat. Here, situated high on a hilltop is the Delat Palace (12 Tran Phu St.), touted as the most famous resort hotel in Indochina. No arguement from me on this one — the architecture is French; the service is as outstanding as you'll find anywhere in the world. And entirely out of place in the middle of all of this, on the lower level in a cozy little pub called "Larry's" is a dart board dangled precariously from a nail in the wall. There's no oche. No light. No place to chalk. And no reason to care…
Larry's became my home outside of the rainforest for three days. It's the most delightful and hospitable little pub I've come across in a long, long time. You can throw darts, sort of. Shoot a game of pool. Eat pizza (which beats the hell out of the Vietnamese staple — a noodle concoction called "Pho"). Munch Pringles. Even order a Heiniken. Without a doubt, this is a place worth a visit.
Unfortunately, I'm afraid I just can't say the same for the rest of Vietnam. Life has been rough here. It still is. Images…
Unless one considers, tongue-in-cheek, that the only route to success here is to have an abundance of "dong" there's simply not much to smile about!
From the Field,
Dartoid
The following two tabs change content below.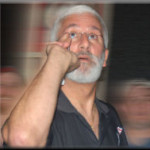 Author of the column that since 1995 has been featured by Bull's Eye News, the American Darts Organization's (ADO) Double Eagle and numerous other darts publications and websites around the globe.