Column #612 The girls had WILLIES!
Thursday, April 14, 2022
Column 612
The girls had WILLIES!
The guy's name was Nigel or Neil or something similar, not that his name matters.  He was the only foreigner, a Brit, employed among the large staff of botanists at the famous Nong Nooch Tropical Garden near Bang Saray, just east of Pattaya, Thailand.  He was my savior, or so I thought.
I'd been everywhere – in and out of the scummiest pubs imaginable, following false lead after false lead, looking for a board – and I'd struck out completely.  So, I decided to blow off the darts and take in the tourist attractions.  I decided, just this once, to take in a foreign land the way normal people do.
To Nong Nooch I headed.  The tourist guides tout the botanical gardens here as among the most spectacular in the world.  I'd be hard pressed to argue the point.  The 900 hundred acres of orchid and cactus gardens, artificial lakes and topiaries in every shape imaginable (including some quite Freudian) are out of this world.
It was as I was leaving Nong Nooch that I spotted Nigel or Neil.  Immediately I zoned in on his blond hair and his unmistakably British accent.  I thrust out my hand to shake his and said, "Damn, am I glad to meet you… nice flowers, but where's the darts?"  The way I figured it, this Brit, probably weaned on the sport, had to know where I could get a game.
He recommended a pub called the Green Bottle in Pattaya.  In fact, we arranged to meet later that evening for a beer and to throw a few games.  He suggested I make a pit stop along the way to catch a show at a cabaret called Tiffany's.  I was thrilled.  Beer.  Girls.  Darts.  A hell of a night lay ahead.
Now Pattaya is different.  A former fishing town turned major tourist resort, Pattaya at night exudes a weird mix of 1960's Daytona Beach casual and 1990's 42nd Street raunch.  Into the night I headed…
I rolled into Tiffany's at 7:00 p.m.  I managed to get a third-row seat to enjoy the glitz and the song and the dance of 60 of the most gorgeous girls in all of Siam. Wrong!  Tiffany's turned out to be a transvestite cabaret.  The beautiful girls had willies!  Yuck and thank you very much, Nigel or Neil or whatever your name is.
I left Tiffany's early for the Green Bottle so I could get in some good warm up before my new British buddy arrived.  After steering me to a transvestite club I figured he deserved to be pounded good.  After hunting for the Green Bottle for almost three hours, finally finding a parking spot, and walking in to be greeted by an Elvis impersonator with a Thai accent – and absolutely no darts setup – I was committed to stabbing my new-found friend in his puny Winston Churchill willy with my Hammerheads.  He never did show up.
It was about midnight when I found my way to the center of the Pattaya darts scene, the Texan Inn at 219 Sayyamato.  The place is a small restaurant that doubles as the town's only darts accessories shop and headquarters for the local eight team league.  There's just one board but it's set up fine.  There's a Monday night Luck of the Draw tournament.  League play is on Tuesdays.  I tossed a few and headed on.
Now, as I lie awake in the wee hours of the morning pondering this oddball day – bushes sculpted into phallic symbols, boys with boobs and an endless search for a bar with no board – it occurs to me that I have just learned again something I already knew very well.
And that is: if it looks like a Brit, walks like a Brit and talks like a Brit, it's probably a Brit… but that doesn't mean it knows shit about darts.
From the Field,
Dartoid
The following two tabs change content below.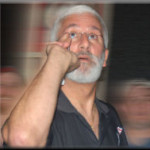 Author of the column that since 1995 has been featured by Bull's Eye News, the American Darts Organization's (ADO) Double Eagle and numerous other darts publications and websites around the globe.