Column #HR338 Toast two Living Legends… Beau Greaves & Russ Lopez!
Thursday, April 14, 2022
Column HR338
Toast two Living Legends… Beau Greaves & Russ Lopez!
The WDF/Lakeside World Championship dropped the curtain Sunday.  Most predictions made after the fact are "usually" 100% true.  The Old Dart Coach can predict Howlin' Wolf singing "We gonna pitch a wang dang doodle, all night long" wasn't played.  It should have been.
Still, the WDF finals was TV entertainment at its best.  One final was absolute proficiency on the sisal.  The other?  The drama of the men's day after a night of beer, copious amounts of hot Indian takeaway and hardboiled eggs.
Golf crowned a "new" Masters star while at the Lakeside 18-year-old Beau Greaves' star ignited fireworks like over the Vegas Strip on New Year's Eve.  She became a Living Legend.
Greaves overcame a "spewing sickness" just prior to taking the stage, then completely obliterated fellow Brit Kirsty Hutchinson 4-0 (3-0, 3-1, 3-0, 3-0).  She took the first set in 43 darts – averaging 100.20, 125.25 and 93.94 in 15, 12 and 16 Darts.  Oh, by the way the 12-darter was a 128-check.  Hutchinson had fewer than 5 darts at a double.  Ms. Greaves?  Her powerful scoring (9-Ts, 11-T40s and 4-T80s) roared over the venerable venue like thunder on the desert or the cannons roar of Pyotr Ilyich Tchaikovsky's Solemn Overture, Op. 49, popularly known as the 1812 Overture.
Like another child prodigy, golf's Lydia Ko, Greaves' approach shots were something to behold with T65 = 40, T36 = 4, T29 = 12, T20 = 12, 98 = 16 and 89 = 12.  Was she perfect?  No, her double 6 needs serious work as it took 12 darts to close 3 opportunities.  Greaves' average at 2-sets and 4-sets overshadowed the men 97.19 vs. 85.88 and 92.05 vs 82.21.
Greaves would reach the finals after taking out Lorraine Winstanley 3-0 (3-0, 3-0, 3-2).  Down 1-2 in the decider, Greaves ended it in 17 and 15 darts (T80, T, T35, 54 and 32-out) as Winstanley could only watch.  Ms. Hutchinson had won her semi match against Wales' Rhian O'Sullivan 3-2 when O'Sullivan couldn't finish 3 from 96 allowing Hutchinson 4th dart at 20 which landed.
Did anyone have a chance of beating Greaves?  Yes.  Veronika Ihasz, who beat America's Paula Murphy, took out 164 to level at 2 legs each, losing the decider in 18.  Only close call for Greaves.
It's 100% sure that the PDC will embrace Ms. Greaves in July, just like tourists do buskers with a tip jar/guitar case on Blackpool's Boardwalk.  Probably, it's just coincidence that the PDC World Women's Matchplay will also play Blackpool on July 24th.  Five women probably have their places secured with 3 spots wide open and 8 events on deck.  Ms. Greaves collected £25,000 and there's a pot of gold on the horizon.  Fortunately, she has her sister and The Queen, Deta Hedman, for guidance.  From suffering with dartitis to the top of the darting world is a giant step.
The men's final was entertaining without that seminal moment – as the moment of procreation often has.  It was like watching a "amorous couple in the front seat of Volkswagen beetle intent on some serious commitment.   There were twists and turns as neither had a commanding hand (no pun intended).  There were moments of brilliance interspersed with "head scratching," splotchy scoring and a heck of a comeback when Northern Ireland's Neil Duff found himself down 2 sets (3-0, 3-0), having not won a leg and with only 2 even in play. Then came the "pause for the cause."  France's Thibault Tricole may have been dreaming of a walk down the Champs-Élysées with the tri-color flag waving with rose petals tossed in his path.
Upon return, reality struck.  Duff got a setback (3-2) in 21 and 20 darts.  The Frog got out of the warming water (3-0) in 23, 16 and 21 darts.  Then, another break.  Duff., possibly fueled by aiming fluid, narrowed Tricole's lead at 2-3.  After falling behind Duff answered in 11 darts, then added legs of 16 and 15 to pull even for the first time at 3.  In a now familiar scenario, Tricole had a 2-mil lead when Duff ran 3 on the trot denying Tricole a double, gaining the lead for the first time (4-3). The lead didn't last long as Duff couldn't build on legs of 11 and 12 and as Tricole used 13 to level at 4 sets.  Once again, Duff found himself down 0-2 putting together legs of 13, 14, 15 for a 5-4 set lead as Tricole again never saw a double in the rush.
Tricole forced a deciding set with a 3-0 win where Duff may have had an attack of the old "whips & jingles" looking at victory.  Duff recovered taking the decider 3-nil fishing with a pair of 15 darters.  As the first ever Frenchman in a Word Championship final the pressure probably got to Tricole as he had doubles to win two legs.
Duff's post-match?  The best part about it was that none of the 5/6 Tour Card holders made it to the final.  "I would love a crack at it.  I'd love to be walking out to a PDC crowd."  So, what's stopping you?  Talent?
On Thursday, the Lakeside welcomed defending champions by sending them home.  After they demanded "Miracle" Mikuru Suzuki's 2019 winning trophy back, she was eliminated.  "Miracle" won the first set (3-1) over Aileen de Graaf in 24, 16, 20.  After the break, Suzuki never scored like she can – she dropped the last two sets 3-0, 3-0.
The 2019 men's champ, Wayne Warren, wasted 15 darts in the first two legs of the first 2 sets against Cameron Menzies going 0-2.  He never recovered, losing 3-0.  Warren had come from 2-down against Lee Shewan to win claiming he "slammed a pint at the break."   Aiming fluid doesn't' always work but definitely keeps a player trying.
The tournament saw only 3 averages of 100+.  Richard Veenstra had 104.91 in beating 15-year old Luke Little (3-0). Veenstra had checks of 164 (for 12) and 121 (for 11.).  Veenstra also missed d12 for a 9-dart.  He would fall to eventual winner Duff in the semifinals.  Belgium's Andy Baetens recorded a 102.79 average before falling to runner-up Thibault (4-3).  Baetens led 1-0, then doubles became a mystery.  He had doubles to win every lost leg.  Scotland's Jim McEwan checked in with 101.31 but would choke against champ Duff in the quarters (4-3) after leading 3-0.  He had thee match darts at 3-1 but no cigar.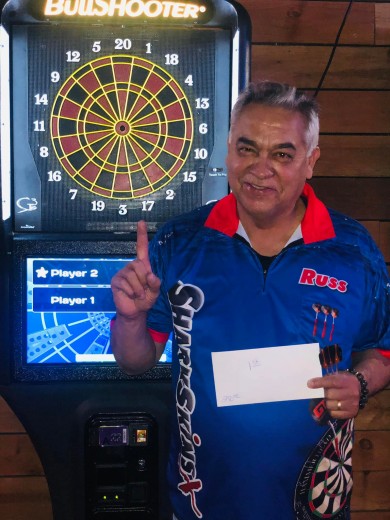 While the Lakeside World Championships didn't prove positive for North Americans there were some bright spots elsewhere.  Canadian Matt Campbell would match up against Nathan Aspinall in a Players Championship final.  Coming from behind, Campbell would level at 3.  After falling behind again (4-6), he snuck up to 5-6 in 12 darts – which became 6-7.  Aspinall closed things out in 12 for the 8-6 win.
Finally, The Legend, Russ Lopez, using his new Bottelsen Signature Darts, won the Oklahoma Throwdown.  These extraordinary darts are available at your local dart store or direct from Bottelsen at https://bottelsendartsinternational.com.  Toast the Living Legend!
You'll not be thirsty my friends.
The following two tabs change content below.

The one and only Howie Reed (the Old Dart Coach) goes back decades with the legends of our sport - he knows where the skeletons are buried. Just ask any of the ADO and WDF old-timers! His widely popular column, Toeing the Oche, is a must-read.

Latest posts by Howie Reed (see all)