Column #510 Do numbers lie?
Wednesday, February 10, 2016
Column 510
Do numbers lie?
Dartoid's World has been running a poll for the past few days. The question: Over the next three years, which of the following will have the most impact on the future of darts in North America?
As of this writing, 1,014 votes have been cast. The CDC has tallied 594 votes so far.  The Michigan Dartmen's Club has 329.
The ADO has received 12 votes.
Is it just a curiosity or continued evidence that the so-called governing body of steel-tip darts in this country is dead?
I campaigned for president of the ADO on a very simple platform: to abolish the organization because it is a secret, closely-held, do-nothing relic that brings nothing but embarrassment to the sport. I polled almost 100 times more votes than the "winner."
It has now been FOURTEEN YEARS since the ADO submitted a proper financial report.
Having not filed with the IRS for several years, the IRS revoked the ADO's charitable status FIVE YEARS ago, in 2011.
The IRS revoked the ADO's Memorial Scholarship Fund (for kids!) status in 2010 – yet JUST LAST WEEK the ADO was soliciting, illegally by any legal interpretation, tax-advantaged donations to the Fund.
Following an ADO board meeting in Stamford last August, it was reported that a special committee was to be established to review the bylaws (which include unfair election procedures that limit eligibility to be elected to office and voting to a small group of a couple dozen insiders). This was SIX MONTHS ago.  Nothing.
The question has been asked, and ignored, many times: Now that the ADO has closed its Anaheim office and shipped the contents to Ohio, is ADO executive Steve Brown being paid to act as office manager? If so, is this not a conflict of interest?  (According to the bylaws all members of the ADO executive cast votes for the office manager position.)
There was an ADO board meeting in Las Vegas in January. Minutes are nowhere to be found.  Larry Butler was granted "permission" to address the board but was then not permitted to do so.  One might ask why – one might also ask what the ADO shelled out to fly, lodge and feed the board members who attended the meeting.  Surely one should not expect an answer.
No, numbers do not lie…
But if you think they do you are encouraged to click to Dartoid's World, scroll down on the right, and record your vote on behalf of the ADO as the entity which over the next three years will have the most impact on the future of darts in North America.
From the Field,
Dartoid
The following two tabs change content below.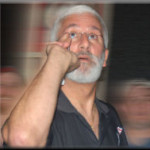 Author of the column that since 1995 has been featured by Bull's Eye News, the American Darts Organization's (ADO) Double Eagle and numerous other darts publications and websites around the globe.